Near Southeast DC: Past News Items - February 2009
Go to Full Blog Archive
---
26 Blog Posts
Go to Page:
1
|
2
Nationals Park Job Fair; Interest in Potomac Ave. Sale
Feb 26, 2009 11:53 PM
* From
Tommy Wells
:, an announcement of a Southwest Community Job Fair for Positions at
Nationals Park
, on Tuesday, March 3, from noon to 8 pm at the King-Greenleaf Recreation Center at 201 N St., SW. Applicants must be 18 or older;
see the announcement
for additional details.
* ICP Partners, the owners of the properties along Potomac Avenue between Eighth and Ninth, sent out a press release this week to announce that the
sealed bid sale
is "producing robust activity" in advance of its March 15 deadline: "The inquiries from various users for the site include a Navy Yard focused hotel and apartments, University Campus, retail and offices, and a childcare center for Navy Yard employees." They also put out a press release
earlier this month
to announce they had "signed [letters of intent] with a couple of the largest hospitality companies in the world to evaluate the feasibility of developing and managing hotels in certain urban markets, including 820 Potomac Avenue in SE Washington, DC."
Zoning Commission Approves Akridge Half Street
Feb 26, 2009 7:51 PM
On Monday night, the Zoning Commission gave final approval to the
Capitol Gateway Overlay Review
of
Akridge's Half Street project
, on the site of the old WMATA bus garage at Half and M. Normally this would be where I would link to my entry with a detailed description of the late January hearing on this review--except that I couldn't find it. And as I thought back, it then dawned on me that I didn't actually write one. I think I was waiting to see if maybe I could get some renderings (which I've failed at), and then life sped onward. Oops. Feel free to ask for your money back.
But at least I wrote
a long description of the project
when it was presented to ANC 6D in December--or, if you really want to know how the hearing went,
here's the transcript
. (Though it will be pretty hard to follow along without any drawings to look at.)
The 700,000-sq-ft mixed-use project could get underway in early 2010. The bus garage will probably be demolished pretty soon, to clear the space for stadium parking.
Scraping the Barrel for News
Feb 25, 2009 9:37 AM
I'm still here, though perhaps you can't see through the large tumbleweeds currently blowing across the JDLand.com landscape. There just hasn't been hardly any news of late, and in a strange way, the less news there is, the harder it is for me to carve out time from real life (where a couple big projects are consuming much of my time) to do the deeper digging. Plus, I'm on strike from taking photos until the weather gets warmer.
That being said, I can report (h/t to reader E. and the
55 M
construction cam
) that the new sidewalks around 55 M are starting to go in. There's also some utility work being done across Half at the
bus garage
to prepare for its demolition. The web cam also has a view of the back of the Red Porch restaurant at the
ballpark
, where I'm keeping an eye on when the
upgrades
might start to that space.
Speaking of sidewalks, there's some very nice public space work being done at
909 New Jersey
, with a combination of concrete and brick sidewalks being put in along New Jersey (along with the front steps to the building). And anyone who's been close to Near Southeast at night has now seen the blue lights that run along the top of the building's "bow." (They match the color of the lights on the Douglass Bridge.)
And
Capitol Quarter
framing work has now made the turn up Fourth Street north of L.
If the lack of news is bumming you out, you can always go back and read what was happening
this time last year
. It was *slightly* busier, as we were hitting the final weeks before the opening of the ballpark. Then again, if we go way back, to
February 2004
, I posted one entry for the entire month. (I'm just now realizing there's no easy access to the monthly archive of blog entries from the home page--but if you look down the right margin of any "interior" page on the site, you'll see the "Browse by Month" links.)
Billy and Elton to Play Nats Park on July 11
Feb 23, 2009 2:11 PM
The Nationals have now officially announced that the "Face 2 Face" Billy Joel and Elton John concert tour will be at
Nationals Park
, on Saturday, July 11 at 7:30 pm. Tickets go on sale Saturday (Feb. 28) at 10 a.m., exclusively at
tickets.com
. Prices are $56.50, $102, and $182.
Big Concert Coming to Nationals Park
Feb 19, 2009 10:53 AM
Looks like something's brewing at the
ballpark
.... On Monday the Nats are going to be having a press conference with Live Nation and Mayor Fenty "to unveil Washington, D.C.'s biggest summer concert and first-ever musical performance at Nationals Park." I wonder if the name of the artist(s) will stay a secret until then!
UPDATE:
The
PostRock blog says
the rumor is it will be Elton John and Billy Joel, who are doing joint dates at two other ballparks this summer (Wrigley and Citizens Bank [Philly]).
UPDATE II:
Per Jay in the comments,
DC Wire has confirmed
that it's the piano men. Will have to wait until the press conference on Monday to get date and ticket information.
Navy Yard East Entrance May Close on Weekends; Lead in Water Forum
Feb 19, 2009 10:06 AM
* From
Dr. Gridlock
, news about a work session being held today by the Metro board of directors to find ways to close their budget shortfall. On the long list of items: closing the east entrance of the Navy Yard station (at New Jersey and M) on weekends, unless there's an event at the
ballpark
. Metro numbers say that fewer than 700 people use that gate on weekends. The P2 line that I believe runs down M Street could also be on the chopping block.
See the list here
, though remember it's just a first cut at ideas.
* From
Tommy Wells
: "On Monday, February 23rd, Councilmember Wells will host a Community Forum on the Latest Information Regarding Lead in DC Drinking Water. [..] Officials will be on hand from the DC Water and Sewer Authority, District Department of the Environment, District Department of Health, Washington Aqueduct and DC Appleseed to address your concerns and questions regarding the lead levels in the DC water system." It will be at Tyler Elementary School at 10th and G, SE, at 6:30 pm.
* And a swing span test at the
Douglass Bridge
will take place on Sunday morning (Feb. 22), with the bridge being closed from 5 am to approximately 10 am.
A.M. Tidbits: 8th Street Lot, Anacostia Waterfront, N22
Feb 18, 2009 10:36 AM
* The folks at
Barracks Row Main Street
have passed along the news that today the chain link fences are being removed from around the parking lot under the Southeast Freeway at Eighth and I. New lighting has been installed, and once the parking meters and striping are complete, this lot that was formerly restricted to use by the Marines will become a 60-space public parking lot.
* I didn't make the
Anacostia Waterfront Forum
meeting last night; hopefully the DDOT folks will post any slides or other materials on the
Anacostia Waterfront web site
. However, yesterday WAMU did two reports on the initiative, with interviews with many of the people scheduled to speak at the forum: you can hear them
here
. (And, a PS to DDOT: it might not be a bad idea to have the
old AWC URL
redirect to the new web site instead of dc.gov.)
* A reminder that tomorrow (Thursday) is the
WMATA public hearing
on decommissioning the N22 Union Station/Eastern Market/Navy Yard bus line, so that DC can replace it with a shiny red Circulator bus. It's at 6:30 pm at Metro's headquarters, 600 Fifth St., NW.
* (h/t G St.) I have to admit I found
this
pretty funny, but only because I've been lucky enough to never discuss dog parks, nor have I come up with a "ridiculous acronym" for the neighborhood. (Though goodness knows plenty of other people are trying.) Plus, I was born on Capitol Hill, and really am a "DC Lifer." Nyaaah!
Nats Announce Deal with Levy Restaurants
Feb 17, 2009 4:15 PM
This news has already come through here as a rumor, but the Nats announced it officially today (
via WBJ
): "The Washington Nationals have chosen Levy Restaurants to run concessions at the team's
ballpark
, just one of many changes planned for the 1-year-old stadium's second season."
The article also describes the changes in store for the Red Porch Restaurant, which have also
been in the media previously
but are worth reposting in case you haven't been following along: "The Nationals are also working with HOK Sport, the ballpark's architect, to replace the center field restaurant's fixed glass wall with sliding glass to develop a better connection to the game, said team President Stan Kasten. The plan is to remove the last row of 32 fixed seats in center field in front of the restaurant, called the Red Porch, and add more tables, seating 44 people in the space. The concrete back wall will be removed and replaced with roll-up garage doors that open up that side of the building, creating 88 outdoor seats facing the center field plaza. [...] Other changes to the center field plaza include installing a stage for live music, building a larger pre-game set for local broadcasters to use on game days and erecting statues honoring Washington baseball legends Walter Johnson, Josh Gibson and Frank Howard."
And, there's this, which might be of interest to residents and workers desperate for food other than Five Guys and Subway: "The Nationals would like to open the Red Porch for lunch and dinner on nonevent days when the team is on the road, but nothing is definite for extended hours, Kasten said. 'We may experiment,' he said. 'We'll see.'"
Tonight: Anacostia Waterfront Forum
Feb 17, 2009 10:44 AM
A reminder that tonight is the
first Anacostia Waterfront Forum
, entitled "Sustainable Development, Infrastructure and the Future of the District of Columbia." It's at the MLK Library at 6:30 pm, and will feature the new director of DDOT Gabe Klein, along with chief engineer Kathleen Penney and other speakers. What is the event, exactly? "This educational forum series is designed to re-engage District residents in considering policies, concepts and potential outcomes embedded in the
Anacostia Waterfront
Framework Plan. The series is an opportunity to learn more about how the development of a world class Anacostia Waterfront can help create a more sustainable and inclusive future for District residents. "
Anyone at Luck of the Draw?
Feb 14, 2009 12:44 PM
Anyone checking out
Luck of the Draw
this weekend? It's running from 6 to 10 pm tonight and 2 to 6 pm on Sunday (after starting for four hours on Friday night). If so,
visit the comments
and post your impressions....
Work Stopped at Foundry Lofts; Gordon Biersch Coming to Half Street?
Feb 13, 2009 11:57 AM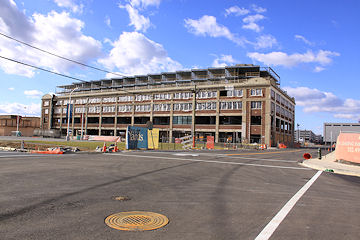 Eagle-eyed workers at USDOT had asked me about this lately, and now
WBJ confirms
(subscribers only) that work has stopped at the
Foundry Lofts
rehab project at
the Yards
: "Forest City Washington started transforming a former Navy industrial building into 170 loft apartments last year but recently called off the construction crews thanks to, you guessed it, a lack of financing -- in this case an inability of the D.C. Housing Finance Agency to sell bonds for the subsidized units."
And, there's this: a Forest City rep says "work continues on a waterfront park and landing retailers for the 44-acre, multiyear project, but sources say Dogfish Head Alehouse, once in discussions to open on the waterfront, is no longer interested."
So now the neighborhood has its first "skeleton."
UPDATE:
On the other hand,
WBJ is also reporting
that chain brewery
Gordon Biersch
might be coming to Half Street, with a broker confirming that there is interest, but no deal has been signed: "Gordon Biersch is remaining mum, but sources point to
Monument Realty's Half Street project
as a likely candidate. The D.C. developer is putting the finishing touches on 55 M St. NW [um, no: SE], a 275,000-square-foot office building with ground-floor retail above the Navy Yard Metro station. The project, on the main pedestrian drag to the baseball stadium, doesn't have any announced tenants."
Diamond Teague Groundbreaking, With Photos
Feb 13, 2009 11:46 AM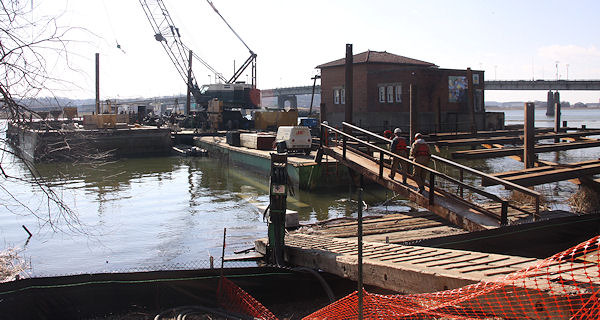 UPDATE:
Here are
a few photos from the ceremony
, along with a closer peek at the construction underway.
(Original entry) Just got back from the ceremony at
Diamond Teague Park
; while I'm working on the photos, here's the press release about the event, which I'll note contain the same April-for-the-piers, July-for-the-park timeline I've been mentioning (and yes, I'm being lazy and just reproducing the
press release
--rough morning!):
"Mayor Adrian M. Fenty on Friday joined community leaders in a groundbreaking ceremony for Diamond Teague Park, an $8 million waterfront park that will link Nationals Park to the Anacostia River.
"'Diamond Teague committed his life to restoring, protecting and preserving the Anacostia River,' Mayor Fenty said. 'This park will be a fitting tribute to his legacy and it will mark our commitment as a city to carry on his work.'
"The park is named after 19-year old Diamond Teague, a member of the
Earth Conservation Corps
(ECC) who was murdered in 2003. The ECC members -- many live in communities along the river's banks -- work to improve the river's health and protect the plant and animal species that call the Anacostia home.
"[...]It will connect the ballpark to a pair of public piers and a 20-mile network of waterfront trails. A 250-foot pier will be built to host commercial vessels such as water taxis and charter boats. The pier will also include slips for the ECC and the District's fire and life safety vessels.
"The park will feature a separate 200-foot environmental pier for educational groups, kayaks and canoes. The piers are expected to be complete by baseball's Opening Day, April 13, 2009.
"Construction and planting work on the upland portion of the park will be completed by July. Muralist Byron Peck and City Arts are also working to complete a memorial dedicated to Diamond Teague that will be unveiled later this summer.
"The cost of the $8 million park is being covered through dedicated revenue streams tied to a number of adjacent economic development projects that surround the park including
Florida Rock
's one million square foot mixed-used project directly to the West of the park and JBG's
U.S. Department of Transportation headquarters building
to the East."
Groundbreaking at Diamond Teague on Friday; 909 New Jersey Soon; Occupancy Numbers; More
Feb 12, 2009 7:38 PM
* On Friday at 10:30 am the mayor will be hosting a groundbreaking at
Diamond Teague Park
; construction started back in December (photos on my
project page
from a few weeks ago show the piers and ramps around the pumphouse have already been dismantled). The timeline as described to me
at the end of January
is that the new piers are to be ready by Opening Day, with the landscaping and land-based improvements to be completed by July; we'll see if those dates are still operative at tomorrow's event.
* The
Capitol Riverfront BID
newsletter says that JPI's
909 New Jersey
is "set to open ahead of schedule in April." The "
909 at Capitol Yards
" official web site has floor plans and more information.
* Also from the BID newsletter (which isn't posted on their web site, otherwise I'd link to it), some occupancy numbers for the three buildings participating in this weekend's "
Luck of the Draw
" art extravaganza: Velocity has sold 52 of its 200 units (which is still right around the 25-percent mark reported
back in July
of last year);
100 I Street
is 25 percent leased (it was reported at around 16 percent leased in December), and
Onyx on First
is 27 percent leased (after having been 8 percent leased in December).
* The BID also has the
list of public events
over the next few weeks at the
Navy Yard
. (I used to be on a mailing list for these and would add them to my calendar, but that ceased a while ago and the
Navy Museum's own web site calendar
hasn't been updated since last year.)
Artomatic 2009 Official Announcement
Feb 12, 2009 3:30 PM
(h/t
DCist
) What has been unofficially official around here since early December is now officially official: Artomatic 2009 will be held in Near Southeast, at Monument Realty's
55 M Street
office building on top of the west entrance of the Navy Yard Metro station, from
May 29 to July 5
. Here's the
Artomatic press release
, which says that registration for artists wishing to participate will begin in March.
What exactly is Artomatic? "Held regularly since 1999, Artomatic transforms an unfinished indoor space into an exciting and diverse arts event that is free and open to the public. In addition to displays by hundreds of artists, the event features free films, educational presentations and children's activities, as well as musical, dance, poetry, theater and other performances." Free to the public, it will be open Wednesdays and Thursdays from noon to 10 p.m., Fridays and Saturdays from noon to 1 a.m., and Sundays from noon to 10 p.m. (Closed Mondays and Tuesdays.) Artomatic is also looking for volunteers; see
the press release
for more details.
ANC Supports Yards Park Phase 2; Tidbits on 11th Street Bridges; Nothing Else
Feb 11, 2009 1:29 PM
* With thanks to
SWill
for passing the word (since I couldn't attend the meeting), I can report that ANC 6D on Monday night voted to support the plans for phase 2 of the
Yards Park
, which will be going in front of the Zoning Commission on March 2. (You can read
my summary of last week's presentation
to the ANC on the plans for more information.)
* If you're looking for analysis of what exactly the plans for the new
11th Street Bridges
configuration might mean, Greater Greater Washington is taking a look at them (
part one here
; part two not yet posted). For what might perhaps be called an opposing viewpoint, DDOT's chief engineer Kathleen Penney contributed
this article in the February Hill Rag
about what DDOT sees as the benefits of the project. And, if you want some 11th Street Bridges material to use as a sleeping aid, I pass along this link (via
Tommy Wells's blog
) to
the RFP
for the design/build contract. (The
"amendment" link
is the *slightly* more comprehensible one.) There was a hearing last week on
a bill about the contracting procedures
for the bridge, but I'm not *so* desperate for content to wade into that.
(
UPDATE
) I already posted about this, but it's a good time to mention again that there's a public forum on the 11th Street Bridges on Feb. 17: "
Sustainable Development, Infrastructure, and the Future of the District of Columbia
," at the MLK Library at 6:30 pm. (DDOT just sent around its own announcement, now
posted online
.)
* And hey, check it out, the council has finally updated the user interface for its
legislation database
!
* Other than that, all is very quiet these days. Though those following my
Twittering
were apprised yesterday of this breaking news item: "[I] Dreamt last night that 3rd and K Market was reopening both as a bodega and a swank Indian food joint. With a new noodle place next door."
Details on 'Luck of the Draw' This Weekend
Feb 10, 2009 12:37 PM
From a
just-sent-out press release
, more details on the "Luck of the Draw Art and Music Event" being put on by
Artomatic
,
Pink Line Project
, and the
Capitol Riverfront BID
in the neighborhood this weekend:
"Luck of the Draw will transform selected units, lounges, courtyards and the parking lots at
Velocity
Condominium,
Axiom
at Capitol Yards and
Onyx on First
residential buildings with photography, installation art, graffiti artists, live music, DJs and dancing to create a threeday neighborhood art and entertainment event. Start the night at the Velocity Condominium's entertainment tent on Half Street between L St and K St SE, and then head over to Axiom at Capitol Yards at 100 I (Eye) St SE and Onyx on First at 1100 First St SE. Draw playing cards at each location and, in traditional Washington, DC style, barter, trade and negotiate with others for the best 5-card poker hand to enter a raffle and win an iPod Nano. Beverages and snacks will be available at the venues as well."
It's free and open to the public. Hours are 6 pm to 10 pm on Friday and Saturday (the 13th and 14th) and 2pm to 6 pm on Sunday the 15th.
Landowners at Ninth and Potomac Talking to Hotels
Feb 9, 2009 2:32 PM
I've received
a press release
from ICP Partners, the folks who own the properties along
Potomac Avenue between Eighth and Ninth
(just north of M Street). Quoting: "The ICP Group, Inc. announces today that it will create an urban hotel index fund that will focus on developing and operating hotels in U.S emerging markets. As a benchmark, ICP has signed [letters of intent] with a couple of the largest hospitality companies in the world to evaluate the feasibility of developing and managing hotels in certain urban markets, including 820 Potomac Avenue in SE Washington, DC." This would be on the eastern part of the Potomac Avenue stretch of the block, the parking lot that wraps around onto Ninth Street. No word on who the hospitality companies are. Some may remember that this land (along with the building at Eighth and Potomac where Quizno's resides in the ground floor) was
put up for sale in a sealed bid process
back in December. More as I get it.
New Photos: Capitol Quarter and Freeway Views
Feb 8, 2009 3:20 PM
I took advantage of this beautiful February (!) day to grab some quick photos. First up are the action shots at
Capitol Quarter
, showing the brickwork underway on the
southeast corner of 4th and L
and the framing continuing on the north side.


And, for the first time since August, I've updated my views of the neighborhood from the SE Freeway. Clearly I'm out of practice because I kind of screwed up the angles, but you can still get the idea when you
compare these new images to their "before"s
. This is one of my favorite galleries, since I do have one grainy photo from 2000 (when 80 M was still under construction), and some others from 2005, before the vertical rush really began. You can also see that
1015 Half Street
is about to really dominate the view, probably permanently obscuring the view of
55 M
from the freeway. Remember to click the
icon if you want to see all the photos between the "before" and now.

I also updated the one shot I have from the freeway at New Jersey;
watch the progression
from 2005 when
Capitol Hill Tower
was the dominant building through the construction of
Onyx
and now with
909 New Jersey
and
Velocity
on display.
You can see all photos from today paired with their "before"s
on one page
, if you don't feel like clicking around and if you don't mind waiting a bit for it all to load.
(Alas, despite attempts to clean my lens just before taking these shots, they all look like they're being filtered through Vaseline. I'll just pretend I was being arty.)
Lazy Weekend Tidbits: Capitol Quarter, ANC 6D
Feb 8, 2009 11:10 AM
Been kind of a nice few days here without much news, so now I'm having to force myself back into the routine. I'll start small:
* An update to
the post
about the new houses released at
Capitol Quarter
: EYA tells me that the houses released are spread throughout the development: 421 L Street, under construction and expected to be ready in April (listed for $720,340 on the
EYA "Move In Now" list
), two houses in the block just to the north (expected to be ready in the fall), and four houses in the block bounded by I/Virginia, Fifth, Fourth, and K that could be ready by the end of the year. On all of these blocks the reservations placed by homeowners over the past few years have now been converted to contracts; that is expected to happen for the final Phase 1 block (between Third and Fourth and Virginia and I) later this year.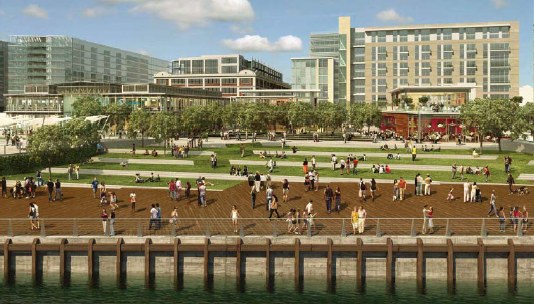 * The agenda for Monday night's ANC 6D meeting
is posted
, and it includes a vote on the Phase 2 designs of the
Yards Park
that were discussed at
last week's special meeting
. I've also now added a bunch of those Phase 2 renderings to my
Yards Park page
. Other items on the ANC 6D agenda are about Southwest subjects, though I should note that the
National Marathon
on March 21 (which they'll be discussing) will be coming across the
Douglass Bridge
, briefly using South Capitol Street until it turns west on P Street.
There's also an agenda item about a BZA application for 1101 South Capitol St., SW, which was the old KFC. This is a good opportunity for me to mention that, with
two
blogs
about Southwest now in full flight, I'm going back to my original boundaries, which old-timers will remember stopped in the median of South Capitol Street, which is where Southeast ends and Southwest begins. I'm lucky enough to be watching a neighborhood that has probably the firmest boundaries of any in the city, so I'm going to respect them!
* City budget season is nearly upon us. I've added to
my calendar
a partial list of dates for FY08-09 oversight and FY10 budget hearings, for agencies that have the most bearing on Near Southeast. Check the
DC Council web site
for the full list.
Capitol Quarter Houses on the Market; Sunday Concert at Marine Barracks Annex
Feb 5, 2009 9:21 PM
Two small tidbits:
* EYA sent out an e-mail today announcing that they are releasing "the final townhomes in Phase 1" at
Capitol Quarter
, with prices starting from the $630s. I don't know how many units are in this batch, or where in the Phase I blocks they're located. I'm pretty sure that a while back Phase 1 was billed as "sold out"--if I'm correct, these would be some houses originally reserved but now back on the market. (Buyer decides not to buy, buyer's credit worthiness tanks, etc. etc.)
UPDATE, 2/7:
EYA tells me that the houses released are spread throughout the development: 421 L Street, under construction and expected to be ready in April (listed for $720,340 on the
EYA "Move In Now" list
), two houses in the block just to the north (expected to be ready in the fall), and four houses in the block bounded by I/Virginia, Fifth, Fourth, and K that could be ready by the end of the year. On all of these blocks the reservations placed by homeowners over the past few years have now been converted to contracts; that is expected to happen for the final Phase 1 block (between Third and Fourth and Virginia and I) later this year.
* From
the Post
calendar listings, word of a concert on Sunday Feb. 8 at the
Marine Bachelor Enlisted Quarters
. (This is the first time I've ever heard of a concert there, though it's more than possible that the news of previous ones didn't make it onto my radar.) Here's the particulars: "MARINE CHAMBER ENSEMBLE, performance of works by Libby Larsen, Telemann and Stravinsky; followed by a tour of the facility; light refreshments served. 2 p.m., Marine Barracks Annex, John Philip Sousa Band Hall, Seventh Street and Virginia Avenue SE. Free. 202-433-4011." (hat tip to reader S.)
26 Posts:
Go to Page:
1
|
2