Near Southeast DC: Past News Items - Mar 31, 2008
Go to Full Blog Archive
---
3 Blog Posts
Late Night/Early Morning Ballpark News Roundup
Mar 31, 2008 10:58 PM
I have to say that I didn't expect that the day after
Opening Night
would end up being so quiet around here. But, here's some stories worth mentioning:
* WTOP trumpets the crime wave around the ballpark that everyone feared--
16 Arrested Near Nats Park Over the Weekend
! Grab the children! Run for the hills! So, just what were the dastardly crimes committed by these ne'er-do-wells? "All the individuals arrested were charged with scalping tickets on the street." The article also says that more than 100 cars were towed from the surrounding neighborhood.
* WJLA
recounts the stories
of people not going to the ballpark whose cars were ticketed and towed. Here's the
parking restrictions map
, again. Tell your neighbors and friends.
*
City Paper wishes everyone would stop
calling it a $611 million stadium.
* Channel 9 recounts the story of a
tourist forced by the Secret Service to delete photos
taken of the security checkpoints at Opening Night. I wish they had tried that with me. The quote from the Secret Service is classic: "We have the authority to ask them to remove the picture from the camera." And, if standing on public property, we all have the authority to say "no." Don't forget it.
* Monday's Post
talks to neighbors across South Capitol Street
about how they feel the stadium is doing nothing for them. And the
Kojo Nnamdi show on WAMU
covers similar territory, about how the new ballpark may affect the concept of "community" both close by and farther away.
* Tuesday's Post says that the
Nationals, DDOT, and Metro are pleased
with how the weekend went in their realms, though they plan to spend this week until the next home game tweaking their plans. Hungry fans will be pleased to know that addressing the long lines at concessions is on the list: " 'Lines were a concern for us. They're not necessarily where we want them to be. We expect it to better by Monday,' team President Stan Kasten said. 'Once a problem happens, it doesn't happen again.' " On the other hand: "Combining [Sunday's sellout] with the newness of the ballpark, the lines for virtually everything from food to parking to Metro to the shuttles were probably the longest they will be." The article also says that 716 parking tickets were written over the weekend, though the $100 towing fee was waived "as a courtesy." The WashTimes
also covers similar ground
.
Monday Post-Ballpark-Hangover Edition
Mar 31, 2008 12:35 PM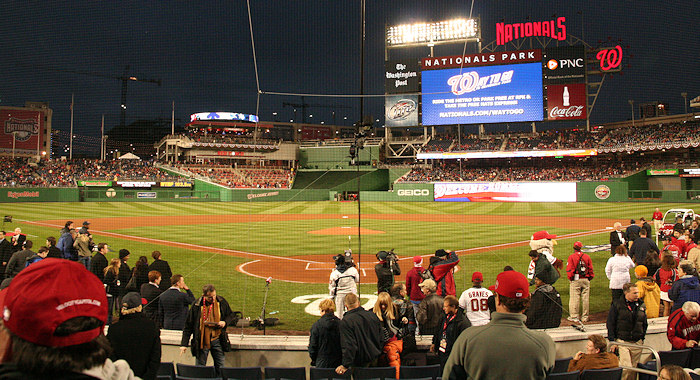 *
Metro says
that just under 21,500 fans used the Navy Yard Metro station for
Sunday night's opener
at Nationals Park, following the 15,141 who did so for the
Saturday exhibition
. (I wonder how many used Capitol South, or got off at Union Station and took the N22.)
WJLA
and others say that the station was cleared within a half-hour of the game's end, which can be verified by looking at last night's shots from the
55 M construction web cam
.
* Moving on to the next huge event, the
WashTimes says
that 45,000 bar-coded tickets to the April 17 mass by Pope Benedict have arrived, and should be going out to parishes next week. Scalpers will be condemned to eternal hellfire and damnation.
* There's
a nice piece
in the
April Hill Rag
(UPDATED:
now online
) about this here Obsessive Compulsive Time-Sucking Vortex. And there's also a shout-out in
this Virginian-Pilot story
on the ballpark.
* On the flip side, I can't help but cackle at what was written in
an online column
by the San Antonio Express-News [emphasis mine]: "If you're craving actual photos of [Nationals Park] -- including work-in-progress updates -- go to the
ballpark homepage
for the
Near Southeast DC Redevelopment agency
. Sure, these people have a vested interest, but they also have lots of photos, a construction webcam and a well-done Q-and-A section on the park." I'm an agency now? Usually I'm just a development company. But, a note for readers who don't realize it: I'm none of the above. (I don't work for the Nats, either.)
I'm just me
.
Opening Night at Nationals Park
Mar 31, 2008 2:08 AM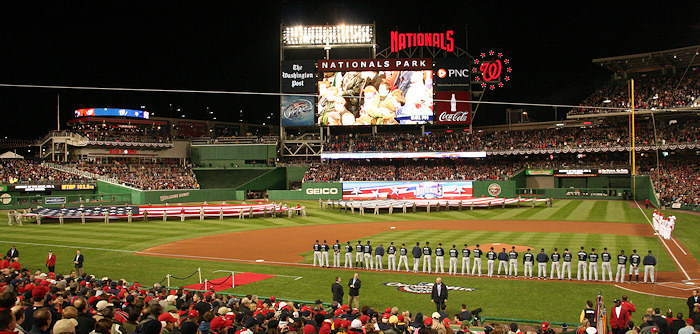 You may have heard that Washington DC christened a
new baseball stadium
on Sunday, one that appears to have been
met with wide-eyed enthusiasm and appreciation
by most of the 40,000 in attendance (although not by the
Post architecture critic
). And, after listening to months (if not years) of predictions of traffic meltdowns and catastrophes at the new site in "a formerly blighted part of the District," would you believe that car, rail, bus, and foot
all seemed to work
, so much so that
newspaper columnists appear incredulous
that fans weren't griping. The next test will be when crowds arrive for the first time at the end of rush hour, at a Monday night game on April 7.
I took some photos
around the ballpark as I arrived and worked my way from top to bottom, but once I arrived at my seat far far away (you'll love the small red speck in one photo that is President Bush), I decided to put away my camera and heed a directive issued recently by a Mr. S. Kasten to "watch the damn game." So I fear I don't earn a passing grade for documenting this historic day on South Capitol Street, but after 4 1/2 years of detailing the birthing process in
thousands of photographs
and probably
tens of thousands of words
, I needed some time to take it all in and say "Whoa."
And then they won the damn game, on a walk-off homer by Ryan Zimmerman. That's how you christen a ballpark.