Sliding from Before to After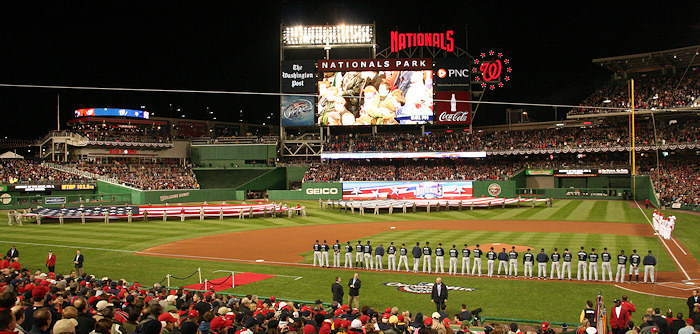 I took some photos
around the ballpark as I arrived and worked my way from top to bottom, but once I arrived at my seat far far away (you'll love the small red speck in one photo that is President Bush), I decided to put away my camera and heed a directive issued recently by a Mr. S. Kasten to "watch the damn game." So I fear I don't earn a passing grade for documenting this historic day on South Capitol Street, but after 4 1/2 years of detailing the birthing process in
thousands of photographs
and probably
tens of thousands of words
, I needed some time to take it all in and say "Whoa."
And then they won the damn game, on a walk-off homer by Ryan Zimmerman. That's how you christen a ballpark.
---
Lawrence Frigg
says: (
3/31/08 7:53 AM
)
The issue was never if the team could hold an opener on a weekend and manage to avoid frustrating the villagers to the point of torching the joint. On a one-off historic special occasion such as this, patience was going to rule the day even when lines three blocks long were at the CF gate minutes before the scheduled ceremonial first pitch, while logistical issues caused temporary shut downs and delays at the Navy Yard stop.
The issue is how the negative transportation and access factors will manifest for games played during the week, which includes vigliant maintenance of the flow of Nats Express shuttles and the continued security spread throughout the several city blocks where people will be parking and walking to Metro stops before and after games. Time will tell.
---
---
DT
says: (
3/31/08 1:08 PM
)
Judging from the shots on the 55 M Street webcam, it doesn't look like it took very long to clear the Half Street entrance to the Metro station after the game--at 11:03, the street is packed, but by 11:16, it's practically empty.
---
---
BBC
says: (
3/31/08 6:58 PM
)
I heard an interview with a fan that took the Capitol South metro and walked to the stadium. He had no problems at all. I am guessing that people smart enough to use Capitol South or Eastern Market on the April 7th game will still not have significant problems that day either. Kudos to JD, the first person I saw to advertise that Capitol South metro station. I think that anyone planning to use Navy Yard just before and/or just after the game has to expect some delays. Anyway, after this area gets built up in another year or two, there will be a lot more reasons to get there early and stick around a while after the game is over. Then, usage on the Navy Yard metro will spread out and congestion will ease up significantly. For now, fans could walk to Barracks Row and have a couple of beers before/after the game and avoid the stadium rush. They could also use the Eastern Market metro and further avoid metro conjestion.
---
Add a Comment:
Comments are closed for this post.
JDLand Comments RSS Feed

Records added or updated recently displayed here; click the "archive" links to see additional detail and older records. All data from DC Government databases and RSS feeds. JDLand takes no responsibility for errors, omissions, etc. (read CapStat disclaimer). Data is retrieved daily.
No records added or modified in the past two weeks.



| | |
| --- | --- |
| Recent Issued Building Permits | Archive |

1402 1ST ST SE

11/25/19

UNITED STATES OF AMERICA / DAVID C POSTLEWAITE

SB1900412 / CONSTRUCTION

Parcel G2:WSP will complete four borings up to the deepest potential subgrade elevation (approx. 32 ft. bgs). The proposed boring locations would be in the four quadrants of Parcel G2 to check for spatial variability in contaminant concentrations. WSP will collect and analyze three soil samples from each boring from depths corresponding to potential subgrade elevations (i.e. 10-12 ft. bgs, 20-22 ...

1212 4TH ST SE

11/25/19

FC 1212 LLC / TAMIKA STATON; OTIS

ER2000409 / SHOP DRAWING

Replace governor car #2 - Part #: TBA20641H6 Replace hoist belts #1 and #4 - Part #: SB0003119

1300 4TH ST SE

11/15/19

ASANA PARTNERS / DEBRA MARSHALL; THE DONOHOE COMPANIES INC

B2001773 / CONSTRUCTION

ADD EXTERIOR DOOR, ADD INTERIOR DOOR , ANY RELAYED,ELECTRICAL,PLUMBING, RELOCATING UNBUILT APPROVED NON LOAD BEARING FIRE RATED PARTITIONS @ FIRST FLOOR APPROVED UNDER PERMIT #B1711970. ATTACHED

300 M ST SE

11/11/19

FEDERAL CENTER LP / null

P2001215 / SUPPLEMENTAL

861 NEW JERSEY AVE SE

11/15/19

CSX TRANSPORTATION INC / ERICKA CLARK; DGS CONSTRUCTION

TC2000008 / CONSTRUCTION

(2) tower cranes

11/26/19

GREYSTAR GP I I, LLC / KIM MITCHELL; KIM MITCHELL

FD1900040 / CONSTRUCTION

TWO BELOW GRADE PRKING LEVELS, CONCRETE FOUNDATION WALLS, SLAB ON GRADE, COLUMNS ELEVATED DECKS UP TO GRADE WITH UNDERGROUND UTILITIES (MECHANICAL, PLUMBING, ELECTRICAL)

12/05/19

MIKE ALLEN / JANE MCCRAY

AH2000244 / CONSTRUCTION

WO# 1611441 - Mike Allen / P. Helgeson. Pepco to install network transformer

1111 NEW JERSEY AVE SE

11/15/19

GALLERY CAPITOL RIVERFRONT PROPERTY LLC / TANYA HILL; THYSSENKRUPP

ER2000366 / SHOP DRAWING

REPLACE EXISTING 8MM WORN HOIST CABLES WITH LIKE IN KIND ON ELEVATOR #4. WORK TO ALLOW UNIT TO BE RETURNED TO SERVICE.

1299 NEW JERSEY AVE SE

11/12/19

BROOKFIELD DEVELOPMENT / JUSTIN BELLOW

BP2000489 / POST CARD

125 O ST SE

11/25/19

DISTRICT OF COLUMBIA / DAVID C POSTLEWAITE

SB1900411 / CONSTRUCTION

WSP will complete three borings up to the deepest potential subgrade elevation (approx. 32 ft. bgs). WSP assumes that borings will not be installed inside the fleet maintenance facility due to access restrictions imposed by DC Water. The proposed boring locations form an 'L' shape around the eastern and southern sides of the fleet maintenance facility. WSP will collect and analyze three soil samp...

201 TINGEY ST SE

11/14/19

BROOKFIELD PROPERTIES / DFM DEVELOPMENT SERVICES, LLC

AH2000197 / CONSTRUCTION

Afterhours work at Tingey Square Project. The work performed will be forming, prepping and paving at Tingey Square park. Friday and Saturday the 15th & 16th, from 7PM to midnight. If required, Sunday the 17th from 7AM to 3PM. ANC Support provided. Associated Permit Include PA328164-R1 and PA10760162.

227 TINGEY ST SE

12/02/19

FC 227 LLC / KAYLA SHATTUCK; BROOKFIELD PROPERTIES MANAGEMENT LLC.

RW1900122 / CONSTRUCTION

Construction of new retaining wall located between Canal Street St and Third Street, SE.

300 TINGEY ST SE

12/04/19

FC BOILERMAKER LLC / ROBERT S. WATTS; ROBERT S. WATTS

E2002289 / SUPPLEMENTAL

AH = After Hours; B = Alteration & Repair; D = Demolition; E = Electrical; FB = Boiler; M = Mechanical; P = Plumbing and Gas; PC = Post Card; R = Raze; SG = Sign; TL = Tenant Layout; TN = Tent; RW = Retaining Wall;



No commercial transaction records added or modified in the past two weeks.