Near Southeast DC: Past News Items
Traffic Issues
Go to Full Blog Archive
---
Douglass Bridge Update from DDOT
Jul 24, 2007 11:00 PM
Time Lapse Video of Bridge Lowering
Jul 20, 2007 6:05 PM
DDOT has posted a
time-lapse video
of yesterday's
lowering of the Frederick Douglass Bridge
, and there's
a link to it from this page
with the press release on the lowering. If you want to study how it was done,
my photos from the lowering
don't go by quite so quickly (hee hee).
UPDATED:
Here's a video clip on the lowering from
WJLA
.
Bridge Lowering Completed - Yesterday!
Jul 20, 2007 8:35 AM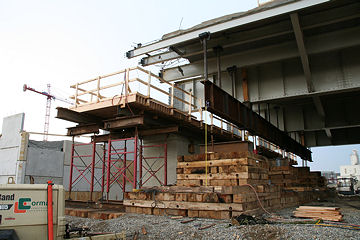 When I looked closely at the photos I took of the
Douglass Bridge lowering
yesterday around 5 pm, I thought that the hydraulic jacks looked like they didn't have much further to go--but everything DDOT had said indicated that the lowering was going to take 24 hours, at about two inches an hour, so I figured my layman's eyes just didn't understand what they were seeing. As it turns out, I was right--a press release just e-mailed out by DDOT (not yet online) says that the bridge lowering was completed about 90 minutes after I was there, having taken about 16 hours. (So they must have started around 2 am, not 8 am as I had thought.)
Watch for a time-lapse video of the lowering on the local newscasts later today, which of course I will link to. In the meantime, here's
Dr. Gridlock's blog entry on the lowering
.
I wonder if the rest of
the work on the bridge
and South Capitol Street will be completed in 60 percent of the time originally budgeted?
Douglass Bridge Lowering Underway - Updated
Jul 19, 2007 5:18 PM
Today is the day that the northernmost 200 feet of the Douglass Bridge (north of the Anacostia shoreline) is being lowered by as much as four feet so that the bridge's approach can begin/end at Potomac Ave. I've got
some photos of the initial work this morning
, but the photos aren't exactly action-packed, thanks to the
lowering pace of two inches per hour
. You can see the jacks in place and all the hubbub of work going on, as well as the new earth-fill ramp leading up to the bridge (which was a surprise for me, I didn't realize how far along the ramp already is).
I'm going to head back down this afternoon, when the light is better, and take some shots of the progress, so check back later in the day; I'll also be adding links to the media coverage as they pop up.
The lowering is scheduled to be completed late tomorrow morning.
UPDATE:
Here's
WTOP's piece
.
UPDATE II:
I went and got some
seven-hours-later shots
, which
you can see side-by-side with the morning shots
. It's of course nowhere near as dramatic as the befores-and-afters of the bridge's demolition last week, but you can tell a difference.
Portion of Douglass Bridge to be Lowered on Thursday
Jul 18, 2007 12:55 PM
The next big "moment" in the
Douglass Bridge's Extreme Makeover
is scheduled for tomorrow (Thursday, June 19), and that's the lowering of the elevated northern approach of the bridge by just over four feet. According to
today's media advisory from DDOT
, this will happen veeeeeery slowly--"coming down by approximately two inches per hour"--and is expected to take 24 hours from start to finish. Starting at 8 am, crews will "cut" the bridge's support columns, and then the bridge deck will be supported and lowered by more than 35 hydraulic jacks, with four jacks at each support pier. If you want to get a feel for exactly what's going to happen,
DDOT's video on the Douglass Bridge changes
has an animation of the lowering at about the 4:20 mark.
Look for TV coverage of it all tomorrow; and I wouldn't be surprised if a certain blogger posts some visuals of it, too.
Update on Douglass Bridge Work
Jul 16, 2007 6:04 PM
Few Douglass Bridge Complaints?
Jul 16, 2007 9:17 AM
Douglass Bridge Demolition on the Webcam
Jul 11, 2007 11:02 AM