Near Southeast DC: Past News Items - January 2010
Go to Full Blog Archive
---
19 Blog Posts
Navy Yard to Expand, Will Need Additional Office Space
Jan 29, 2010 10:10 AM
From
today's Washington Business Journal
(subscribers only): "The Navy plans to expand its space in Southeast D.C. by perhaps 700,000 square feet, a move that could dramatically boost office demand and foot traffic in the fledging Capitol Riverfront neighborhood near Nationals Park. Thanks to employee transfers and new programs, the Navy intends to hire an estimated 1,100 workers at the Washington Navy Yard by 2011 and as many 2,400 more four years later[.]" They are expecting to issue a Request for Proposals through the GSA to either buy or lease space, though as of now there's no timetable for the RFP.
The article specifically mentions
the Yards
as a possible beneficiary, since it's right next door. But there's also a quote from Michael Stevens of the bid cautioning that the expansion "would be a huge driver, but it does come with huge security requirements," though Eleanor Holmes Norton is then quoted as saying "These should be GSA-leased buildings. These are not, mostly, [high-level] security employees[.]"
Robbery on Tuesday at Ann's Wigs
Jan 27, 2010 7:35 PM
A police alert went out on Tuesday afternoon about a robbery at 125 L St., SE, the address of Ann's Beauty Supply & Wig (which I forwarded to my Twitter followers, so there's another good reason to
follow me there
or on
Facebook
). I sent a message to the
MPD 1-D mailing list
asking for details, and here is what Lt. Durbin wrote:
"I would like to update the community on the Assault with Intent to Rob in the 100 block L Street SE. On Tuesday, January 26, 2010, 1D officers responded to the 100 block of L. St, SE, where 2 subjects entered the business producing handguns as they entered. One subject grabbed the complainant by the hair, trying to force her to the cash register area. She resisted and was able to exit the front entrance with the first perpetrator still holding her hair.
"The perpetrator threw her to the ground just outside the front entrance. She yelled out "help police!" The perpetrator let go and fled on foot down the alley next to the building towards M Street. The second perpetrator fled the store by exiting the rear door of the business.
"Both suspects left without taking anything. Both, then entered the Navy Yard Metro Station elevator. One got on a train, the other made good his escape on M Street SE.
"Both weapons were recovered they were replicas of a Glock handgun
"The suspects are described as
"-B/M 20-25 skinny, med-dark complexion close hair, light moustache, jeans, and dark hooded jacket
"-B/M 20-25 skinny, light complexion. No further clothing description
"The victim received minor abrasions.
"On January 27, 2010, a follow-up was conducted with the victim, who is doing fine(abrasions). PSA 105 officers will continue to monitor the area.
"We are still investigating this case and anyone with information is encouraged to call our tip line 888-919 CRIME or text to 50-411. Thanks."
Dave Matthews Band at Nationals Park, July 23
Jan 26, 2010 4:04 PM
From the Nationals: "Dave Matthews Band announced today they will perform at Nationals Park - the home of the Washington Nationals -- on Friday, July 23 with Zac Brown Band as support. This will be the ballpark's second-ever show, following Elton John and Billy Joel's sold-out show in July 2009. Tickets and parking will go on sale to the general public on Friday, February 26 at 10:00 a.m. online at
www.tickets.com
and by phone at 888-632-6287. The show will be held rain or shine and will be promoted by Live Nation."
Justin's Cafe Liquor License Hearing March 22
Jan 26, 2010 10:23 AM
For those keeping track, the Alcohol Beverage Regulation Administration has finally
posted the hearing date
for the liquor license for Justin's Cafe, and it's scheduled for March 22 at 10 am. From the notice: "NATURE OF OPERATION: New cafeteria-style restaurant serving salads, sandwiches, and pizza with 33 seats. Occupancy load of 61. HOURS OF OPERATION AND SALES / SERVICE / CONSUMPTION OF ALCOHOLIC BEVERAGES: Sunday 11:30 am - 10 pm, Monday through Thursday 11:30 am - 1 am and Friday & Saturday 11:30 am - 2 am."
As
I've written
, Justin is also asking for a stipulated license, which will allow him to open the restaurant and sell alcohol before the March 22 hearing date. But I haven't heard of an opening date yet, though a reader reports that the amount of construction "stuff" in the space seems to have lessened.
Tidbits From the Past Few Days (Foreclosure, Marines, WMATA Cuts, 11th Street Bridges, 1015 Half)
Jan 21, 2010 10:35 AM
Rounding up some new and
Tweeted
tidbits, now that I've recovered from cranking out the
State of the Hood
:
* (h/t "reader X") The
second foreclosure sale
held yesterday for the boarded-up apartment building and surrounding lots at Potomac, Ninth and L brought no bids above the $2 million starting point, so the properties will now return to the lender. An earlier auction
back in October
had brought a $2.461 million winning bid, but that deal fell through. The properties were originally bought by ICP Partners
in 2006
, along with the gray building at Eighth and Potomac, for $9 million.
* Via
ANC 6B03 commissioner Norm Metzger
, the Marines have created a web site for their "
Community Integrated Master Plan
." The site describes this planning process as evaluating "community-military development partnering options" because "[t]here are unmet facility needs and security requirements at Marine Barracks Washington and a potential to meet common community and military needs through the process" and that their goal is "to use a coordinated planning process to create a win-win in meeting the development needs of the local community and Marine Corps." Now that that's cleared up, you can go to the open house they're having on Jan. 27 from 5 to 8 pm in the North Hall of Eastern Market, to "assist the planning team in identifying issues, concerns, and potential opportunities for military-community development partnering."
* One of many
service reductions proposed by WMATA
to help close their FY2010 budget gap is to shut down one of the two entrances to the Navy Yard metro station on weekends. (They don't say which one.) The public hearing on their various proposals is Jan. 27 at 5:30 pm.
UPDATE:
From Michael Perkins, in the comments, it would be the west entrance, at Half and M. I wonder if this would only be when there are no stadium events?
* Via the
Capitol Hill Chamber of Commerce's Twitter feed
, there will apparently be one more
Lower 8th Street
visioning session, on February 22. After this final session, the group will forward its recommendations to the Office of Planning on what sort of development should be emphasized for these blocks south of the freeway.
* In Sunday's Post,
Dr. Gridlock took a look
at the
11th Street Bridges project
, telling drivers what to expect as the construction unfolds, and that the "new bridges will forge a link between Maryland, the District and Virginia that has been missing since the original highway plan for the District was abandoned decades ago. And it will create a new link between neighborhoods on both sides of the Anacostia while relieving them of some of the commuter traffic that spills onto local streets."
* As part of the start of work on the bridges, a raze permit application has been filed to demolish the
old red brick buildings
between the current bridges that housed the Anacostia Community Boathouse, whose operations are now
moving up-river
to a temporary (maybe permanent) home at the Anacostia Marina.
* A little time spent trolling through public records shows that within the past month a bunch of the liens brought against Opus East when they liquidated and stopped work on
1015 Half Street
have been settled. No indications from the new owner (
Douglas Wilson Companies
) as to when construction might restart, despite their
statements back in October
that it would be happening soon.
2010 State of the Hood: Looking Back, and Ahead (and Updated Residential Occupancy Numbers, Too)
Jan 19, 2010 1:22 PM
It's become a tradition for me to do a yearly overview of what's happened in Near Southeast over the preceding 12 months, and what the next 12 months are looking like, and in my typically understated way, I've dubbed it "the State of the Hood."
This year's missive is now posted
, and while the expectation would be that 2009 was a whole lot of nothing, there were more milestones of note than perhaps it seemed--two residential buildings and one office building were finished, the first residents moved into
Capitol Quarter
, water taxis and Circulators arrived, Cornercopia opened, and work began on the new
11th Street Bridges
. There were less auspicious events, too, with construction being halted on two projects, foreclosures hitting various commercial properties and private homes, and the drying up of the "development pipeline." But there's still a few new things coming in 2010, like the
Park at the Yards
and Justin's Cafe.
Whether you're new to the neighborhood, or an old hand, I hope you'll take a few minutes to
plow through the whole thing
. (And maybe even read the old ones, too, to relive the insane years of
2006
,
2007
, and
2008
.)
As part of putting the SOTH together, I got the updated residential occupancy numbers from the BID--they say that nearly 2,800 people now live in the "Capitol Riverfront." Here's the breakdown of leasing/sales percentages for the multi-unit buildings:
Rentals
Onyx
95.5% leased, 94% occupied (250 of 266 units occupied)
Axiom
91% leased, 89% occupied (219 of 246)
Jefferson
77% leased, 76% occupied (340 of 448)
909 New Jersey
82% leased, 75% occupied (178 of 237)
400 M
100% leased and occupied (138 of 138)
Condos and Co-ops
Capitol Hill Tower (Co-op)
83% sold and occupied (285 of 344)
Velocity
32% sold, 8% occupied (16 of 200)
Capitol Quarter
82% sold, 28% occupied (32 of 113)

(ownership units, 56 still under construction)
(Note that Capitol Quarter's numbers are a little behind the others, so these are higher now as the move-ins continue)
Happy Anniversary (Version 7.0)
Jan 19, 2010 7:59 AM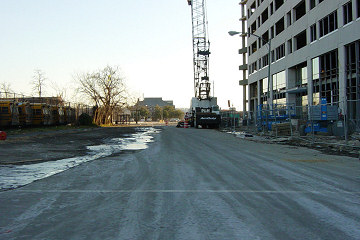 I'm starting to feel like the aged relative pulling out the slide projector and retelling stories as the kids roll their eyes, but I do always feel the need to stop and recognize January 19, since it was on this date in 2003 that I forced my husband to drive around the neighborhood south of the Southeast Freeway while I snapped photos (crooked and poorly framed) of this little-known neighborhood that supposedly was starting to be targeted for redevelopment. Then I tossed them up on my personal web site mainly so that my parents could check them out, not ever imagining that it was the first step toward creating the obsessive-compulsive monstrosity that now rules my life.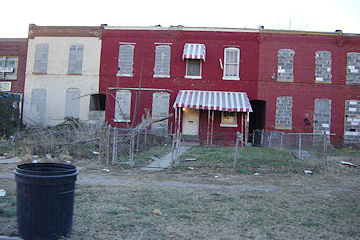 Definitely take a moment to
browse through the photos
from that chilly Sunday seven years ago, to see the buildings that are gone as well as some that are still here (hello, trash transfer station!). Enough time has passed that some of the vistas--like this one of the boarded up rowhouses that stood until 2006 where the lobby of
909 New Jersey
now sits--are now completely alien to the many new residents who have arrived in Near Southeast in the last two years. These photos also bring home what I feel is as important a part of JDLand.com as the never-ending stream of tiny tidbits of news, and that's the keeping alive of the history of this neighborhood, letting newcomers see what their surroundings looked like not all that long ago, before the city decided it was time for the area to get a makeover and before it was even considered a remote possibility that the Montreal Expos would be brought to DC and be given a
shiny new stadium
on South Capitol Street.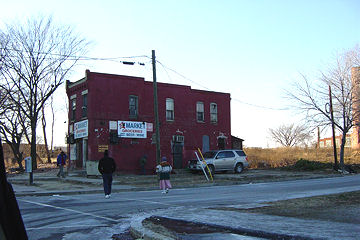 This anniversary is also always a good time to thank all of you who wander by and read my ramblings and look at my photos, and who send along tips and rumors, because there's no way I'd still be keeping the site going if I didn't feel the energy coming back from the folks who live and work in Near Southeast or who just find its redevelopment oddly fascinating. I will admit that much of 2009 was tough for me as I dealt with a persistent bout of flagging enthusiasm, but I feel like the doldrums have finally passed, and hope to keep chugging along for the foreseeable future.
Check back later today for my other January 19 ritual: the
State of the Hood
!
(Note to Mom and Dad: See, I told you that ditching journalism school and getting my degree in history would work out okay.)
WeLoveDC Profiles Near Southeast
Jan 15, 2010 2:37 PM
The WeLoveDC blog is
highlighting Near Southeast today
in its Where We Live series, and gives a pretty good overview of the history and current state of the neighborhood, which I would say even if they weren't quoting me and saying all sorts of nice things about JDLand!
(And, as an aside, "Near Southeast" and the "Capitol Riverfront" are actually slightly different areas, with Near Southeast being a subset of "the Front." The BID's boundaries include Buzzard Point in Southwest, an area just past my western borderline, the South Capitol Street median. My firm desire to *not* expand my zone keeps me tied to "Near Southeast" as my coverage area.)
Lots on Potomac/9th/L Back Up for Auction
Jan 15, 2010 12:47 PM
(thanks to reader C for the tip) If you are desperate to own the nine lots along Potomac Avenue, Ninth, and L that
were foreclosed on earlier this year
, you've got a second shot. They were picked up at auction
in October
for $2.461 million, but apparently that sale has fallen through, because the lots are once again on the Alex Cooper Auctioneers web site, scheduled to be
auctioned again on January 21
. The properties were owned by ICP Partners, who defaulted on a $2.3 million loan in 2009. ICP tried hard earlier this year to
drum up interest in these lots
plus the gray building at Eighth and Potomac that houses Quiznos (which is
not
part of this foreclosure), after a previous sale attempt in 2008 went nowhere. ICP paid $9 million for all 10 properties in 2006.
Tidbits (Parking Data, Opera, Lower 8th, More)
Jan 14, 2010 10:56 PM
Some small
recently-Tweeted
items (which you can have delivered directly to your Facebook news feed if you
become a "fan" of JDLand.com
). Some of these probably deserved their own entry, but goodness, 140-character blogging sure makes me lazy!
* I wrote
back in December
about the DDOT public meeting that gave a lot of updated information about how the Performance Parking Pilot around the ballpark is going;
DDOT has now posted a 21-page report
with all the details, which is worth reading for anyone interested not only in how parking is being handled in the neighborhood, but about the non-automotive improvements that the meter income will be funding.
* The Third "Opera in the Outfield" at
Nationals Park
will
be on September 11
, a simulcast of the Washington National Opera's season premiere, Verdi's "Un Ballo in Maschera" ("A Masked Ball").
* The
Lower 8th Street Visioning project has posted
both the materials from its December sessions, and the agenda for the upcoming meetings on Jan. 19, which "will progress to looking at best mix of uses, breakout workshops on land use, density and parking, and closing with a Q&A."
* Peeking at the
building permits feed
, I noted the approved permit for the ballpark, described as "INTERIOR DEMOLITION AS PER PLANS TO SUIT TENANT 'PNC DIAMOND CLUB'." A
Twitter follower
indicated that they had seen the work on the Diamond Club already underway. No word from the Nationals on what exactly is coming.
* The Nats put out this "
Nats in Your Neighborhood
" newsletter, detailing good works around the city, including the work last month by the Dream Foundation on the United Southwest Health Center a few blocks from the ballpark, in Southwest.
Reminder: Lane Closures on SE Freeway
Jan 14, 2010 3:42 PM
From DDOT:
"The District Department of Transportation (DDOT) is scheduled to temporarily close lanes on the eastbound side of the Southeast Freeway this weekend to complete the demolition of two RFK access ramps. The ramps cross over the freeway.
"Last Saturday, crews demolished the concrete on the ramps; this weekend they will remove the steel structure. The work is scheduled to take place from 5 am to 10 pm on Saturday, January 16. There could be additional closures on Sunday, January 17, but only if the work is not completed on Saturday.
"The left lane and shoulder will be closed just prior to the I-295 South and Pennsylvania Avenue split. That means all traffic approaching the split will have to take the I-295 exit. There will be no access to RFK Stadium or Pennsylvania Avenue from the SE Freeway."
They haven't posted the new advisory yet, but here's the
link to last weekend's
, with the graphics for detours and whatnot. Expect delays on the freeway.
ANC Supports Liquor License for Justin's Cafe
Jan 11, 2010 11:46 PM
Tonight ANC 6D gave its support in two separate votes to restaurateur Justin Ross's liquor license application for his new "Justin's Cafe" sandwich/salad/pizza place in the ground floor of the
Velocity
condo building at First and L streets, SE. There was little discussion, other than some concerns by commissioner Roger Moffatt about voting to support the full liquor license before the hearing is even "placarded," i.e., posted on the restaurant site, because he felt that this might prevent residents' concerns from being part of the ANC's decision (though, of course, the ABRA liquor license hearing process specifically allows for public comment). Two residents in the audience spoke strongly in favor of the proposed plans, and, in the end, the votes were 6-0-1 for a temporary "stipulated" license and 6-1 for the full license (Moffatt voting present/against on the two motions).
There's still no date set for the license hearing (Justin filed his application on Dec. 30), but he indicated that things should be moving pretty quickly in terms of getting the restaurant opened, and the stipulated license will allow him to serve alcohol until the full license is voted on.
Other Near Southeast-related tidbits:
* The Marines are going to be hosting an open house on January 27 from 5 to 8 pm at Eastern Market's north hall--they are formulating a new master plan for all of their space needs, and are looking to "partner" with residents, developments, government agencies, or any organization that can provide the space they're looking for. The open house seems to be the first step in "reaching out," though it all seemed a bit murky, and perhaps will be better explained when announcements for the open house are released. (Though "
lower Eighth Street
" was mentioned.)
* The commission also elected its offers for 2010, with Ron McBee being named chair. Vice chair Robert Siegel, secretary David Sobelsohn, and treasurer Jane Jorgensen retained their posts.
* This was the first time in all the ANC 6D meetings I've attended (starting in probably 2004) that I actually stayed until the very end (it lasted a mere three hours). Whether this is something to celebrate is another issue, especially on a night like this one where the heat at St. Augustine's seemed particularly, um, nonexistent. They did announce that soon the ANC and the Southwest Neighborhood Association will be moving to new digs at Waterfront (the new development about to open at the old Waterside Mall site at Fourth and M, SW). They will also have a public meeting space that presumably will have both sufficient HVAC offerings and decent acoustics, so that I will actually be able to *hear* what's going on.
Tidbits (ANC 6D, Boathouse, Georgia Ave, Cupcakes!)
Jan 11, 2010 12:00 PM
A few items of note:
* Tonight is
ANC 6D'
s monthly business meeting, at 7 pm at St. Augustine's Church, Sixth and M, SW. But, as is so often the case, there's no agenda yet released. However, the commission should be voting on whether to support the liquor license application of Justin's Cafe,
which was approved
by the ANC's alcohol/beverage subcommittee last week. Other than that, the lineup will just be a bundle of surprises!
UPDATE:
The
agenda is now posted
.
*
The folks with
A rower from the
Anacostia Community Boathouse Association
has
started a blog
to track the move of the boathouse operations away from its current home in between the
11th Street Bridges
up-river to the Anacostia Marina. The move is happening because the new bridges are going to necessitate the demoition of the
two existing boathouse buildings
. (
UPDATED
with a new name for the blog, along with a clarification)
* The Hill is Home has
a "Lost Capitol Hill" post
about the original Georgia Avenue, SE, which is now Potomac Avenue. On
these maps from the early 1900s
of Near Southeast, you can see Georgia Avenue in
1903
, but not in
1909
. (If you haven't wandered through these maps before, they're worth a few minutes. Go to
the main page
, click on a section of the neighborhood, and then you can use the links to go from 1903 to 1909 to 1915 to 1921.
*The
Curbside Cupcake
folks are venturing into Near Southeast these days, and will be at New Jersey and M tomorrow (Tuesday, Jan. 12) from noon to 1 pm. (They set up shop there for a while last Tuesday, too.)
* And, while outside my boundaries, I think it's worth mentioning that Big Chair Coffee opened at 2122 MLK Avenue in Anacostia this morning--And Now, Anacostia has a
pile of photos
of the place, which is one of the only (if not
the
only) coffee house east of the river.
First Photos of 2010 (Cap Quarter, Trapeze Tent)
Jan 10, 2010 4:58 PM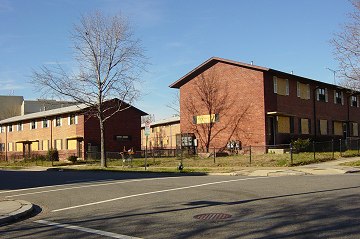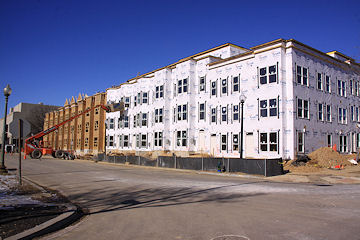 It's the age-old tradeoff: it's freezing outside, but it's also as clear a day as you'll ever have. So there was no avoiding a couple of (driving) treks around Near Southeast to update some photos this weekend. I concentrated mainly on the work on the last two blocks of the first phase of
Capitol Quarter
, including the new framing along
I between Third and Fourth
(above) and the bricking and painting on
I east of Fourth
. I also updated
some of the shots along Third
and also
along
Fourth
to not only get close-ups of the new frames, but also to update farther-away angles where the new townhouses now peek through in the distance.
I also zipped down to
Fourth and Tingey
to check out the new tent that's just gone up for the
Trapeze School New York
, which is preparing to begin its operations on this lot at
the Yards
in mid-February. (Just for the record, I'm pretty sure I will not ever be flying through the air with the greatest of ease.) This lot on the southeast corner of the intersection, known as "Parcel O" in Yards-development-speak, will eventually be home to a high-rise building of some sort, but because it's not in the project's first phase of development Forest City and the trapeze folks were able to work out an "interim use" for the land.
I even took some long-needed updates of photos of the
east side of South Capitol Street at I and K
, which I only ever seem to get the energy to update when it's the middle of winter and the temperature is especially frigid. On the other hand, it cracks me up because the low angle of the sun always just happens to throw shadows that blot out everything from the median westward (in other words, in that OTHER quadrant, outside my boundaries).
Here's
all the new photos
. Don't forget you can as always click the
icon on any page to see the entire range of photos for a certain location, many of which for today's batch come from my early days of photographing, in 2003 and 2004.
Trapeze School Coming in February
Jan 8, 2010 4:23 PM
From
the BID
: "Beginning on February 15th,
Trapeze School New York
will open for classes at
4th and Tingey Street, SE
! The concrete foundation has been laid and the large, heated tent is currently being erected at the site in preparations for next month's grand opening. The Trapeze School is dedicated to making flying trapeze available to anyone who seeks inspiration, challenge, fitness, or just a couple hours of unique recreation. Registration and more information is already available on their website here and open to people of all levels. Offerings include two-hour classes as well as intensive multi-session workshops for advanced flyers. Classes are also offered in trampoline, static trapeze, Lyra, and aerial silks. For larger groups and special occasions, they produce one-of-a-kind parties, corporate events and team-building workshops."
NatsFest at the Ballpark Jan. 31
Jan 7, 2010 10:04 AM
From the Nationals: "The Washington Nationals today announced the schedule for their 2010 Winter Caravan when members of the Washington Nationals will tour the Washington, DC Metropolitan Area from January 27 to Saturday, January 30, and conclude with the second annual NatsFest at Nationals Park on Sunday, January 31. [...] Baseball fun returns to Nationals Park on January 31 for the second annual NatsFest, which will conclude the Caravan festivities. Fans will have the opportunity to receive autographs and take photos with Nationals players, participate in question-and-answer sessions with Stan Kasten, Mike Rizzo, Jim Riggleman and The Washington Post columnist and Nationals Season Ticket Holder George Will, and hit in the Nationals batting cages for a $1 donation to the Nationals Dream Foundation. A behind-the-scenes look at the Nationals clubhouse will be available and fans may enter to win Nationals prizes and memorabilia. Nationals Season Ticket Holders may receive up to four complimentary tickets per account for the event and will receive an e-mail on how to claim their tickets."
This is part of their "Winter Caravan," which features "meet-and-greets, autograph signings, community appearances and the second annual Hot Stove Luncheon," scheduled for Friday Jan. 29 at the ballpark, hosted by David Gregory. The caravan will also include appearances in Landover (where the team and its Dream Foundation "will make an announcement regarding plans to partner with the Maryland-National Capital Park and Planning Commission's Department of Parks and Recreation") and at Ft. Belvoir (to make care packages for servicemen and women stationed overseas). There will also be autograph shows at the Build-a-Bear workshop in McLean, at White Flint Mall, and at the Hard Times Cafe in Arlington, along with other appearances.
Justin's Cafe Gets 6D's ABC Committee Support
Jan 6, 2010 9:40 PM
A very quick update from tonight's meeting of ANC 6D's alcohol/beverage committee, which voted 3-0 both to recommend support Justin's Cafe's application for a liquor license, and to recommend that a "stipulated license" be granted. This means that the restaurant could operate under a temporary license until its (still as yet unscheduled) hearing in front of the liquor board is completed. The full ANC will vote on these recommendations at their meeting on Monday (Jan. 11).
Owner Justin Ross said that the build out isn't quite complete yet and that there's still a few weeks of work to take care of, but he's hoping to open within four weeks or so.
Temporary Lane Closures for RFK Ramp Demolition
Jan 5, 2010 4:36 PM
Just out from DDOT (link to come), official announcement of the upcoming road work that was initially "previewed" in the poorly written "Freeway to be Closed" flashing sign at the Sixth Street exit on the Southeast Freeway:
"The District Department of Transportation (DDOT) is scheduled to temporarily close lanes on the eastbound side of the Southeast Freeway over the next two weekends for the demolition of
two RFK access ramps
. The ramps cross over the freeway.
"On the weekend of January 9 and 10, and again on January 16 and 17, the left lane and shoulder will be closed just prior to the I-295 South and Pennsylvania Avenue split. That means all traffic approaching the split will have to take the I-295 exit. There will be no access to RFK Stadium or Pennsylvania Avenue from the SE Freeway."
If you want to get to Pennsylvania Avenue from the freeway during those two weekends, the DDOT-approved detour is to go across the 11th Street Bridges, get off at MLK, turn left at Good Hope, then left at Minnesota, which will take you to Pennsylvania. But I wouldn't be surprised to see the traffic increase at the Sixth Street exit during these closures.
In a similar (though technically outside my boundaries) vein, starting tomorrow (Jan. 6), there will be lane closures on the east side of the 11th Street Bridges and on I-295 so that crews can place "construction access points, concrete barriers, attenuators and other traffic controls related to the start of
11th Street Bridge Project
construction."
Tinkering with the Home Page for 2010 (A New Map, Crime Reports Mashups, and Other Goodies)
Jan 1, 2010 1:08 PM
I rang out 2009 with a sudden burst of creativity, and so am welcoming 2010 with another tweak of the JDLand home page design.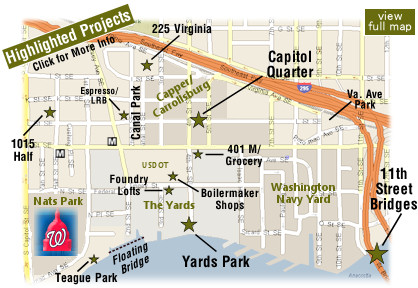 First and foremost, I've
brought back a map
to the main screen (a much smaller and less cluttered one), highlighting projects currently in progress. I was sick of the old one, but found I just couldn't live without *some* sort of map offering in this spot. Hopefully this one suffices.
Next, I
added a box
called "This Date in (Recent) Near Southeast History," which will dig into the archives every day and show links to blog entries and random photos since 2003. (The photos aren't marked with their location, so for the early ones it'll be a fun guessing game.)
There's also a peppier version of my "
Rearview Mirror
," with links to the
Photo Archive
, the
Demolished Buildings gallery
, historic
photos
and
maps
, and more.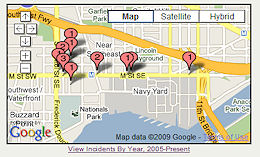 And I've finally taken the plunge into Google Maps mashups, with two new offerings. On the home page, under the
DC Government Data Feeds
, there's a mini-map marking the location of neighborhood crime incidents over the past 30 days. Beneath that is a link to a new interactive map showing
all crime incidents from 2005 to the present
, with a table breaking out the different types of crimes so that you can filter the map by year or offense or both. (The incidents, which all come from the city's data feed, are then listed beneath the map if you prefer the old-school table format.)
And there's also some slight changes to the general design and color choices, plus some cleanup of the offerings in the "General Links" box at the bottom right of the page, and a box for "Recent Updates/Additions" which I added mainly to do *something* with all the white space around the ad beneath the first blog post.
So, Happy New Year to everyone, and I hope you like the updates.