Click on the images to bring up the interactive maps for zooming and scrolling. To orient yourself, South Capitol Street at far left, the 11th Street Bridges to the right, and the SE Freeway forms the northern barrier. You might want to use your browser's Full-Screen Mode (F11) to better compare two photos at once.

The August 2010 image, from Google, showing considerable changes from the 2008 image, even during a time of recession. From left: 1015 Half is topped out, Velocity, 70/100 I, 55 M, 909 New Jersey, Onyx, and 100 M all have been completed. Diamond Teague Piers and the Yards Park are clearly visible, as is the lack of school buses on the Canal Park site. And the first phase of Capitol Quarter is complete. Lastly, at far right, the construction of the new 11th Street Bridges and the reconfiguration of the approaches and flyovers can be seen.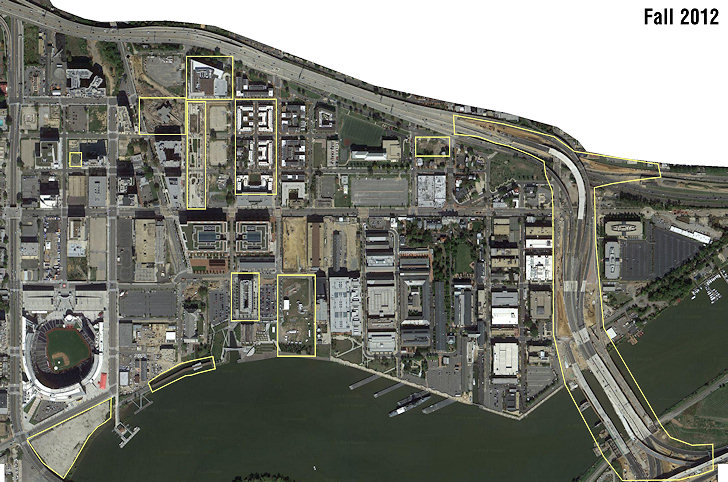 The latest image available, from October 2012, from Google, with plenty of change, even if most of it was publicly financed. The brief-lived rain garden at Velocity and the clearing of the concrete plant at Florida Rock are the only changes west of 1st Street. The Anacostia Riverwalk's new bridge between Teague Park and Yards Park is visible, as are the additions of landscaping on the east end of the Yards Park since the last image. The Foundry Lofts renovation is complete, as is the 225 Virginia/200 I rebuild at the top of the photo. Canal Park is almost finished, and the final demolition of the DPW/Trash Transfer station on New Jersey Avenue is just underway, pegging the date of this photo right near October 6, 2012. (The tents at Yards Park could also make it Oct. 13, the day of Snallygaster.) The second phase of Capitol Quarter is just completed, while the demolition at 7th and Virginia of the Miles Glass building and its easern neighbor are shown as well. And, at far right, one can see all the work surrounding the new 11th Street Bridges--and the disappearance of the old ones.