Click on the images to bring up the interactive maps for zooming and scrolling. To orient yourself, South Capitol Street at far left, the 11th Street Bridges to the right, and the SE Freeway forms the northern barrier. You might want to use your browser's Full-Screen Mode (F11) to better compare two photos at once.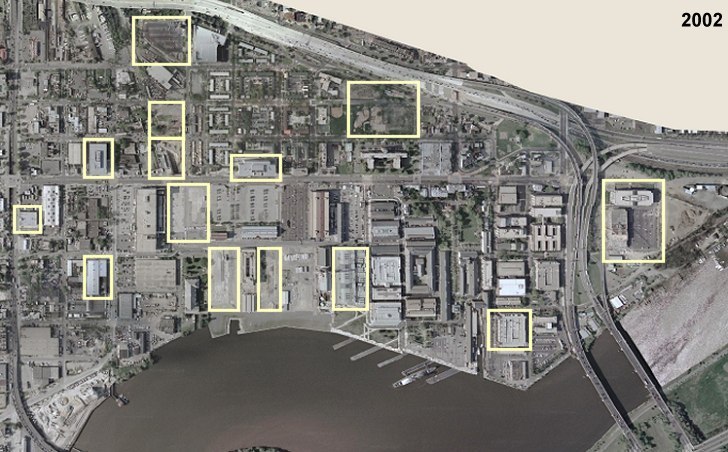 The 2002 version, from Google Maps, shows the first wave of changes. From left to right: the arrival of the trash transfer garage at 1st and N and the Public Self Storage building on South Capitol, 80 M (completed in 2001), demolition of buildings owned by the Washington Star at 2nd and Virginia, initial demolition of buildings on the Capitol Hill Tower site, the initial work at 1100 New Jersey, 300 M (completed in 2001), demolition of four buildings at the Southeast Federal Center, the renovation/expansion at the Navy Yard, the demolition of two Capper apartment buildings along Virginia Ave. and 7th Street, and the completion of Maritime Plaza I and beginning of Maritime Plaza II just east of the 11th Street Bridges.

The August 2010 image, from Google, showing considerable changes from the 2008 image, even during a time of recession. From left: 1015 Half is topped out, Velocity, 70/100 I, 55 M, 909 New Jersey, Onyx, and 100 M all have been completed. Diamond Teague Piers and the Yards Park are clearly visible, as is the lack of school buses on the Canal Park site. And the first phase of Capitol Quarter is complete. Lastly, at far right, the construction of the new 11th Street Bridges and the reconfiguration of the approaches and flyovers can be seen.