Near Southeast DC: Past News Items - Nov 09, 2010
Go to Full Blog Archive
---
1 Blog Posts
Slides from 11th Street Bridges Presentation to ANC 6D
Nov 9, 2010 11:54 PM
At Monday's ANC 6D meeting, Bryon Johnston of the 11th Street Bridges Project gave a presentation on the rebuilding of the bridges, including an overview of the design and its main features as well as an update on the construction progress. He was nice enough to
pass along the slides
, which may not mean quite as much without his narration but are still helpful for people who haven't been following along through the
process
.
A few parts of the new design on the Near Southeast side of the project are worth (re-)pointing out, if you can make it through my torrent of descriptions:
* The "freeway" traffic and the "local" traffic will now be separated, with four lanes inbound and four lanes outbound on the freeway/upriver bridge and two lanes inbound/outbound on the "local"/downriver bridge (which Johnston was referring to as "
Local 11th Street
" because 11th will now feel like a street that crosses a river), as shown on
slide
10.
* The local bridge will allow easier access between Near Southeast and Anacostia, for not only cars but pedestrians and bicycles, as well as streetcars when the routes are expanded. As part of this,
11th Street south of M is going to become two-way
, and there will be bike lanes in both directions on 11th north of the bridge. (
Slide
9)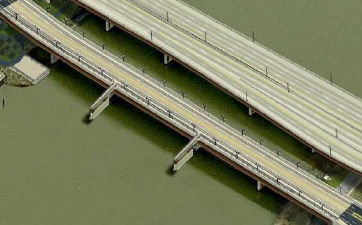 * Another feature that appears to be coming together for pedestrians and bicyclists is creating
two overlooks
that jut out above the river on the south side of the local bridge--these would use two of the in-water piers from the current downriver bridge, and you can see them at left and on
slide
11.
* One of the big changes for traffic flow for both Near Southeast and Capitol Hill is that there is going to be a
new two-lane on-ramp to go westward on the Southeast Freeway toward Virginia at 11th Street
, underneath where the current flyover ramps are. (See
slide
7.) Folks who have easier access to 11th Street will no longer have to drive along Virginia Avenue and/or 3rd Street to go westbound on the freeway.
But part of this new 11th Street intersection is that traffic coming from Pennsylvania Avenue along the sunken road that currently feeds directly into the freeway will instead be brought up to street level at this new signalized 11th Street intersection and will then drive straight onto the new on-ramp. So there will be some consternation from drivers using this route. (This is also shown on
slide
7.)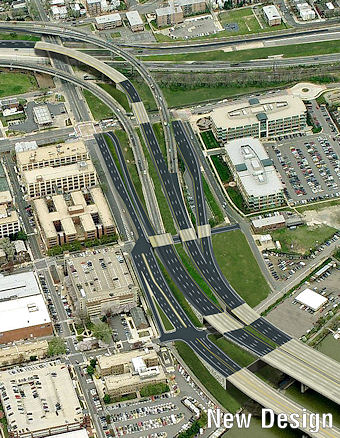 *
To go across the river
from Near Southeast on the freeway bridge, for access to DC-295 northbound and I-295 southbound, drivers will have a
new ramp on the southeast corner of 11th and M
(
slide
4). The existing ramp at 8th and Virginia will still be available, too.
* There will still be an
exit ramp from the inbound freeway bridge to I Street
, just as there is now (
slide
4).
* If you look at
slide
4 very closely (and/or click on the
bird's-eye view
at right) and follow the paths off of each bridge, you can see how the freeway bridges coming across the river will have an exit for M Street similar to the current exit, but it deposits drivers at M just west of 12th instead of using 12th itself. It also no longer has the neat little N Street cut-through directly from the ramp that some Navy Yard workers cherish. To get to the Navy Yard, drivers will turn left on M, then left at 11th, and then go to whichever gate they need.
Other information in the slides includes: a graphic showing of the new ramps and accesses on the east side of the bridges at 295 and MLK (
slide
12), of which the biggest addition is that you'll now be able to get to and from 295 and the bridges in all directions. There's also recent construction photos (including the first structural steel being laid on the freeway bridge), and information on stormwater management areas, and upcoming traffic impacts (
slide
19).
It's expected that the freeway bridge will open about a year from now, with the new local bridge being finished in the winter of 2012/2013. (Dr. Gridlock wrote about recent milestones and upcoming work
a few weeks ago
.)