Near Southeast DC: Past News Items - March 2012
Go to Full Blog Archive
---
19 Blog Posts
Capper Milestone: Capitol Quarter Townhouses Now Sold Out
Mar 29, 2012 9:40 AM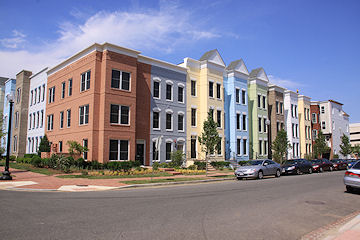 It's a real milestone in the redevelopment of Near Southeast to report that the entire stock of townhouses for sale at
Capitol Quarter
has now sold out.
The first reservations for units were taken in
October 2006
(remember the people camping out?), construction began in
summer 2008
, Phase 1 finished construction and Phase 2 reservations began in 2010, and now, with construction underway on the last group of houses on L between 3rd and 4th, the finish line for the project is not far away.
The development has been the third phase of the
Hope VI redevelopment
of the old
Capper/Carrollsburg
public housing project, replacing the old housing with nearly seven blocks of brightly painted rowhouses, containing not only 130ish market-rate townhouses (a few of which have broken the $1 million barrier) but also 90ish special
workforce-rate
houses for smaller incomes, in addition to nearly 90 subsidized rental units.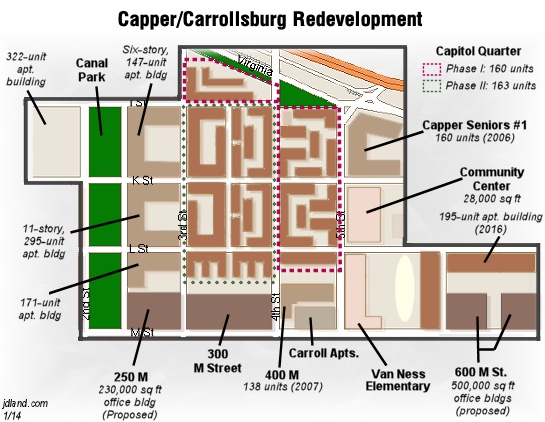 Those units, combined with the 300 built at
Capper Seniors #1
and
400 M Street
, mean that more than half of the 700 units in the old Capper have now been replaced. The rest are slated to come in
five mixed-income apartment buildings
, located on the west side of 3rd Street, on
L Street south
of the Marine Bachelor Enlisted Quarters, and on the DPW/trash transfer station site at New Jersey and K. No timelines have been announced for any of the remaining buildings, but you can see on my
main Capper page
a map with estimated unit counts for each.
I've taken a lot (a LOT) of photos of the Capper footprint since 2003: my Capitol Quarter
Phase 2
and
Phase 1
pages give a good overview, or you can just pick a spot along 3rd, 4th, or 5th Streets in my
Photo Archive
and take a look.
Slightly Off-Topic: Checking Out that *Other* Nationals Ballpark
Mar 27, 2012 9:17 AM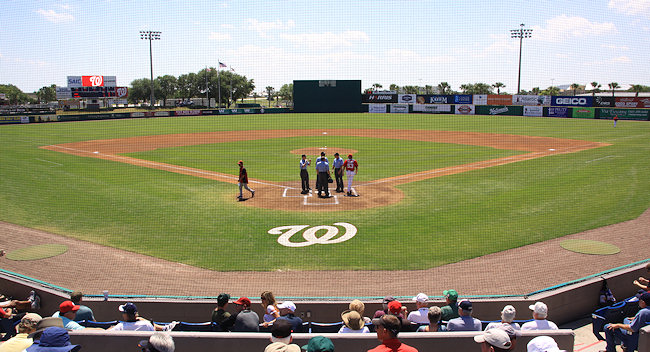 I had an opportunity on Monday to make a trip to
Viera
for my first-ever Spring Training game, to see the Nationals beat the Houston Astros, 7-4. While sitting in the warm Florida sun for a few hours watching baseball was the top priority, I did arrive with camera in hand, and so couldn't pass up the opportunity to take a bunch of pictures of the Nats' other stadium.
So, here are two photo galleries that might be of interest:
looking around Space Coast Stadium
, and
action photos from the Nats-Astros game
.
The Nats will be back at their
real ballpark
one week from today, for an exhibition game on April 3 against the Boston Red Sox. The home opener is now just a smidge over two weeks away, on April 12 against the Cincinnati Reds.
Monday Tidbits: Justin's Block Party and Farther-Off Events
Mar 26, 2012 10:05 AM
I'm going to be a bit scarce this week, so here's few events-related tidbits to keep the home page from having the equivalent of electronic tumbleweeds blowing across it:
* Don't forget that the public meeting about the
possible recreational re-use
of the old outbound
11th Street Bridge
span is on
Wednesday, March 28, at 6:30 pm
.
*
Justin's Cafe
has now posted the information on its
April 14 block party
, both on
Facebook
and its new
JustinsCafeEvents.com web site
. It will run from 11 am to 9 pm, offering a line-up of local craft brews (including "beer trucks" from Port City Brewery and DC Brau), and 106.7 The Fan FM will be broadcasting from there. "All ages welcomed, 21 and over to drink." Money is also being raised for free youth baseball and softball programs through the
DC Grays
and S.M.A.R.T. Camps and Clinics. (The Nats play the Reds at 4:05 pm that day.)
* On April 1 (well, April 2, technically), the
Union Station-Navy Yard Circulator bus
starts its summer hours, running from 6 am to 9 pm weekdays and 7 am to 9 pm Saturdays, with extended service on Nationals game days.
*
The Southwester reports
that there's a
Neighborhood Night
at
Nationals Park
on Thursday, April 19. "The team will honor the vibrant spirit of the neighborhood by featuring local residents in various pregame activities, including throwing out the first pitch, delivering the lineup card and greeting the players as they take their positions on the field." Near Southeast and Southwest residents can also get discounted tickets to games throughout the season, but I'll make you follow the link to find out about that!
Thursday Tidbits: Minutiae from Wandering the Streets (and Twitter)
Mar 22, 2012 3:38 PM
With Pictures:
* Shipping containers
have
been
arriving
at the
Fairgrounds
(Bullpen) site. (They say there's going to be a "preview" event on March 30--looks like a lot of work to do in eight days. But the real opening is
supposed to be
in time for the Nats' season opener on April 12.)
* Greenery
is
arriving
at
200 I/225 Virginia
, and the sidewalks are done. Apparently the fences will be moved back sometime next week to keep the building perimeter secure but to allow the sidewalks to be used. (In other words, the "street sidewalk" will finally disappear.) There should also be repaving and crosswalk striping around the site coming in early April.
Without Pictures:
* Framing is racing along on the stretch of
Capitol Quarter
townhomes on 3rd south of L.
* Curbs are going in on 2nd Place next to
Canal Park
and the pavilion.
* The cherry trees in the Center Field Plaza at
Nats Park
are budding, but don't look on the verge of popping yet. Perhaps they can hold on until April 3.
Elsewhere:
* Mark Batterson says the
demolition
of the Miles Glass building and the garage next door on Virginia Avenue
will happen next week
.
* Yesterday we were talking about the possibility of a
little BOOM
, but here's what might happen 'round these parts if there's a
really BIG BOOM
.
* The Post writes
about the neighborhood
as part of the big Mega RealEstate focus on walkable communities, and keys in on the fact that the area has a number of different names. (For the record, it's not like I made up "Near Southeast"--I was just
following the city's lead
.) Within a few hours, though, Greater Greater Washington may have solved the problem by pointing us to the area's late-19th-century moniker: "
Bloodfield
." Wouldn't that work great for ballpark headlines? ("Phillies Dismembered at Bloodfield.")
Anything else folks are seeing?
A Little Present Left Over from the Old Days at 1212 4th
Mar 21, 2012 2:51 PM
When a "suspicious package" alert
went out on Twitter
this morning about the 1200 block of 4th St. SE and 400 block of Tingey being closed, my Spidey sense tingled a bit, given the recent speculation in
comment
threads
that the halt in digging at the planned
1212 4th St. apartment building/Teeter
project at
the Yards
was because of an "UXO" (unexploded ordnance).
One reader sent me both
videos
and
a series of iPhone photos
showing the activity, but it was DCIst that got the money shot:
a photo clearly showing a big ole' UXO
(oh, heck, let's have fun and call it a bomb). This site is of course part of the old Navy Yard footprint, where all manner of exploding items were manufactured for many years.
Since no one's reported any big BOOMs in the intervening time, the clean-up must have proceeded according to plan. The question is, will there be any more surprises once digging resumes?
UPDATE:
Here's
WJLA's report on the day's festivities
, and then DCist unearthed these
two
videos
of the gun factory from 1952.
UPDATE II:
While we're all enjoying being a bit flip about all of this, it is of course a serious business to be doing this excavation with such items laying around. Forest City tells me that the work is being done in accordance with guidelines from the Army's Explosive Ordnance Division, and that indeed over the past several weeks sitework has needed to be stopped temporarily because of the unearthing of "munitions debris." Each time, the police department's bomb squad is called in, who then determine whether the EOD folks from Ft. Belvoir should be called in, as they were today.
Forest City also says that it's anticipated that most buried artifacts and debris are found within the first 10 to 15 feet of soil when excavation, so once they get past that level, they expect the finds will trail off. And, it's not just munitions being found--foundations of several homes that were on site prior to the lot being used by the Navy have been found, as well as a Civil War-era cannon.
But the company does want to emphasize that "public safety and the safety of the site workers are paramount for Forest City, so we will continue to strictly abide by the established practices and involve the qualified technicians whenever and as soon as necessary." This includes having a former Navy munitions expert on site at all times as a "spotter," and using a two-part method when excavating, scooping the dirt from the hole in small quantities and spreading it out to be looked at and cleared before it's then scooped into a truck for removal from the site.
Whether this will impact the timeline for 1212 4th's construction depends on how many stoppages there end up being.
Coming to Nationals Park, or Just to the Neighborhood? A Guide
Mar 20, 2012 11:24 AM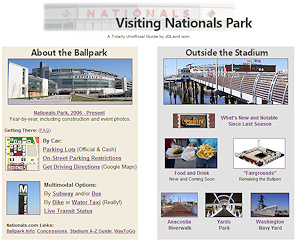 Do you know what's two weeks from today? The Nationals' first home game of 2012, an exhibition against the Boston Red Sox. And the home opener is a mere three weeks and two days away, when the Nats play the Cincinnati Reds on April 12.
This means a lot of people will be returning to the Near Capitol Ballpark River Yards neighborhood for the first time since last summer, or might even be venturing in for the first time ever thanks to the buzz around the team's potential. So I've created a new page:
Visiting Nationals Park
, which brings together links and information both about the ballpark itself and what's available and interesting outside the stadium.
It includes a
What's New and Notable Since Last Season
page, as well as a Google Map showing the
nearby food and drink options
(both currently open and the ones announced to be on the way). And there's links to my new
Anacostia Riverwalk
page and
Yards Park
and
Navy Yard
pages for people looking for things to do (that don't involve food!) before or after the games.
As for the ballpark itself, there's my
map of official and "cash" parking lots
, a "
Getting There
" guide, and of course all of my
photos of the stadium's construction and milestones
.
I'm sure it'll be updated with more items as Opening Day approaches, but I figured I'd go ahead and
get it out there
now (especially to help everyone in the media getting ready to write their annual What Is/Isn't Happening Near Nats Park pieces!).
March 28 Meeting on Potential 11th Street Recreation Bridge
Mar 19, 2012 3:16 PM
This was mentioned last week when the
news first came out
, but now there's confirmation via a
flyer from the Office of Planning
that an "informational meeting" will be held on March 28 at 6:30 pm about the "Potential Recreation Reuse of 11th Street Bridge, SE."
If you missed the hullabaloo, the city is looking at the
notion
of reusing the structure of the soon-to-be-abandoned downstream/outbound
11th Street Bridge
as a recreation destination, linking both sides of the Anacostia River "in a unique and dramatic way."
And there's also now a
page on the OP web site
about the project, noting that no decisions have been made or even committted to on the project. The page also makes sure to mention that "actually seeing this project realized will be very ambitious and challenging." A design competition will be held later this year, and apparently the process will "involve local youth in generating ideas." And, as
Lydia DePillis noted
, there will have to be a "significant level of partnership with the private and non-profit sectors" in order for this to work.
The
meeting
will be held in the DCRA office space at 1100 4th St., SW. Bring your ideas!
Tidbits: Miles Glass Raze Permits, Navy Yard-Ballpark, More
Mar 19, 2012 11:57 AM
Couldn't leave all these morsels until the normal Tuesday Tidbits slot:
*
More Demolitions Coming
: Raze permits have now been approved for the Miles Glass building at
8th and Virginia
and its next-door neighbor, the closed auto repair shop at
7th and K
.
National Community Church
, which owns the lots and others on the same block, said
back in January
that a temporary parking lot and "community green space" will be coming to the site while the church continues to work on its final plans for the site, which in the past
have been described as
being a combination of coffee house, performance space, and church offices.
*
Yup, Navy Yard-Ballpark
. The
new Metro subway map is out
, and confirms that
Navy Yard-Ballpark is official
.
*
Bike to Work
: May 18 is DC's
Bike to Work Day
. One of the
pit stops
is the
Yards Park
, from 7 to 9 am, and you get a t-shirt if you register and then stop at your designated pit stop.
*
Bridge Recreation
: If the notion of the "
11th Street Recreation Bridge
" captured your fancy, you can see some additional stories on the idea by
Lydia DePillis
,
BeyondDC
, and
WJLA
.
DePillis
notes that the city isn't intending on paying for this entire thing itself, and a decision needs to be made by May whether or not the new
11th Street Local bridge
will have the bulb-out viewpoints built (they'd be unnecessary if the current downstream bridge was being kept).
WJLA
, on the other hand, mentions that "some" are concerned it "could become a hotbed for crime"--which led to a fun Twitter
back
-
and
-
forth
that devolved into using the new bridge for a Jason Bourne/James Bond-type chase sequence.
*
Mobile 'Hood
: The Capitol Riverfront BID has launched a mobile version of its
web site
, which uses your phone's GPS to give you information on food, developments, and events near your location.
And, of course, if you want to know what your current location looked like before all the changes started happening, you can go to my mobile site (
m.jdland.com
) or
jdland.com/here
on your phone and you'll get my oldest photos looking in each direction from the corner nearest to where you're standing. (
Read more about how that works
.)
*
Fairgrounds
:
DCMud looks
at the plans for the
Half Street Fairgrounds
(which I
broke the news of
back in February), with a few neat new renderings. And then the piece drops a mention at the very end that "DCRE Real Estate" is handling the retail leasing for the project--that's DCMud's company, and the writer of the blog post is also the agent handling the leasing. (Just in case you like to be aware of those sorts of things when getting your news.) In the meantime,
a few shipping containers were spotted
on the site last week.
Ward 6 Dems Holding At-Large Candidates Forum Tuesday
Mar 19, 2012 8:27 AM
Unless you live and breathe politics (and who in DC does THAT?), you might not even be aware that DC is having its
primary election day on April 3
, and while Ward 6's council member Tommy Wells is not up for reelection this time around, Ward 6 residents do have the at-large council race to vote in (in addition to the presidential election and the DC delegate/shadow rep races).
To help get to know the candidates, the Ward 6 Democrats are hosting an
At-Large Candidates Forum
tomorrow, Tuesday, March 20, from 7 to 8:30 pm at Brent Elementary School at 301 North Carolina Ave, SE. The forum will be moderated by WTOP's Mark Segraves, and the event is free and open to the public.
Running are Vincent Orange (the current seat holder), E. Gail Anderson Holness, Peter Shapiro, and Sekou Biddle (all Democrats), Mary Brooks Beatty (Republican), and G. Lee Aikin and Ann C. Wilcox (Green Party).
Early voting for
all races
starts today (March 19) at One Judiciary Square. From March 24 to March 31, early voting expands to seven additional locations, including the King Greenleaf Rec Center at 201 N St., SW. For more information about the election, go to the
Board of Elections web site
.
New Boilermaker Shops Brewery to be Called Bluejacket
Mar 16, 2012 9:44 AM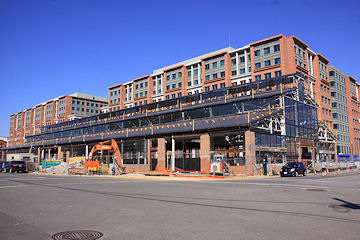 The
Washington Post reports today
that the Neighborhood Restaurant Group has now decided on a name for the brewery it is bringing to the
Boilermaker Shops
at the Yards:
Bluejacket
, which it says is "historically a term for sailors in the US Navy."
The brewery also now has a
web site
, a
Twitter feed
, and a
Facebook page
. And an "Established 2013" tagline, so that's another confirmation that they don't look to be opened before the end of this year.
The brewery will be located on the
eastern end
of the Boilermaker Shops building, fronting 4th Street SE.
Navy Yard Security Exercise May Impact Navy Yard
Mar 16, 2012 9:44 AM
Something to keep an eye out for
next week in the areas right around the
Washington Navy Yard
:
"Exercise SOLID CURTAIN-CITADEL SHIELD 2012 will be conducted on naval bases and installations throughout the National Capital Region from March 19-24, 2012.
"This annual exercise is designed to enhance the training and readiness of Navy Security Forces to respond to threats to installations and units. Exercise SOLID CURTAIN-CITADEL SHIELD 2012 is not in response to any specific threat, but is a regularly-scheduled exercise.
"Measures have been taken to minimize disruptions to normal base and station operations, but there may be times when the exercise causes increased traffic around bases or delays in base access. Area residents may also see increased security activity associated with the exercise."
[And yes, I'm making a point with that headline.]
Tuesday Tidbits: Best Evaluated by Volume, Not Weight
Mar 13, 2012 9:19 AM
So many
Tweets
recently, such small items. Let's see how short I can keep them:
*
Justin's Cafe is looking to have a block party
on Saturday, April 14 (when the Nats and the Reds play at 4:05 pm), and ANC 6D has supported the request to close 1st Street between K and L. (
Thanks to SWill
for, once again, picking up my slack.) Still probably some bureaucratic hoops to jump through before all is confirmed. This was moved
from
Opening Day so it would be on a weekend, Will says,
* Looks like
DPW's trucks
have
departed a couple weeks earlier than expected
from the agency's longtime home at
New Jersey and K
, although all the lights may not be turned out just yet. Demolition is in the cards, though some environmental abatement has to happen first.
* New
striping and bike lanes
were installed Monday on I Street SE between South Capitol and New Jersey.
* Start starving yourself now to prepare for the
Red Porch's eight-pound "StrasBurger
."
*
Photographic evidence of fences down
at the old
Bullpen
, clearing the way for
Fairgrounds
.
* Only
four houses left for sale
at
Capitol Quarter
.
*
Bank of America
is now
building out its new space
in the ground floor of 55 M south of the Metro entrance,
informed sources say
. (They're closing their Southwest location
in June
.)
* Could
DC United be setting up shop
just a few blocks up Potomac Avenue from Nationals Park?
* Near Southeast gets off relatively easy in this Sunday's
National Marathon Street Closure Sweepstakes
(just South Capitol south of L, and the Douglass Bridge).
Anything else going on these days? Besides that sandwich shop opening?
UPDATE:
Let's add the
elephant parade
! Starting tonight at 8 pm, on the southern edge of Garfield Park at the train tracks where Virginia crosses under New Jersey, says
WTOP
.
UPDATE II:
And, from the Hill is Home, a
Q&A with ANC commissioner David Garber
.
UPDATE III
: I sent a
lackey
down to Potbelly to get a
few
opening-day
shots
. Hope he's not expecting to get reimbursed for his lunch.
Could Old Outbound 11th Street Span Become Recreation Bridge?
Mar 12, 2012 12:15 PM
Via
TheWashCycle
, the city is apparently looking at the concept of transforming the downstream, soon-to-be-abandoned outbound
11th Street Bridge
into an "
11th Street Recreation Bridge
," calling it an "opportunity for a destination linking river trails and recreation amenities."
This
PDF from the Office of Planning
(interestingly, it has the file name "Constituent Request.pdf") has a couple of concept drawings, some graphs about development in the surrounding areas, and keeps mentioning a "proposed design competition" to generate ideas for how the span could be used after the new 11th Street Local Bridge opens this summer.
There's been back-room chatter for a while that Office of Planning director Harriet Tregoning has been interested in preserving one of the existing bridge spans as a potential "
High Line
" for Washington, DC, and there have also been calls from various residents (including Near Southeast's own
Man About Town David Garber
) to build some sort of pedestrian bridge linking the two shores of the Anacostia River.
WashCycle says
that DPW (? maybe OP?) is holding a meeting on March 28 at 6:30 pm on the concept, though I can't find any press releases or anything about it on dc.gov.
I'll be interested to see how it's proposed to get people up to it from the western shore, given that the approach to the old bridge is supposed to be demolished in order to complete the new 11th Street Local bridge's "arrival" at street level near
11th and O
, and then allowing two-way traffic to run on 11th Street by the Navy Yard.
I'm guessing there will be plenty of chatter about this to come!
Potbelly Opening for Business Tuesday at 10 am
Mar 11, 2012 10:03 PM

Unless things fall apart in the final few hours, the
Potbelly Sandwich Works
at 301 Tingey St. SE should officially open for business on Tuesday, March 13, at 10 am. (At least,
that's what the sign says
!) On Sunday afternoon workers were on site getting training, and on Monday there will be a dress rehearsal/dry run for "
friends and family
."
It will be open from 10 am to 7 pm seven days a week, and, if you're unfamilar with Potbelly's menu, you still have
a little time left to bone up
.
Canal Park Construction Issues Push Back Opening Date
Mar 8, 2012 2:50 PM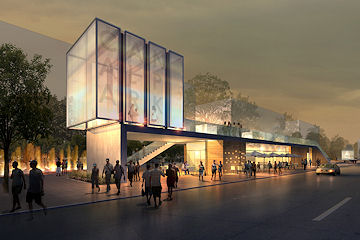 There's been a lot of positive news in the neighborhood of late, but news today from
Canal Park
will be disappointing to many residents and observers: Because of "major underground obstacles" that weren't found until workers started digging, the park's underground storm water system is having to be completely redesigned and then approved by DC Water.
According to Chris Vanarsdale of the
Canal Park Development Association
, this has bumped the schedule by about four months, and November 1 is now the expected completion date. (Just in time for ice skating!)
Canal Park is of course also where Xavier Cevera's
Park Tavern restaurant
is anticipated to open, which means that its opening would be pushed back as well.
Harry's Reserve First Anniversary Events This Weekend
Mar 8, 2012 1:09 PM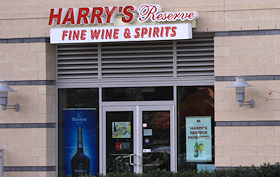 Harry's Reserve, the "fine wine and spirits" store at the corner of New Jersey and I SE, is celebrating its first anniversary (how the time does fly!), and are getting out the word about some events over the next three days to mark the occasion.
Tonight and tomorrow (Thursday and Friday), they are having wine tastings from 5:30 pm to 8:30 pm. Then, on Saturday (March 10), they are throwing a barbeque out front from 1 pm to 5 pm, and tastings until 7. They are also raffling off more than 15 bottles of the good stuff.
Details on all the offerings will hopefully be up on
their Facebook page
--I'd reel off the entire list of wines and spirits they are making available during these tastings and for the raffle, but then we'd just have a conflagration in the comments about how the Ruca Malen Malbec is soooooooooo much better than the De Martino Legado Syrah, and how the Three Saints Pinot Noir was so much better until the hipsters discovered it, and then I'd have to start suspending people, and there'd be rioting.
A (Virtual) Walk on the Anacostia Riverwalk Trail's Western Side
Mar 7, 2012 9:48 AM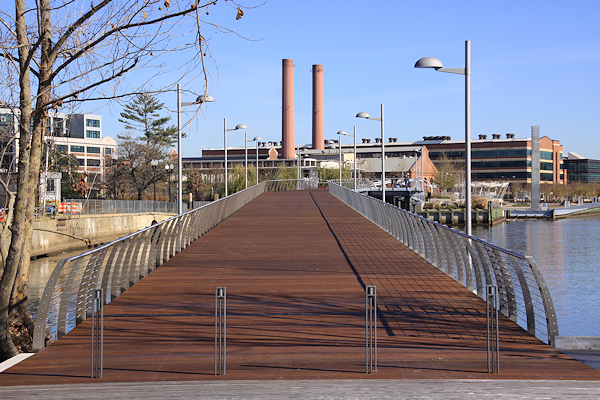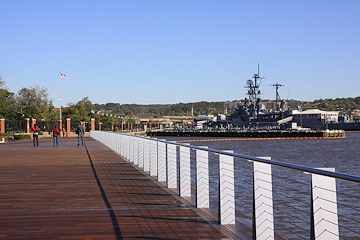 What a gorgeous spring day we appear to have on tap today! Wouldn't it be a lovely day for a nice stroll along a riverfront? Near Southeast, Southwest, and Capitol Hill denizens (plus a lot of the #bikedc crowd) are familiar with the neighborhood's portion of the
Anacostia Riverwalk Trail
, but now that the
bridge
between the
Yards Park
and
Diamond Teague Park
is complete, giving the main portion of the trail a connection to
Nationals Park
, non-residents should get a reminder to experience what is a path unlike any other in Washington.
So I've put together a
new page
covering the
Anacostia Riverwalk Trail (Near Southeast Portion)
that acts as a sort of virtual walk along the river, from 1st Street SE to the 11th Street Bridges and a little beyond. (If I weren't so lazy, I'd take on the entire trail, but maybe later.) There's also a few before-and-afters to remind people of how far the trail has come in a relatively short time.
A lot of the photos on this
new page
may be familiar from my other project pages, but I think it was worth it to give this amenity its own home. And there should be some updates over the next few months as the 11th Street Local bridge is opened and the work begins on the portion of the trail that runs beneath the bridges, not to mention the paths on the new bridge itself that will make for an even easier link to the trail's eastern side that runs through Anacostia Park. And I'll try to get some newer photos of the section from 11th Street to the Sousa Bridge, and perhaps beyond.
In the meantime,
browse the photos
or, even better, get down there and take a walk.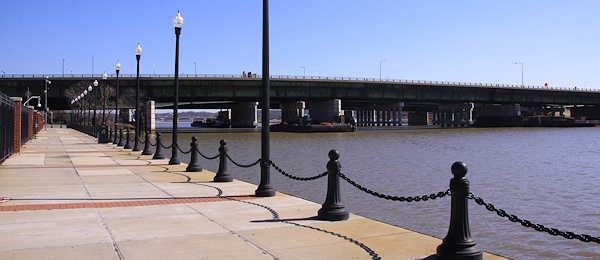 Tuesday Tidbits, Getting Closer to Opening Day Edition
Mar 6, 2012 10:18 AM
Cleaning off the digital desk:

* Readers are reporting that the fence is coming down around the Bullpen on Half Street. This would be in preparation for the
new Fairgrounds offering
.
Designs
show
that the new "fence" will be shipping containers, which makes sense given that the venture is centered around a shipping container market. Their intent is to have it up and running by Opening Day. (
Read my Fairgrounds post
from a few weeks ago for much more detail.)
* Speaking of Opening Day,
single-game tickets go on sale Thursday at 10 am
.
* Residents won't exactly be interested in this news (except maybe from a parking/traffic angle), but I'll still pass along that a new venture called
Ballpark Bus
is getting launched this season to bring fans from five northern Virginia locations to the stadium. (More to be announced soon, the web site says.) The blog Let Teddy Win has
more about the service
.
* If you'd rather get to the stadium by sea, Potomac Riverboat Company is once again running its
Baseball Boat
for the 2012 season--boats leave Alexandria and take about a half-hour to get to
Diamond Teague Park,
right across from Nationals Park. Price is $24 for a round-trip voyage or $15 one way. (You can also set sail from National Harbor by taking PRC's service from there to Alexandria and then hook up with the baseball boat, for $30 round trip or $20 one way.)
* Also getting ready for another season of operations is
American River Taxi
, whose owner
tweeted on Monday
"See you for Cherry Blossoms." The boat stops at Georgetown, the Southwest Waterfront, and Teague Park--and now that pier is a lovely
riverside-bridge
-walk away from the
Yards Park
(rather than having to walk up 1st to Tingey, over to 3rd, and down).
* Still haven't heard of an official opening date for
Potbelly
(though it's
expected to be next week
), but a press release says that the hours will be 10 am - 7 pm seven days a week, along with delivery service Monday through Friday from 10 am to 2 pm. The store's general manager will be James Carpenter, who previously worked at their Union Station shop. Trivia fans will also note that this location at 301 Tingey (in the ground floor of the
Foundry Lofts
) will be the 45th Potbelly to open in the DC area.
100 M Office Building Up for Sale
Mar 2, 2012 10:48 AM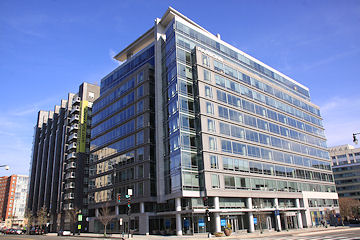 I'm hearing that
100 M Street
, the 220,000-square-foot office building on the northeast corner of 1st and M, is up for sale. This is the building that was completed in late 2008 by Opus East, then spent some time in
limbo
during Opus's Chapter 7 liquidation. It was
picked up in foreclosure for $57 million
in fall 2010 by
Northwood Investors
.
I know little about this other than the fact it's on the market and being marketed by CBRE, so I don't know if this is a sale of just the building, like last time, given that
the land is owned separately
.
Anticipating the next question, there's been no news lately of a deal to rent the corner retail space, despite
rumors
last year that restaurant/brewery Gordon Biersch was interested.