Near Southeast DC: Past News Items - May 2010
Go to Full Blog Archive
---
26 Blog Posts
Go to Page:
1
|
2
New Photos. Lots of Them. (1015 Half, 11th Street Bridges, Yards Park, Etc.)
May 31, 2010 4:56 PM
There have been a lot of photos I've been needing to take recently, and the stars finally aligned today for me to go get them. (I sure could use some Gatorade about now, though.) Here's a run-through:

I made my first visit to the
11th Street Bridges
site, and now that all
63 river piles have been driven
, it's kind of an interesting tableau. You can see
my new photos
, as well as
background on the project
if you need some orientation on what exactly you're seeing. I also got some "final" before-and-after photos of the
view at 12th and M
now that the RFK ramps are mostly gone.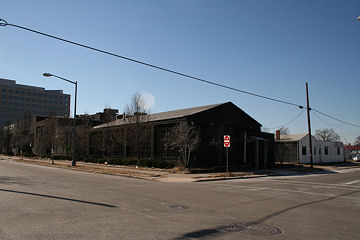 I also wandered over to
1015 Half Street
, now that I've been convinced that they're truly working on the building again. The
main project page
has an overview, but if you can't get enough before-and-afters, the
Expanded 1015 Photo Archive
shows even more angles (though you Nation fans might find them bittersweet).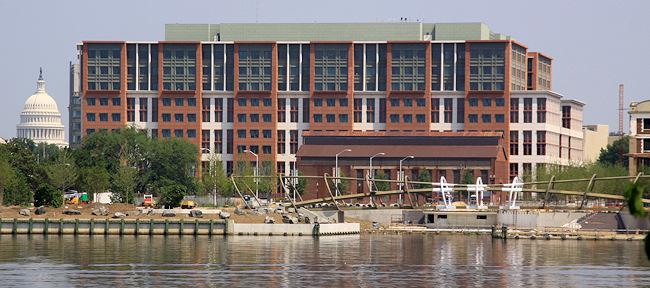 I know I just unleased a big pile of
Yards Park
photos
a few days ago
, but the big hole in the lineup has been a lack of shots from across the Anacostia River, at Poplar Point. So I got over there today, and while they aren't as exciting as you might imagine (though you can see that they're doing some priming or test painting on the pedestrian bridge), I've still added some to my
Yards Park page
, denoted with the

icon. I also finally got my official "after" photos from Poplar Point for
Diamond Teague Piers
, which you can see on the
project page
and
also here
. And, for the fun of it, you can also
"watch" the stadium go up from that spot
.
If you want to see all the "intersection" shots I took today (all 131 of them!),
they're here, on three pages
, and you can then click on the
icon to see the historical images. (I had a lot of spots that needed updating. Yeesh!)
Housing Authority Officially Requests Marines Stop Looking at Square 882 for New Barracks
May 28, 2010 12:58 AM

I've been chroncling
over the past few months the
Marine Corps' search
for a spot for a new barracks, which has focused on a number of sites in Near Southeast, including the block bounded by Fifth, Seventh, L and M just south of their newest barracks that used to be home to the old Capper Seniors apartment building. It's been clear in public meetings and various other rumblings that both city planning officials and the DC Housing Authority are
very much against
the Marines using this site, with
plans having been in place
for a number of years for this
now-empty/parking-lot block
to become home to both a 600,000-square-foot office building and a 189-unit mixed-income apartment building (shown above) as part of the
Capper/Carrollsburg redevelopment
.
Clearly feeling that the Marines haven't given up on the site as an option despite these plans, DCHA has now
sent the Marines a letter
officially requesting that the Corps "not continue to propose redevelopment options on the DCHA-owned Square 882 as a future site for its facility needs." The letter explains that DCHA has already secured funds to improve the infrastructure around the square, has spent "substantial predevelopment funds" on design and engineering drawings, and is anticipating beginning work on the residential portion of the site in October. (There's currently no timetable for the office portion.) Further, DCHA says it "recently received an invitation from HUD to submit an application for a FHA loan guarantee to support the planned residential construction on the site," and that this construction is expected to start "this winter."
Nothing in the letter is necessarily a surprise--I've written fairly extensively about
DCHA's plans
and about the zoning travails they went through before
getting a second-stage PUD approval
for Square 882 last year, which even included
many discussions and agreements
with both the Marines and the Navy about security requirements for the new buildings on this block. But clearly DCHA is hoping to be completely removed from the Marines' list of potential sites in the same way that the DC Public Schools (and parents) got Tyler Elementary removed from consideration. But it's also clear from the public workshops that the Marines very much like what Square 882 has to offer them in terms of space and proximity to the other USMC operations in the area.
The Marines are hoping to make a decision on a site by September. You can see
all the sites under consideration
and the various options on the "Community Integrated Master Plan" web site.
Yards Park Construction Progress Photos
May 25, 2010 7:34 PM
It was a beautiful afternoon for a walk along the Anacostia River, and I was lucky enough to take my stroll within the boundaries of the forthcoming
Park at the Yards
. The 5.8-acre park is scheduled for a "late summer" opening, and it's definitely taking shape, as you can see in my new
Park Construction Photo Gallery
. (And thanks also to Mother Nature for the fab backdrop; compare the shots from
my visit in March
to see why I tend to avoid cloudy days if at all possible.) The park, for those not keeping up, is being built by Forest City as part of
The Yards
, but is being funded by the city through PILOT monies and then will be turned over to the
Capitol Riverfront BID
for maintenance and "programming" once it's completed. It's that public money that has allowed the park's construction to go forward during a time when private funding is pretty hard to come by.
The biggest news is that the
60-foot light tower
on the water's edge at the foot of Third Street, which was originally not going to be installed until the park's second phase, is now going to arrive (by barge!) in July and be in place when the park is unveiled.
And, while the no-longer-salmon-tin-sided Lumber Storage Shed will be merely an open skeleton when the park opens, it sounds like maybe the possibilities of tenants are close enough that the Shed could be transformed into its glass-skinned retail pavilion new self sooner than might have been anticipated during the park's design phase.
(There also seems to be similar optimism about both the nearby
Foundry Lofts
and
Boilermaker Shops
projects getting on track. Forest City continues to work with HUD to get the financing squared away for the Lofts, and the Boilermaker Shops could get underway before the end of the year.)
Also in evidence in the
Photo Gallery
is the (ZOMG!!)
dog park.
which will be a fenced-in area on the far western edge of the park along the boundary with the 1905 WASA building.
So,
wander through
and read the captions for greater detail, and compare the photos to the park rendering at the top of the page to orient yourself and to understand what different sections will look like when completed.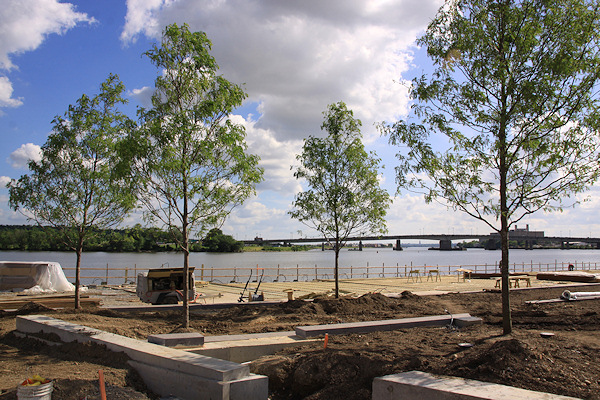 Liquor Store Coming to 909 New Jersey?
May 25, 2010 2:31 PM
Some potential retail news might have just come onto the radar screen: on the agenda for ANC 6D's next ABC Committee meeting is a proposed Class A license at
909 New Jersey Avenue
for an entity called "Harry's SW & SE". They are proposing apparently to sell beer, wine, bread, milk, cheese, and sandwiches (and no "singles"), which is in line with a
Class A/liquor store license
. If anyone who lives at 909 has heard any rumors, or if anyone else has some scoop,
drop me a line
. I'm trying to find out more, and will update as I can. (Though the last time I started asking questions about a license application when one appeared on the ABC agenda was a few months ago for
55 M
, and it disappeared from the lineup almost as soon as I hit "send." So be forewarned.)
Also on the ABC agenda is a change to Justin's Cafe's license, with Justin now seeking to add a sidewalk cafe.
The meeting is on June 2 at 7 pm at King Greenleaf Recreation Center.
UPDATE:
There was a Harry's Liquor Store at 401 M St., SW back in the old Waterside Mall--I don't think it's reopened in the new building(?). I imagine this is the same owner.
UPDATE II: It is indeed the same owner as the old Waterside Mall store, and he also owns Capitol Hill Wine and Spirits in the 300 block of Pennsylvania Ave., SE.
Historic Blue Castle and Streetcars Photos (and a Rant)
May 25, 2010 12:25 PM
Back before it was painted all manner of shades of blue, the building on the northwest corner of Eighth and M known as the "Blue Castle" was a car barn for the DC streetcar system. Madison Marquette, now the owners of the building, have just posted on Facebook
a bunch of historic photos
showing both the building in its pre-blue days as well as lots of shots of the old DC trolleys and streetcars. Definitely worth checking out.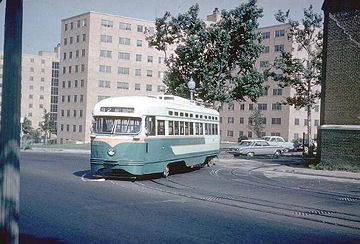 And this gives me an excuse to link to
my own Historic Photos page
, which includes some of the photos that Madison Marquette posted along with others of the neighborhood from about 1918 to 1992. (There's also my
Historic Maps page
, for plats showing the neighborhood for various years between 1903 and 1921, if you want more wayback goodness.)
There are a lot more cool historic Near Southeast images out there, but unfortunately some libraries and historical societies tend to be quite strict about reproducing photos from their archives (often requiring payment even for use of low-res images that already exist online), so rather than those photos getting seen by people who are truly interested, they languish in file cabinets or little-used online databases. It's a shame, because I could have a lot of fun with them, but the attendant bureaucracy has pretty well stifled my interest in pursuing them any farther or even linking to them. Plus I'm too honorable to just steal the thumbnails and post them anyway, which I could certainly do. (And you can be very sure that my photos will never end up with these levels of restrictions.)
At least the
great archive of historic photos
that DDOT had begun to populate a few years ago is still around (though not on their new site, you kind of have to go digging for it via Google). Hopefully they'll get around to adding more shots. I've got a scanner, DDOT, let me at them!
A Few Links of Note, Since It's Pretty Quiet
May 24, 2010 7:36 PM
I'm happy with my move to
Twitter
for much of my "little" linking, but here are a few (somewhat) recent items that still deserve the "hail of bullets" treatment on the blog, especially during a bit of a lull. (But I might have something somewhat cool tomorrow, if the weather holds.)
* From
City Paper's Housing Complex blog
, a report on some reimagining of the Anacostia Waterfront by middleschoolers as part of the National Building Museum's
CityVision
program. The
Navy Yard
, Poplar Point, and
Florida Rock
were given the treatment, with an underwater library envisioned at the latter, among other notions.
*
Urban Turf asked
a group of soothsayers to look ahead five years on which "unsung" DC neighborhoods would be attracting homebuyers five years from now. The "Southeast Waterfront" was one of the 'hoods (as once again people make clear that no name yet floated for the area is truly capturing the populace's fancy, which is why I stick with the REAL name ;-) ), and while it will take a while to be "fully realized," the writer reminds readers that Near Southeast has some pretty solid "bones": With "proximity to Capitol Hill, access to Metro and major roads,
Nationals Park
, a potential streetcar line, a
waterfront park
that I think will be one of the best in the city and of course the river[,] this neighborhood starts to make a lot of sense as a place to live."
*
SWill reports from just across the way
about the plans for hip, happenin' shindigs once again this summer at the Capitol Skyline Hotel. "The parties [...] have been named Liquid Lounge and will feature some of the best house music DJs from Washington, DC and beyond. The hotel and Nocturnal Vibe will host their inaugural event on Saturday, June 5th from 2 p.m. - 9 p.m., poolside at the architecturally iconic DC destination."
* With the DC season of Top Chef now having an announced premier date of June 16, it's been confirmed (
by DCist
) that Nationals Park was the site of one of the challenges (apparently on May 6, according to
this tweet
). I'm going to LOL if they make guest judge Eric Ripert chow down on nachos, half smokes,
two-pound pretzels
, or other ballpark haute cuisine.
* And, the subject of filming at Nationals Park reminded me to go see what the latest is on the Reese Witherspoon/Jack Nicholson/Paul Rudd/Owen Wilson/James L. Brooks movie
filmed at the park a year ago
. It's called
How Do You Know
, and
IMDB says
it has a release date of December 17. (Prime Oscar season!)
This Week's Events (Traffic, WASA, Cornhole)
May 24, 2010 2:40 PM
Yet another post about upcoming meetings that most of you probably don't have any interest in going to, you slackers:
* I've now received official notice from ANC 6D that the stadium
Traffic Operations and Parking Plan
meeting is indeed being held tomorrow (Tuesday, May 25) at 6:30 pm;
here's the flyer with the details
. This meeting was asked for after
the previous one was not particularly well attended
by the necessary government agencies.
* Alas, at pretty much the same time and just a few blocks away
is a Public Information Meeting
on the
14th Street Bridge Corridor Environmental Impact Statement
, from 6 to 8 pm at Westminstery Presbysterian Church, 400 I St., SW. This meeting's purpose is "to present preliminary traffic results and scope of the enivonrmental assessment for the [corridor] alternatives" and to answer questions and receive feedback.
* If you want to go to both, there's a
second version of the EIS meeting
on Thursday evening (May 27) in Arlington; but
that
conflicts with
WASA's public meeting
to get the public's comment on their
combined sewer overflow long-term control plan
and the
draft environmental assessment
. The meeting is at Watkins Elementary, 420 12th Street, SE (
see the flyer
).
* And, for that matter, both of those Thursday meetings conflict with the rescheduled
Cornhole Tournament
at the Bullpen that Nationals communications director Lisa Pagano is holding. This is part of her quest to become the Leukemia and Lymphoma Society's Woman of the Year award, and she is trying to raise $75,000 by June 12 (
more info here
and
here
). The party starts at 6 pm and the tournament itself at 7 pm. There will be live music and raffle items in addition to the tournament. Admission is $5 for the event and $20 for teams of two entering the tournament (with one free beer per player!). More info can be
found on Facebook
. (The original one was postponed because of inclement weather, which I know we all find astonishing given the gorgeous sunny days we've been having lately.)
* Then there's the usual lineup of
BID-sponsored events
(lunchtime concert on Wednesday and both the Outdoor Market and Front Run Club on Thursday).
Capitol Quarter Phase II Update
May 23, 2010 9:23 PM
I'm untethering myself from
Lost
long enough to pass along the news from
Capitol Quarter
that six houses were reserved in today's first offering of Phase 2 units, and apparently more will be released on Monday. (I don't know which, or anymore beyond that.) Now, back to my last precious moments with
Desmond
.
Weekend Doings at the Ballpark (and on Metro)
May 20, 2010 10:27 PM
In case you notice a somewhat higher level of activity around
Nationals Park
over the next few days, here's some possible reasons why:
* It's one of the pitstops on
Bike to Work Day
on Friday.
* It's the Battle of the Beltways weekend, with three games against the Baltimore Orioles.
* It's the team's fifth annual Food Drive, benefitting the
Capital Area Food Bank
. On Saturday and Sunday you can drop off non-perishable food items at the Center Field Gate from the time the gates open through the end of the Fourth Inning. (And I bet you don't even have to have tickets to the game to drop off donations!)
* If biking to the stadium on Friday for Bike to Work Day isn't enough, Sunday's game is
Bike to the Park Day
, with the team encouraging fans to ride to the game and use the free bike valet at First and N or one of the 250(!) bike racks around the ballpark.
11th Street Bridge River Piles Completed
May 20, 2010 4:49 PM
From DDOT: "The District Department of Transportation (DDOT) today announced the completion of the
11th Street Bridge Project
's first major construction milestone: all 63 river piles for the three new bridges have been driven in the Anacostia River. The 110-foot-long concrete piles that will form the core of the new bridges' foundations were pounded into the river bed since construction began in December. [...]
"The new bridges will continue to take shape in the months ahead as contractors form four piers for each bridge by building struts and caps on the piles then begin erecting structural steel for the bridge decks this fall. Additional work with landside pile driving is also underway to improve connections to the Anacostia Freeway (I-295/DC-295) and the Southeast-Southwest Freeway."
Marine Barracks Public Workshop on Saturday
May 19, 2010 6:57 PM
This Saturday (May 22) the Marines
are holding an open house-style public workshop
as part of their
continuing quest
to find a site for a new Marine Barracks. It will be from 10 am to 2 pm at the International Graduate University (formerly the Buchanan School) at 1325 D St., SE. I've written a lot about this, so will avoid summarizing--you can read my reports from the
April
and
March
workshops along with
other recent posts
). If you want to see the various locations that the Marines are zeroing in on,
their web site has a lot of detail
--and, judging from the comments sections on the various layout plans, the participants and fans of the Virginia Avenue Community Garden have joined together to to voice their opposition to any of the options that would either relocate or close down their garden. (There's also the families whose kids play sports voicing their opposition to any of the options that would take away the field at the
Seventh and Virginia Barracks site
. It's almost like there's no location that will please everyone!)
In fact, ANC 6B commissioner Norm Metzger, who is part of the Community Leadership Group that meets separately with the Marines, has
posted a few notes
from their May 13 meeting, and hits on the theme I just snarked about: "There remains a lack of clarity, despite a lot of words spoken at the meeting, on how an actual decision will be made. That may or may not happen at the September 'charette' (structure/aims tbd). Part of the problem is, as often happens, loose use of language. The convenient phrase 'the community' recurred throughout the meeting. But there is no THE COMMUNITY. Rather, at the table were the development community, the sports community, the retail community, the political community, etc. Satisfying all these communities, while meeting the Marines' needs, is and will continue to be a bear." Norm also posted some information on
possible options for the reuse of the existing "Building 20"
on the southeast corner of 8th and I.
Traffic Meetings, On Top of Each Other (Plus WASA)
May 19, 2010 6:37 PM
I've been waiting to post about this until some sort of official announcement came from the ANC or DDOT, but time's a'wastin, so I'll mention that
SWill reported after the last ANC 6D meeting
that a follow-up TOPP (
Traffic Operations and Parking Plan
) meeting has been scheduled for Tuesday, May 25, tenatively at 6:30 pm at the Second Baptist Church, 1200 Canal St., SW. This meeting was asked for after
the previous one was not particularly well attended
by the necessary government agencies.
However,
at almost the same time is a Public Information Meeting
on the
14th Street Bridge Corridor Environmental Impact Statement
, from 6 to 8 pm at Westminstery Presbysterian Church, 400 I St., SW. (There is another one being held two days later in Arlington.) This meeting's purpose is "to present preliminary traffic results and scope of the enivonrmental assessment for the [corridor] alternatives" and to answer questions and receive feedback.
It would seem that the attendees for these meetings might be coming out of the same pool, so it's a shame if they do end up overlapping.
Canal Park Final Design Headed to NCPC on June 3
May 19, 2010 1:30 AM

The
tentative agenda is out
for the National Capital Planning Commission's June 3 meeting, and one of the items is "approval of preliminary and final site and building plans" for
Canal Park
. We should get a peek at the designs by around June 1, when the NCPC Staff Recommendation document is released.
As I posted not too long ago
, the current timeline is for construction on the park itself to begin in September, with the opening coming in Fall 2011. There will also be some infrastructure work being done around the park site this summer;
here's the details
. (The rendering above is from earlier this year; we'll see how close it comes to the final designs.)
Presto! Capitol Quarter Phase II Announced
May 18, 2010 8:44 PM
An e-mail has just gone out from EYA saying that "reservations for Phase II market rate townhomes at
Capitol Quarter
will begin on Sunday, May 23rd, at 11 AM on a first come, first served basis." Nine houses will be made available in this first batch, ranging in base price from $640,000 to $829,000. The specific models and more information
are available here
; the e-mail also says that other homesites made be made available. (See
yesterday's entry
for more details.)
Capitol Quarter's Second Phase Coming *Very* Soon
May 17, 2010 10:39 PM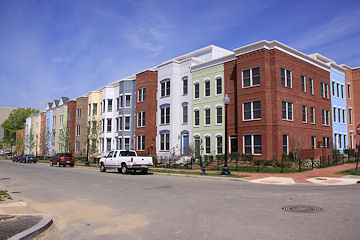 The news has filtered my way that EYA is about to begin taking reservations for market-rate townhouses in the second phase of
Capitol Quarter
. The timeframe is *very soon*, quite possibly within the next week or so. This phase will cover the three remaining blocks of the development, between Third and Fourth streets SE, south of I down to the stretch just south of L (backing up to the 300 M Street office building). There will be infrastructure work to do first (including carving out the new north-south "3 1/2 Street" running between I and L), with "vertical construction" then starting in the fall, followed by the first move-ins happening in mid-2011. There will be 77 market-rate and 34 workforce-rate houses, 47 affordable rental units, and five Section 8 purchase units. (There will be a lottery for the workforce units, but I don't know when.)
When I get word of when reservations will start being taken, I will post ASAP. I don't know if there will be people camping out like in the
old
days
, but it will be interesting to see the response. I don't know anything about prices or anything else beyond the fact that we'll know more soon.
One footnote that might be of interest: what helped get this second phase kicked off was the
$9.5 million grant from HUD
that the DC Housing Authority received late last year, which came from a pool of federal stimulus funds. DCHA had been unable to get any financing for the second phase throughout last year thanks to the moribund municipal bond market, but the HUD grant allowed DCHA to pay for the completion of construction drawings, the land preparation costs, and other costs that then made it possible for the second phase to begin to move forward.
11th Street Bridge-Related Lane Closures Coming
May 14, 2010 2:46 PM
From the
11th Street Bridge
project folks:
"From Monday, May 17 to Friday, June 18, contractors for the District of Columbia Department of Transportation (DDOT) will conduct a variety of work for the 11th Street Bridge Project requiring off-peak-hour weekday lane closures on the 11th Street Bridge and related portions of DC 295/I-295 and the Southeast-Southwest Freeway.
"From 9:30 a.m. to 3:30 p.m. Monday through Friday closures will include:
"* One lane and the shoulder in each direction to and from the Southeast-Southwest Freeway to I-295/DC295 across the 11th Street Bridge for lane striping, barrier installation, surveying and lane realignment work.
"Closures may be subject to change due to weather or other unforeseen conditions."
They also say that closures will be suspended over Memorial Day weekend and immediately before and after Nationals games.
I also hear that the last of the piles being driven into the river will be completed soon, and the big crane on site will start being dismantled and moved out.
Summer with the BID: Movies and Music
May 14, 2010 11:06 AM
The
BID
has released its
Summer Outdoor Movie lineup
, with the theme for this year being "Ultimate Underdogs." It kicks off
June 3
with
Hoosiers
, then runs most Thursdays through August 5, with
Forrest Gump
,
Finding Nemo
,
The Karate Kid
,
To Kill a Mockingbird
,
Star Wars
(I'm so there),
Slumdog Millionaire
,
Cool Runnings
,
Happy Gilmore
, and
Rocky
. They'll be held on the
Canal Park
site at Second and M, with the movies starting at 8:45 pm but with activities (including big-screen Wii beforehand). The
Sauca
food truck will be in attendance, and the weekly Farmers Market at New Jersey and M will also be open to buy goodies.
Also getting underway is the
Lunchtime Concert series
, starting on May 19 and running every Wednesday through August 25. They'll be from noon to 2 pm on the plaza behind
USDOT
.
Catching Up the Newcomers: NGA Move
May 10, 2010 12:41 PM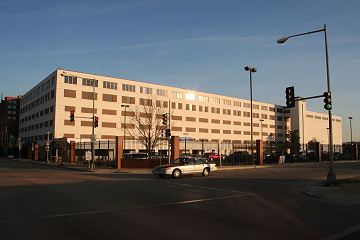 This Post story today
on the plans to move 19,000 defense workers out of the immediate DC area to Ft. Belvoir and to that big honking new building going up at I-95 and Seminary Road gives me an excuse to catch up readers who maybe haven't been reading about Near SE for years and years about the neighborhood's own
BRAC-mandated
move. The
National Geospatial-Intelligence Agency
, which occupies the lovely all-but-windowless building on the southeast corner of First and M, is scheduled to move to
a new campus at Ft. Belvoir
, with a legislated deadline move-in date of Sept. 15, 2011. According to their
FAQ
, NGA will be closing their existing sites (including other ones in Bethesda and Reston) "from late 2010 through 2011." Given how supersecret NGA is, I'm not sure we'll know exactly when they're moving until we see U-Hauls pull up to the back door. (Though if someone wants to
whisper any specifics in my ear
....)
So, at some point over the next 18 months, the operations will be moved out of Near Southeast, at which time the site will become just another section of
The Yards
awaiting redevelopment. (And then I'll be able to take pictures of it without having armed guards yell at me and/or call DC cops to have them question me.) The building and its parking lot are currently slated to become home to office space and retail in the
project's third phase
, the timing of which can probably best be described as "Not Anytime Soon."
Upcoming Events (ANCs and Business Summit)
May 9, 2010 9:00 PM
On your agenda for the near future, should you choose to accept the mission:
*
ANC 6D
(Southwest and most of Near Southeast) meets Monday night at 7 pm at St. Augustine's Church at Sixth and M streets, SW. (When are they moving to their new meeting space, dangit?)
The agenda is posted
--no big Near Southeast items, except for perhaps an update from the Nationals, a brief update on
Traffic/Parking issues
from a member of Tommy Wells's staff, and request for support for a liquor license for the new
Patriot II river cruise ship
operating out of
Diamond Teague Park
. One other item that might be of interest is an update on the
14th Street Bridge Environmental Impact Statement
, which has been quiet for a while.
*
ANC 6B
(south side of Capitol Hill and Near Southeast south of the freeway east of Seventh [excluding the Navy Yard]) meets the next night, Tuesday, at 7 pm at its new meeting place, the People's Church at 535 Eighth Street, SE.
Here's the agenda
, which is chock full of liquor license renewals and home remodeling projects.
DDOT Rumored to be Moving to 55 M Street
May 7, 2010 9:42 AM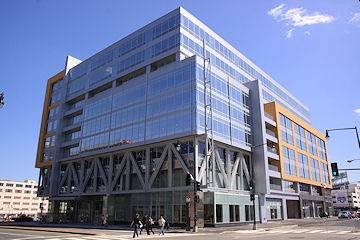 Oh, I've wanted to post this rumor for so long (and have hinted at it on Twitter) but never could bring myself to pull the trigger when I couldn't get anything out of Monument or DDOT or any first-level source. But,
here's WBJ
going where I wouldn't (subscribers only): "[The District Department of Transportation] has signed a letter of intent and is close to a deal on a 10-year lease for 150,000 square feet in Monument Realty's Half Street building at
55 M St. SE
, according to sources." Neither Monument nor DDOT would confirm to WBJ either, with DDOT spokesman John LIsle quoted as saying, "We are hoping to move this year. It may be ambitious, but that is our goal."
Originally DDOT was going to move to the Anacostia Gateway project, but that was cancelled a few months ago. WBJ says that, between DDOT's space and existing tenant Sayres and Associates (who apparently will be adding another 10,000 square feet to their lease), 55 M will be about two-thirds leased.
26 Posts:
Go to Page:
1
|
2