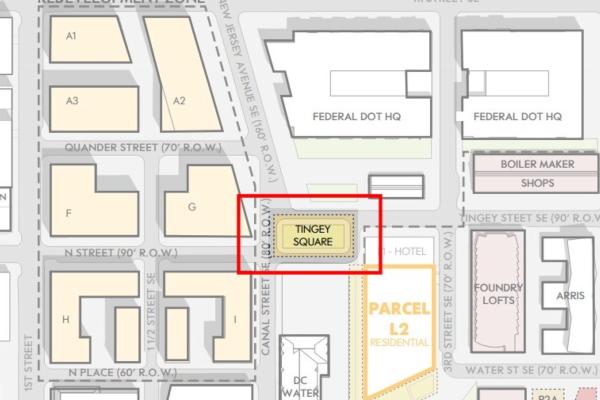 My last post
talked about a new oval
coming to South Capitol Street, and now the geometric tour of the neighborhood moves onto a new square, specifically Tingey Square, which is part of the reconstruction of the intersection(s) of New Jersey and Tingey and N Streets. Oh, and now there's Canal Street, too. And a new 2nd Street. (And a new Quander Street, but we're not talking about that right now.)
And of course I had to dig through my archives to find on-high photos from multiple angles showing the progression of the intersection of New Jersey and Tingey, starting in 2004, before there even was an intersection (it arrived in early 2007), then in 2012, and then 2015. You can see how N flowing into Tingey was originally only slightly off-center, before becoming the double-curve once New Jersey Avenue was completed.
For more visualization assistance, here are two graphics from various zoning filings, with the first one overlaying the new design on top of existing roadways.
Most traffic will rarely go around the square, as both Tingey Street and the west side of the square (now Canal Street) will remain two-way. But it will allow traffic to arrive at the entrances of the new Thompson Hotel and Estate apartment buildings on the new stub of 2nd Street (which turns into a pedestrian walk down to the Yards Park). I of course can provide illustrations of the nearly completed south side of the square, and the new east side by the Thompson/Estate duo:
As for the new Canal Street, it is really only a one-block public street, as it heads behind the fences of DC Water once it crosses N Street. But a new sidewalk has been completed and given streetlights outside the fences, and the walk should eventually be open for the non-DC Water public.
If you've wandered through this sizable intersection lately (like, say, to go to the WORLD SERIES), you've seen a lot of work underway, some of which you may not really even realize is all that different. But New Jersey has been narrowed and given a bend westward, and the traffic flow from N Street to Tingey is no longer via a curve, but an actual intersection. Here you can compare the wide wide pedestrian crossing in 2013 with the new building-out of the northeast corner to straighten the road.