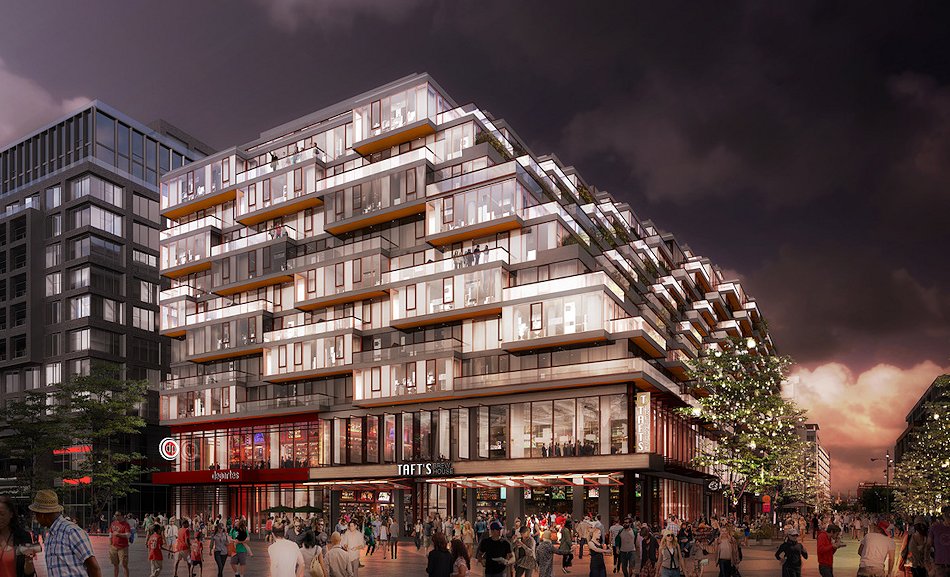 The JDLand commentariat (and those who stop by to keep up on Tidbits) knew all of this a few weeks ago, but JBG Smith has now officially announced the start of leasing at
West Half
, its 465-unit building just across the street from Nats Park. The
official web site
has
floor plans
and prices, which show a range from a 365-sf studio starting at $1,770 up to a 1,250-sf three bedroom going for upwards of $6,400. There's also of course information about the building and its amenities, and a hint about...
With all of this news, I wandered down to Half and N to check things out, and found that the two residential lobbies are furnished (but the windows were too dusty to take pictures), and vegetation is being planted up on the balconies. But, more importantly, there is now signage marking all of the leased spaces, so you can start sketching out your plan of attack. So I had to make a dumb map.
Half Street is gonna feel a little different next season. (And this is just one side of the street, as we await announcements from the Kelvin apartments and Envy condos to see what the offerings will be on the east side of Half, other than Punch Bowl Social.)
Here's a few photos of the signage and whatnot. Just because.