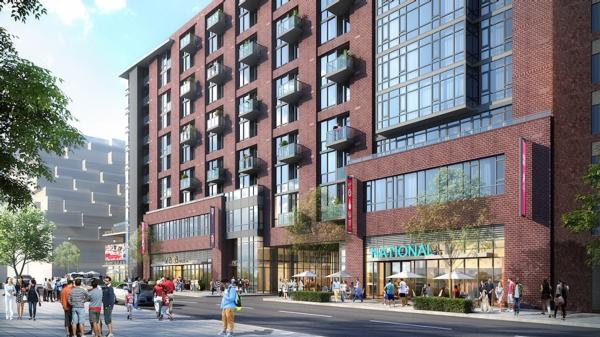 There's another condo option in the neighborhood now officially confirmed, as the Jair Lynch company
announced last week
that the portion of its
1250 Half Street
project facing N Street will be a 123-unit "boutique" condo building known as
eNvy
, with the N uppercased to meld with the building's address of 70 N Street, SE.
Sales are expected to begin "early" this year, and it will probably deliver in 2020.
The
official web site
is basically a placeholder, but you can get on the VIP list if you choose.
This is not the entire project you see on the northeast corner of Half and N--the portion of the building facing Half Street is still for now known as
1250
, and will have about 310 rental apartments and about 55,000 square feet of retail, with Punch Bowl Social
having already been signed
as the anchor tenant, occupying 24,000 square feet on two floors.
Envy* is the third new condo building in the neighborhood, joining the
Bower
at the Yards and the still-under-construction
Avidian
on South Capitol just south of M. (Velocity, the neighborhood's first condo building, is now 10 years old. Wow.) But it is the only condo offering with views into the ballpark from some units (unless the new solar panels on top of the garages interfere), so expect the marketing to heavily tout that fact.
Here's a couple more renderings, first showing Envy from N Street, where you can see at right how it nudges right up against the Hampton Inn (and is built above Cushing Place). The second rendering is the view from the Center Field Gate at Half and N, showing Envy as the darker building at right along N and the 1250 Half apartments running up Half Street..
* Mr. JDLand would haunt me if I used "eNvy," so I will be going with Envy.