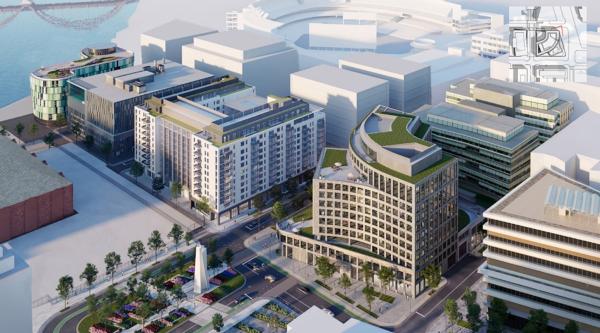 Last month, Forest City filed plans with the Zoning Commission for a design review of
Yards Parcel G
, currently home to the Trapeze School and now expected to be the new headquarters for
Chemonics International
, a USAID contractor.
This would be a 290,000-square-foot, 11-story-plus-penthouse building, with about 14,000 square feet of ground-floor retail and about 165 below-grade parking spaces. The zoning filing says that approximately 1,200 employees would be expected to move to the building when it opens. There will also be an at-grade bicycle lobby for building users.
Here's a trip around three of the building's corners, starting at its northwest corner where 1 1/2 and Quander Streets will meet, then at Quander and New Jersey, and then at New Jersey and N/Tingey/Tingey Square:
The zoning design review hearing is scheduled for April.
(See, I do still know how to blog. I may found out this weekend if I still know how to take pictures.)