Some items of note:

* PEET'S COMING VERY SOON:
I took this photo yesterday evening, intending to post it today and say "it looks like
Peet's Coffee
is getting close," but a Twitter follower has now scooped that with
a picture of this sign
on the door today, which announces the grand opening as Monday, Aug. 13, at 5 am, with a "family and friends" event on Saturday, Aug. 11 from 11 am to 2 pm. For those who haven't been waiting for the opening of the neighborhood's 250th coffee shop, Peet's is located just north of the New Jersey and M entrance to the Navy Yard-Ballpark subway station, in the ground floor of
Insignia on M
.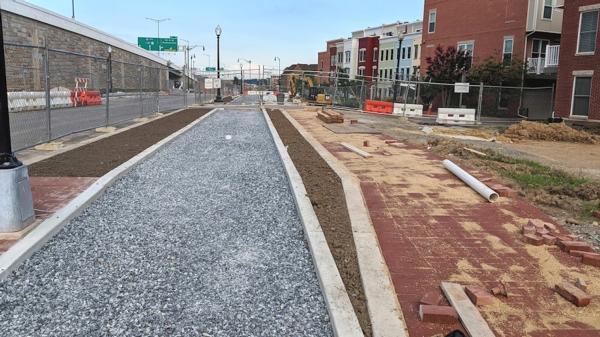 *
BIKE PATH COMING SORT OF SOON:
Work continues to bring Virginia Avenue back to life as the Virginia Avenue Tunnel project wraps up, and the photo at right shows the progress of the new bike path that will run *alongside the pedestrian path.* I would assume that the deep crushed gravel is not the final surface, but it's going to be a very nice alternative to getting between 2nd Street SE and Virginia Avenue Park/points east. I don't have a date for when the paths will be completed, but the entire project is supposed to be finishing in October.
* ALSO COMING SORT OF SOON:
Also of note is the arrival of the signage for
Barre 3
on 1st Street, though the interior does not look like we have reached Any Minute Now territory. And a peek behind the
Bluestone Lane
window coverings at
99 M
would seem to indicate that the arrival of the neighborhood's 251st coffee shop is not imminent.
* BOOZE COMING AT SOME POINT:
As tidbitted last week, there is a hearing sign posted in the ground floor of
1015 Half Street
next to Bonchon for a liquor license for a new Retail Class A store that would sell beer, wine, and spirits. (The one that seemed to be coming to New Jersey and L has disappeared, FWIW.)
*
CAPITAL ONE CLOSING SOON:
Was mentioned by a commenter recently, but
here's official notification
that the Capital One branch in the ground floor of 1111 New Jersey is closing in September.
And a few other items that don't fit into the pattern:
Other than that, it's August. It's hot.