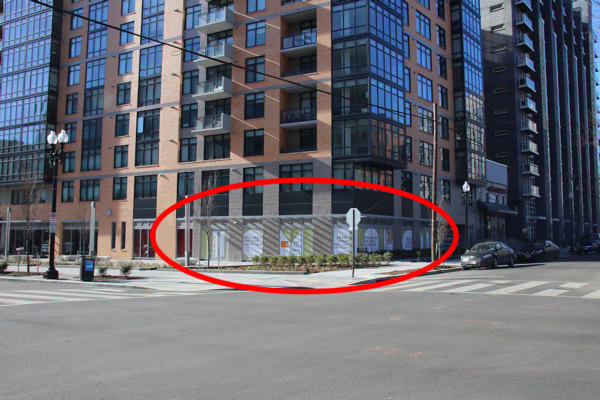 It looks as if
Insignia on M
has a tenant for the retail space at New Jersey and L, in the same block as the Metro station entrance. There's a
placard
now posted that Navy Yard Wine Merchant* has applied for a Class B liquor license, which allows the sale of beer and wine--and has also included a request for a tasting permit. ANC 6D's ABC Committee will be taking this up later this month, and the full ANC could be expected to vote on whether it will support the application at its February meeting.
In other tidbits I've been meaning to pass along:
*
ZAC BROWN
: Normally Nats Park hosts a big concert during the All-Star break, but the stadium will be otherwise occupied during that stretch, and so this summer's big show, the Zac Brown Band, will be on July 27. Tickets are
on sale now
.
UPDATE:
And I've been reminded in the comments that this is actually the second of the big summer shows, with the
Eagles and James Taylor
playing the night before.
*
CHLOE
: The Post's Tom Sietsema
liked what he saw
at Chloe, calling himself "bewitched" with the debut menu, and that "right out of the gate, Chloe feels like a keeper."
*
TUNNEL
: The next "Coffee with Chuck" status meeting on the
Virginia Avenue Tunnel
is on Wednesday, Jan. 24, from 8 to 9 am at the CSX office at 861 New Jersey Ave., SE. There is lots of work in the 300 block of Virginia Avenue these days to turn it back into an actual street, with the beginnings of curbs and sidewalks and preparations for drains and streetlights, as well as working toward returning the entrance to the Capitol Quarter driveway to its original path from Virginia.
* PSA 106: This month's PSA-106 meeting is Tuesday, Jan. 23, at 7 pm at the Capper Community Center at 5th and K, SE. MPD holds these meetings to discuss residents' concerns and questions about public safety issues.
I took a bunch of pictures this weekend, but will write about that when I recover.
* I assume this is the actual name, but cannot say with 100 percent certainty.