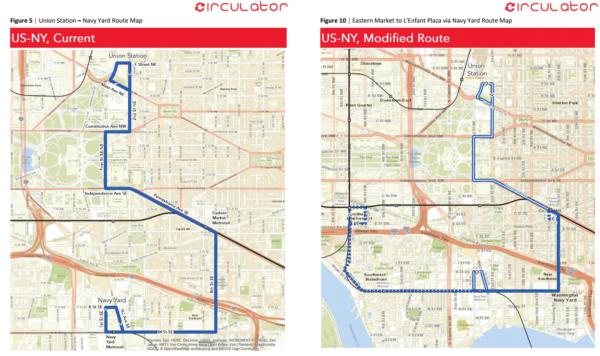 On Thursday DDOT released its
2017 Transit Development Plan
, and amongst the torrent of words are
proposals for a number of Circulator changes
, including the
long
-
discussed
extension of the current Navy Yard route that would continue along M Street SW and the southern portion of Maine Avenue and up 7th Street SW to the L'Enfant Plaza Metro station, but would discontinue the portion of the route between Union Station and Eastern Market. (The double lines in the right-hand map are the "discontinued service" portions.)
There would also be year-round weekend service, from 7 am to 9 pm on Saturdays and Sundays.
Circulator service between Union Station, Barracks Row, and the Washington Navy Yard (the actual, living, breathing, functioning "Navy Yard") would be available on a reconfigured version of the Potomac Avenue-Skyland route (see page 52 of the
report
for a map).
The report also says that "a special standalone service plan will be developed to provide DC Circulator service to the new DC United Soccer Stadium before, during, and after games."
These changes aren't final--there is now a
public comment period
, through Jan. 19, 2018, and there will be a public hearing on Thursday, Jan. 4, 2018, from 7 to 9 pm at the Miracle Theatre at 535 8th St., SE.
But DDOT says that it expects that the changes would be implemented in April, 2018.