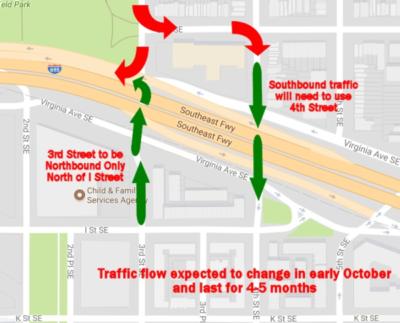 In what could be considered the first hint of the proverbial light at the end of the
Virginia Avenue Tunnel
project,
CSX has announced
that starting sometime in the next few weeks--perhaps as early as October 2, though one might wonder if playoff baseball might impact the timeline--it will be closing the southbound lane of 3rd Street at Virginia Avenue for approximately four to five months, just as it did for a shorter period of time back
back in March of 2016
.
This closure is to allow for the demolition of the temporary deck over the still-under-construction north tunnel, which will then allow the roof of that tunnel to be built. Then work can begin on "installation of the new, final roadway features" on Virginia Avenue itself, first in the blocks just east of 2nd Street and then working eastward (which will mean more deck removals and temporary traffic flow changes/closures in coming months).
Traffic coming south down 3rd Street north of the freeway will still be able to make the right onto the freeway entrance ramp.
As with the previous closures, pedestrian access along 3rd Street will be maintained, as will access to the driveway to the Capitol Quarter houses on the front lines.
Fourth Street will be the main southbound route from north of the freeway down into the neighborhood.