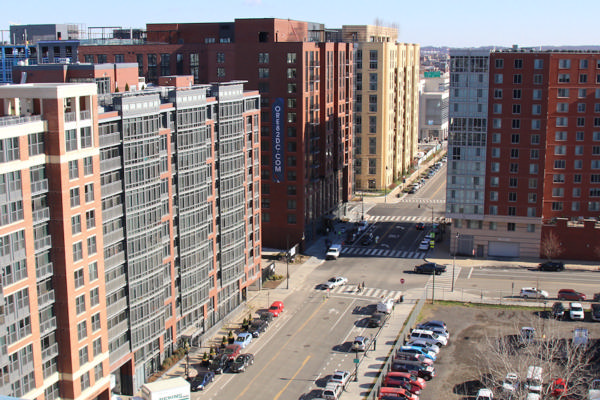 *
I STREET REDESIGN
: ANC Commissioner Meredith Fascett
reports
that DDOT is hosting a meeting on Wednesday, Dec. 14, on proposed plans to redesign I Street SE to make it work better for pedestrians, bicyclists, and even vehicles. It's at 6:30 pm in the lobby at 70 I Street (70 Capitol Yards).
Meredith wrote back in August
about the early discussions for safer bike lanes, crosswalks, parking adjustments, and more.
*
BIXBY RIBBON-CUTTING
: Apparently there will be a ribbon cutting at the 195-unit mixed-income
Bixby
at 7th and L on Tuesday, Dec. 13.
*
NATS PARK BILLBOARDS
: On Dec. 6 the DC Council gave first approval to the proposed large display boards at the ballpark, though the
Hill Rag reports
that the count has dropped to five boards from 10, lowers the allowed brightness, and prohibits them from facing toward South Capitol Street, the Anacostia River, M Street, and 1st Street between M and N.
* ONYX SALE, AGAIN: A reader reports that the tell-tale binder appeared in the lobby of the Onyx apartment building recently, indicating that AvalonBay has contracted to purchase the 260-unit building for $95.5 million. (The binder contains the offer required by DC law for the tenants to instead buy the building themselves, if they have $95 million in coins under their sofa cushions.) The building last sold in 2013 for a smidge over $82 million.
*
SWEET BABY JAMES:
It's been announced that James Taylor and Bonnie Raitt will be playing Nats Park on July 14, 2017.
Tickets are on sale now
.
*
TUNNEL DOINGS
: Most folks are probably aware that
3rd Street is now closed at Virginia Avenue
for the next several weeks. If you are wanting more info on the current status of the Virginia Avenue Tunnel project, the last "
Coffee with Chuck
" of 2016 is Wednesday, Dec. 14, at 8 am at the construction office at 861 New Jersey Ave. SE. Hard to believe that most of the structural work on the new companion tunnel is finishing up, with work moving to "track level"--preparing the railroad bed, installing cross ties, etc. (Good timing to be in the enclosed spot during the winter.) But of course this is not the end of the project, as work will then shift to the reconstruction of the existing 100-year-old tunnel.