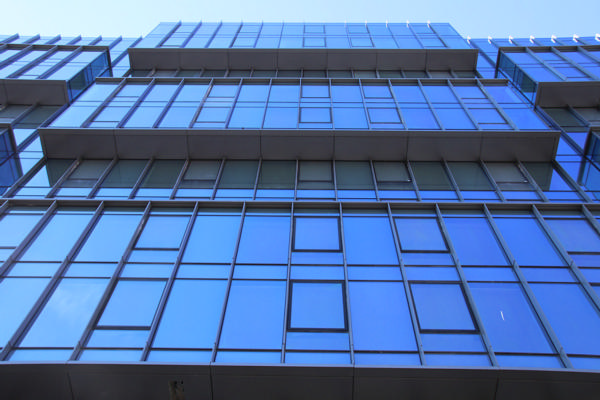 With an agreement to not photograph unfinished areas (which the JDLand camera only grudgingly agreed to), I recently got a hard-hatted first look inside
One Hill South
, the 383-unit apartment building at 909 Half/28 K* that is on its way to opening in February-ish 2017.
The list of
amenities and services
is lengthy, even for a neighborhood that might be starting to get somewhat jaded about luxury residential buildings. There's a residents-only fitness center by Equinox, which includes a full-sized basketball court/gymnasium as well as the expected oodles of machines and a private yoga and personal training studio. There's a "Kennel Club" that offers walking, grooming, and day care for residents' dogs. There's street-level storage for 130 bicycles, with a work stand and tools. There's a children's playroom, a private internal courtyard, and all manner of rooftop pool-and-party offerings. Plus there's the more standard billiards room, private dining room, private conference rooms, and communal and private workspaces. And there's 20,000 square feet of ground-floor retail (no, nothing's been announced yet).
My camera did get to see the one- and two-bedroom models that have been completed. Here's the two-bedroom model, showing neither of the bedrooms but the living space and the kitchen:
And the same, in the one-bedroom model:
And a few more shots:
Otherwise, you'll just have to settle for these renderings (though I can confirm that the chandelier shown in the drawing of the two-story lobby has already been hung).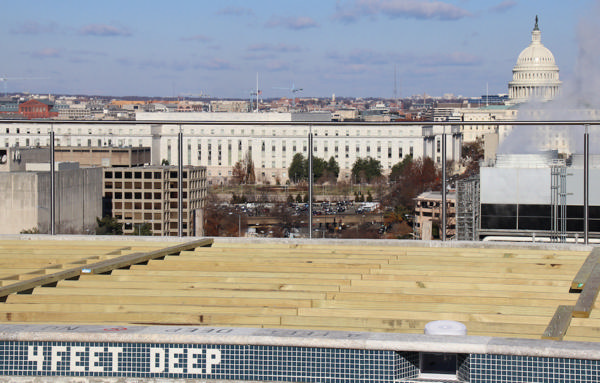 (I also whined and begged enough to get this one shot from the roof.)
According to the official web site, studios start at $2,000 a month, 1BRs at $2,450, and 2BRs at $3,895. (There are also eight 3BR units, but if you have to ask how much they are, you can't afford one.)
The portion of the block fronting South Capitol Street will eventually be another residential building, but there's no timeline on that as yet.
If you are looking for more specifics on the many amenities, services, and features, visit the
official web site
. And
my project page
has more details on the history of the site, at least going back to the days when the block was known mainly for being home to a Wendy's and an Exxon.
*The address is actually officially going to be 28 K Street SE. But "909 Half" has been part of the JDLand lexicon for a long, long time, so I figure there needs to be a transition period.