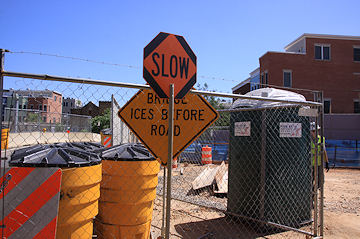 With work having progressed on the expansion phase of the
Virginia Avenue Tunnel
,
CSX is announcing
that 4th Street SE between Virginia and I Street will be closed for three to five weeks, starting perhaps on Thursday, Sept. 29, so that the existing temporary bridge deck can be removed and the tunnel's roof completed in that spot. Then a new deck will be built across the next area to be excavated to work on the other half of the tunnel project, at which point the area will reopen to traffic.
UPDATE: The weather has forced a postponement of the closure until likely next week, Oct. 3-7. UPDATE 2: And the intersection did finally close on Monday, Oct 3.
This means that drivers coming south on 4th Street SE from Capitol Hill will need to detour either to 3rd Street or 7th Street in order to cross under the freeway to the promised land.
Pedestrian access along this stretch of 4th will apparently be maintained during the closure, as will the 4th Street exit from the Capitol Quarter driveway.

This is the first of these sorts of closures and detours that will need to happen along all of the north-south streets that cross Virginia Avenue as work on the first phase of the tunnel wraps up and the decks need to be reestablished a smidge to the north to cross above the existing tunnel while it is rebuilt.
At right is the estimated timeline for these other closures as shown in the
Sept. 21 Coffee with Chuck presentation slides
(click to embiggen). Third Street's temporary closure for this work is on deck (so to speak) for mid-to-late October, 5th in mid-to-late December, and 7th and 8th sometime in 2017. (The deck work on 11th Street will happen without any full closure.)
The slides also say that Phase II pile driving is expected to begin near 4th Street in October.
The next quarterly open house for the project is scheduled for Thursday, Oct. 20, and the next Coffee with Chuck will be on Wednesday, Nov. 16.