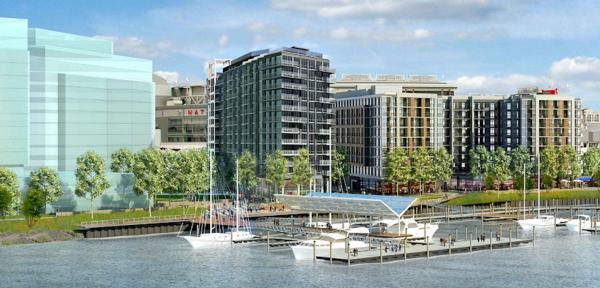 With the 305-unit Dock 79 apartment building very close to completion, the developers of the site on the Anacostia River that us oldsters still refer to as
Florida Rock
have now filed with the Zoning Commission their plans* for the project's next phase, a 130-foot-tall 253-unit residential building with 12,500 square feet of retail at 71 Potomac Avenue.
There will be at least two levels of underground parking, with a third level being pondered "given the parking demands of [Nationals Park] and the pending soccer stadium." And although the building is not covered by the city's Inclusionary Zoning laws, the filing says that eight percent of the units will be set aside for households with incomes up to 80 percent of the Area Median Income.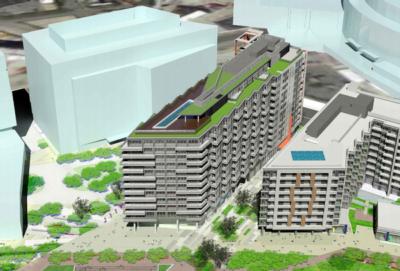 The construction of this building will also bring the completion of "Florida Rock Alley," running between 71 Potomac and Dock 79 and providing another route for pedestrians to move between Potomac Avenue and the waterfront along with the access to parking and loading for both buildings. The waterfront Esplanade will also be extended along 71 Potomac's frontage.
The 12,500 square feet of retail is an increase the previously approved 5,600 square feet. In the filing statement, developers Florida Rock Properties and MRP Realty mention that "based on the success in leasing retail space in Dock 79, the Applicant is confident that there is a retail market along Potomac Avenue," and that "the desire for retailers to locate in this area has only increased" since the previous plans were approved in 2013.
The site plans are very helpful to not only understand where this Phase 2 building at 71 Potomac will be, but how the eventual third and fourth phases are dependent on the construction of the
new Douglass Bridge
and its accompanying traffic oval, and the demolition of the existing bridge. (The filing mentions DDOT's current estimated schedule of a notice to proceed on the new bridge in 2017 and completion in 2020, but We Shall See.)
There are a slew of renderings in the zoning packet, which of course I'm snagging (we'll call it a one-for-one exchange for all of the
photos of mine they used
in the site overview portion of the package!).
These plans will require ANC presentations and a vote and zoning hearings and building permits and financing, so don't pack your bags just yet.
*For those to whom such things matter, this is a second-stage PUD filing.