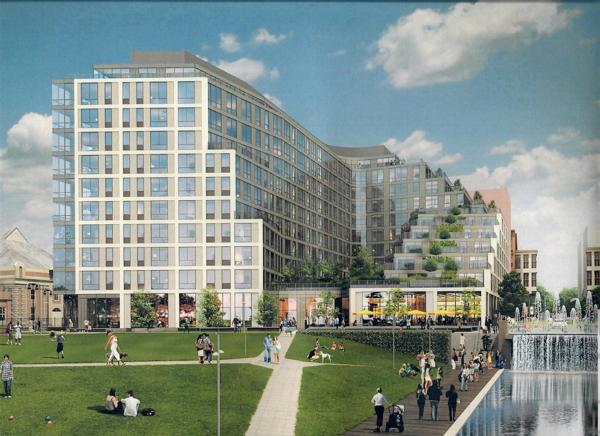 I wrote last week that Forest City was
making its first steps into the public processes
for a new 270-unit residential building on the block along 3rd Street south of Tingey known as Parcel L.
On Monday night, there was an initial presentation to ANC 6D about the project, and some renderings were shown to the assembled masses, shots of which have arrived in JDLand's inbox.
I think there is still some tweaking going on--6D was not asked to approve these specifically and there is as yet no zoning filing--but the general idea of a terraced building that would be a large focal point from the Yards Park just to the south probably won't change.
The top image, obviously, is that Yards Park view. These others are the view looking west on Water Street and then looking southeastward from Tingey Street.
Note that this building would not front Tingey Street--there are eventual plans for a hotel to be built along Tingey to the north of the residential project.
Forest City told me last week that a 2019 completion date is the target for this Parcel L project.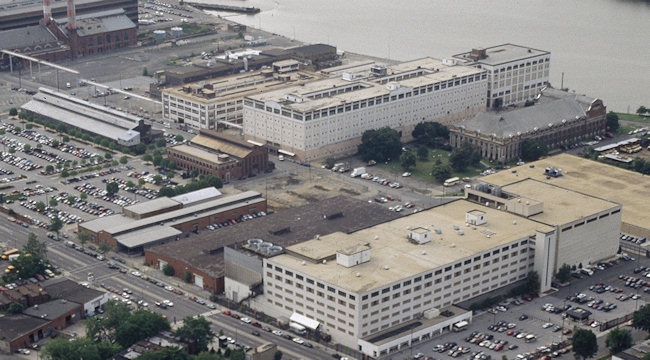 As for what used to stand on this site, the old Southeast Federal Center Building 159 was in residence until about 2000, long enough for me to remember it but not long enough to have photographed it with the JDLand camera. (Waaaaaaah!) However, a few years back I did uncover this photo, taken in about 1992, as part of the Library of Congress's
Carol M. Highsmith archive
. Building 159 is the white building directly between the DC Water Main Pumping Station and what's now the
Foundry Lofts
building. (You can also see two low red brick buildings fronting M Street next to Spooky Building 213 that I also didn't get to photograph, along with a little red brick annex on the north side of the still-empty Building 170 at 3rd and Tingey.) If you want to see more photos of the neighborhood taken from above in the early 1990s,
check them out
.