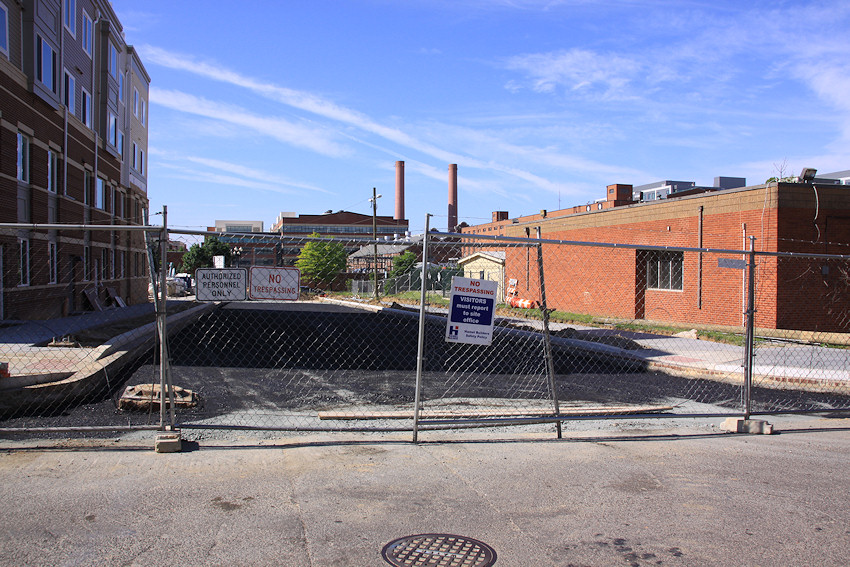 While we spent months and months pining for the
block of I Street that finally opened
between 2nd and New Jersey back in February, there's another new stretch of road that should be arriving this summer: the 1100 block of 6th St., SE, between L and M, nestled between the
Bixby
and
Joy Evans Park
.
As you can see in the photo taken this weekend, the basics of the street are now finished, its creation having been tied to the construction of the
Bixby
, DCHA's 195-unit mixed-income apartment building that is
expected to open this summer
and which is itself getting some infrastructure built, as seen below.
I don't know anything about traffic control, i.e., whether there will be a four-way stop at 6th and L, or whether left turns will be allowed from 6th onto M (and from M onto 6th). I've asked DCHA, but haven't yet heard back. UPDATE: Apparently it was set out in the zoning that there will be no cut in the median on M Street, so only right turns onto and off of 6th will be allowed.
UPDATE 2: DCHA tells me that they are still "working out details with DDOT as to whether or not this portion will be a one way from M to L." Sounds like they found some unexpected infrastructure underneath the planned intersection that forced a reduction in the size of the 6th and M corner--if I had actually looked at the work from the M Street side, I'd have more insight, but alas....
As for any more precise estimations as to when this new block of 6th will open, I am so not going there. It will open when it opens, right?