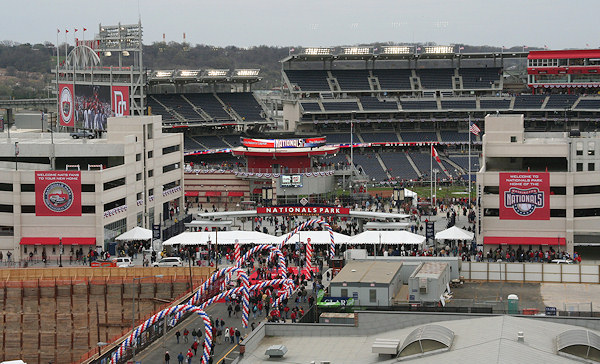 The
weather forecast
isn't exactly optimal (hence my use of the photo from the holy-crap-it's-miserable-out Opening Day 2008), but nevertheless we have made it to April 7, when the Nats are scheduled to play their first home game of the 2016 season, vs the Marlins starting at 4:05 pm.
At this point everyone probably knows everything they want or need to know about the plans and festivities, but I'll still do a quick link-filled rundown, because, well, even though I'm coming down with the same cold that clobbered me on Opening Day 2008 (symmetry!), the guilt would be too incapacitating to not post something.

Here's:
As for what will be going on outside the ballpark before and after the game, here's the current lineup: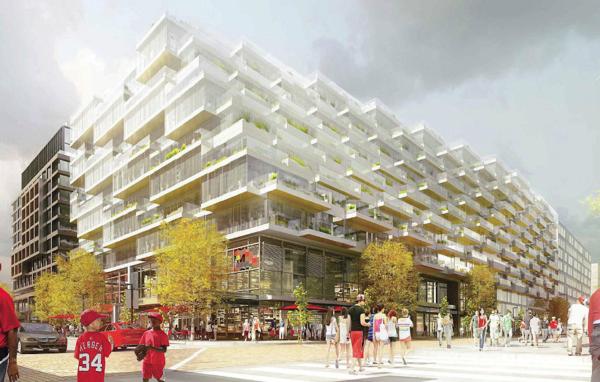 Speaking of the Fairgrounds/Bullpen, I see that they are
billing this as their final season
, which has been my assumption but it's interesting to see it in black and white.
If you haven't been following along, you may not know that this is because it's likely that by the 2017 season construction will be underway on
JBG's 420-unit condo/residential building
with 65,000 square feet of retail on the south end of that block, which will change the look of Half Street pretty substantially, as seen here. Hard to set up row upon row of cornhole when a massive hole is being dug!
I may continue to update this post if any additional links come in, and/or be doing a lot of retweeting on Twitter. Or I may be in bed. Or both. (Have laptop, will blog.)
Feel free to use the comments as a game thread, should you wish to discuss actual on-field goings-on.