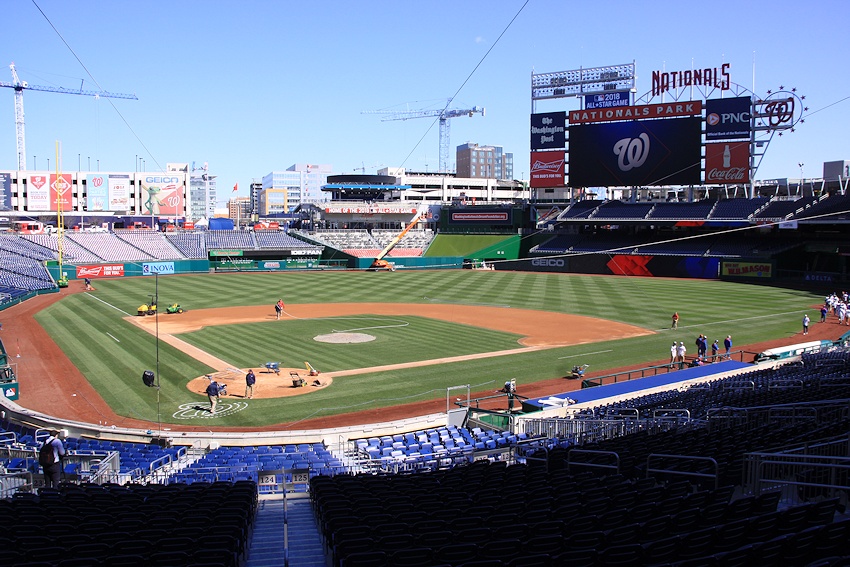 Weather permitting, the Nats will be
at home
this evening and tomorrow (April 1 and 2) for
two exhibition games
against the Minnesota Twins, before heading off to Atlanta for Opening Day 2016 on Monday, April 4. But they'll then return on Thursday, April 7, for their home opener at 4:05 pm against the Marlins.
Tonight's exhibition is at 6:05 pm (with gates opening at 4:30 pm), and is a special event, with free tickets handed out to season ticket holders and "select members of the community," with seating limited to the lower bowl of the ballpark. Tickets are available while supplies last at the ballpark box office for a $10 donation to the Nationals Dream Foundation.
The Bullpen at the Fairgrounds will be open for these two games, starting at 4 pm today and 10 am on Saturday, with live music, food, drinks, and of course cornhole.
There will be all manner of big happenings around the neighborhood tied to the April 7 home opener, but that's for another post.
If you see anything on the parking lots that would help me update the map (new lots open, old lots closed, prices, etc.), leave a comment here or tweet to @JDLand.