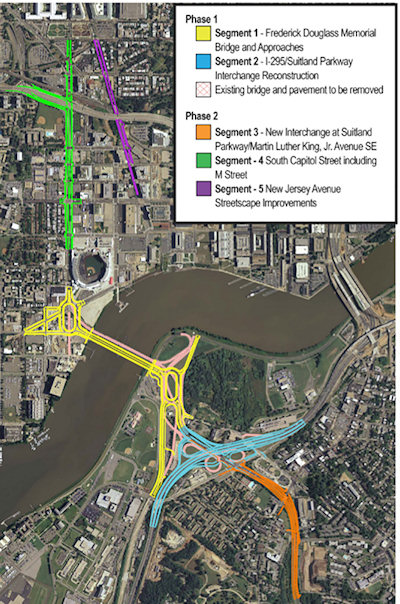 More than two years after
four teams were shortlisted
for the opportunity to compete for the project, DDOT announced today that it has issued the final Request for Proposals (RFP) for the first phase of the
South Capitol Street Corridor
reconstruction, which includes a
new Douglass Bridge
and approach work, plus a new interchange at I-295 and the Suitland Parkway.
The release today says that design/build proposals from the four teams are due this fall, and that DDOT expects to begin construction in the spring of 2017, and complete this first phase in 2020, but, well, We Shall See.
But if clicking on one of those links is more than you yourself can bear, I will just plagiarize the summary I wrote in August:
As you can see in the pilfered-from-DDOT graphic above, the new bridge will run immediately parallel and downriver of the existing bridge, with two new large traffic ovals on its approaches. There will also be a much-needed reconstruction of the I-295/Suitland Parkway interchange.