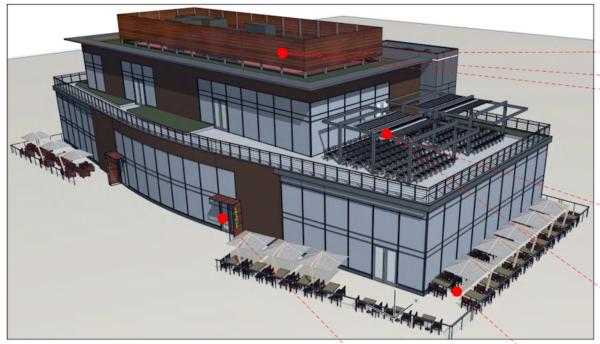 On Feb. 18 the Zoning Commission unanimously approved the submitted plans for a new-construction building at the
Yards
on the
southwest corner of 4th and Water Streets
, SE, that is to be home to
District Winery
, DC's first-ever winery (at least, as far as the owners can tell).
Brian Leventhal, one of the owners of both
Brooklyn Winery
and the coming DC venture, told the commission that this will be a full commercial winery, processing fresh grapes brought in from various US locations (including Virginia).
And since "you can't have wine without food," there will also be a 90-seat interior restaurant open seven days a week, which will also have outdoor seating.
In addition, the 2nd floor will be an events space, which the winery hopes will become a "very coveted wedding space," as well as a location for corporate and political events. There will also be tours of the winery, and bottles will be available for purchase (with "Bottled in the District of Columbia" on the labels).
Leventhal also showed some slides of Brooklyn Winery's operations to the commission, which
you can see here
.
Forest City's Jonathan Gertman testified that the company is targeting June 1 for the start of construction, and Leventhal said that they are hoping to be open by September of 2017. A liquor license is already in hand.

I posted a few weeks ago the
early designs for the building
, which will be a sibling of sorts for the
Lumber Shed
(and eventually there will be a third retail pavilion
nestled between the two
). The image at the top of this post is a slightly more realized version, though note that the red dots and lines aren't actually part of the design (I grabbed it from the zoning filings). The entrances will be on the wall facing west toward the Lumber Shed, and the restaurant will be on the south end of the building, where outdoor seating will look toward the Anacostia River.
Other than concerns about whether a winery would be a permitted use or an associated use under the zoning overlay, and some small frustrations about not being exactly sure what the differences were between the original approvals back in 2009 and the new case, all the zoning commissioners were enthusiastic about the project and the design. Michael Turnbull said that "I think this is going to be such a cute little building, and I think it'll be a fun place to go," while Robert Miller called it a "very exciting project, a very attractive building, a unique activating use in this Yards area," and that he looks forward to sampling it.
The commissioners felt no need to request additional information or changes, and w
ith the Office of Planning recommending approval, and with ANC 6D's unanimous vote in support earlier this month, the commission took final action and approved the case 5-0-0.