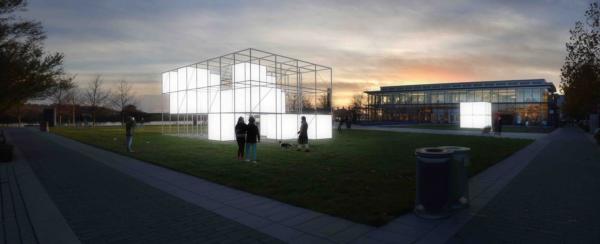 I escaped town for this past week, so apologies on being late on this, but if you've wandered by the Yards Park this weekend and saw either a bunch of scaffolding or a big show, it's
Light Yards
, which through March 6 will be "melding light, sculpture, and music to create wonder!"
The large "Point Cloud" and its sibling "Cube" seen in the image provided by the organizers were designed by New York-based light artist and architect John Ensor Parker, and will be joined starting on Feb. 27 by "giant luminescent rabbits," with a special family-friendly event from 3 to 6 pm that Saturday, "to delight in the sight of the enormous glowing bunnies, while enjoying children's activities, including a giant Lite-Brite."
Also on Feb. 27, from 6 to 10 pm, there will be another light show set to music, performed by electric violinist DC Manifesto.
It's free and open to the public.