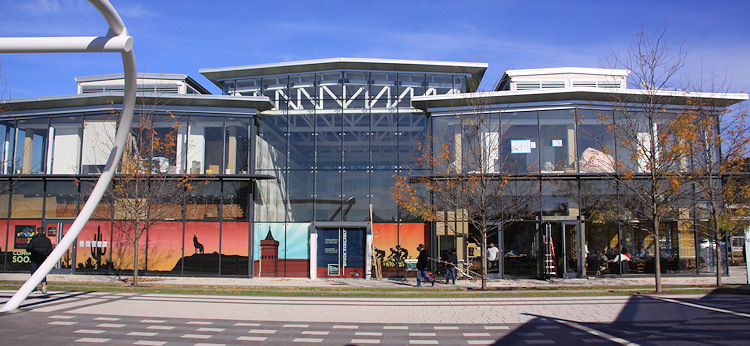 The Washington Post's Tim Carman
is reporting today
that the owners of
DGS Delicatessen
are planning to open
Whaley's
, a "small raw bar and restaurant" in the final ground-floor space of the
Lumber Shed
at the Yards, facing the Anacostia River between Osteria Morini and Agua 301.
It will have a 40-seat dining room and a 20-seat bar, and "will offer shellfish towers, crudos and seafood dishes," but won't focus exclusively on Mid-Atlantic seafood--but "will serve only sustainable seafood, wherever it may be found."
The timeline sounds surprisingly fast--"this spring"--and there's already a placeholder web site at
whaleysdc.com
.

This is not the first seafood raw bar attempted in this space--it was
announced in the summer of 2014
that the Navy Yard Oyster Company would be opening there, but by July 2015 that venture
fell by the wayside
.
In the WaPo article, Whaley's owner Nick Wiseman speaks of Crisfield's in Silver Spring and its "personal neighborhood feel" as a model for Whaley's--but also is "not naive" about the "seasonal nature" of the Capitol Riverfront neighborhood:
"'It's a place that, in the summer, it's booming, and we have to be special enough that people want to come in the winter,' he says. 'We're trying to design a restaurant that can do that.'"
And, just as I hit the button to post this, I received the press release from Forest City confirming the lease. It adds that the name "honors the Revolutionary War hero Zedechiah Whaley, commander of the tiny Maryland Navy. History holds that Commander Whaley was a casualty during a storied Chesapeake Bay battle while single-handedly confronting a small squadron of British ships in an effort to protect the local watermen."
The Forest City press release also has these details on other Yards projects, for those itching to know:
*
Arris
is to "welcome its first residents in early March";
* Philz Coffee is still planning to open in Arris's northwest corner, on Tingey, "this spring";
*
District Winery
construction is expected to start this year, with opening expected in late 2017.
* The combo 191-unit Forest City apt bldg/138-unit PN Hoffman condo bldg at 4th and Tingey on "
Parcel O
" to start in 2016 as well, but doesn't say when.