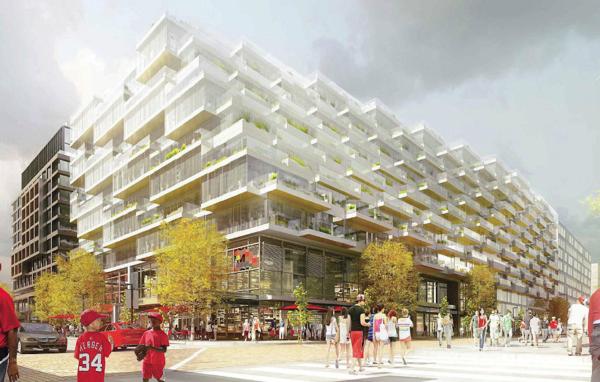 Another piece of the puzzle that has been Half Street directly north of
Nats Park
is falling into place, as JBG filed plans last week with the Zoning Commission for a 424ish-unit combination condo/rental project at Half and N Streets, SE, with more than 65,000 square feet of retail on two floors, in a design that most assuredly can't be described as a typical Washington, DC "box."
The condo portion, on the south side of the building at Half and N facing the ballpark, would have approximately 224 1- and 2-bedroom units, while the rental portion on the north end would have 200 units, mostly studio and 1-bedroom units but also with about 10 3-bedroom units. (And the units will have irrigation systems for the balconies, to keep that greenery nice and lush, though I'd still suggest branded watering cans placed strategically as well.)
The only thing that will probably dismay observers is that it's likely the project won't get underway until after the 2016 baseball season ends, making it likely that it won't be completed by the time the Major League Baseball All-Star Game arrives at Nats Park in July of 2018, though the exterior should at least be finished by then.
Next, we'll wait to see how the zoning commissioners feel about such an outside-the-box design.