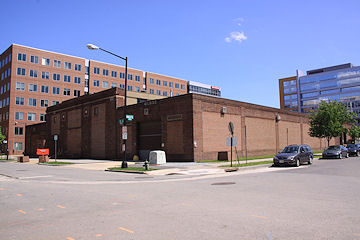 While it needs to be stressed that there is currently no evidence of this being a done deal, it should be passed along that city officials have apparently been considering renovating the old GSA warehouse at Half and L Streets, SE, into a shelter for homeless families.
This is the building that was the subject of a drive back in 2013 by residents who hoped that it could be transferred to city control and eventually become a "
market and community space
" called the
Half Street Market
. And it was a little over a year ago that the news came out that the federal government was
indeed looking at swapping the building
for construction services to be provided by DC at the St. Elizabeth's/Department of Homeland Security site.
My understanding is that Ward 6 council member Charles Allen, while acknowledging the need for such a shelter, is not in favor of using this particular building in its current one-story warehouse form for such a project, citing the loss of potential development above ground level on the site as well as retail in a space so close to both the Navy Yard Metro station and Nationals Park just down Half Street.
(And, it must be said, the optics of having the words "warehouse" and "homeless shelter" so closely tied together are a bit cringeworthy.)
The building is also getting a new neighbor on its southern end, as a
Homewood Suites hotel
is currently under construction at 50 M.
I sent a request on Monday to the mayor's press office for additional information, but haven't as yet heard back. If I do (because you know how top-level offices love responding to requests from low-profile bloggers), I'll update this post.