The news that so many people have been waiting for just crossed the transom, with a press release from Forest City announcing that a lease has at last been signed with
Showplace Icon Theaters
and that construction on the planned 16-screen, 1,500-seat "premium cinema complex" on
DC Water land just east of Nats Park
is "expected to begin in early 2016 with opening projected for early 2018."
From the release: "Each theater in the new Showplace Icon at The Yards will feature wall-to-wall screens and premium sound, deluxe leather recliner seats and reserved seating. The facility will also have exclusive VIP levels with adults-only access and tables for enjoying food and beverages inside the auditoriums. The theatre's Lobby Lounge will feature a full bar, along with a tasty menu of appetizers, small plates, snacks and desserts for enjoying before, during or after the show." The theater will also have its own 320-space parking garage.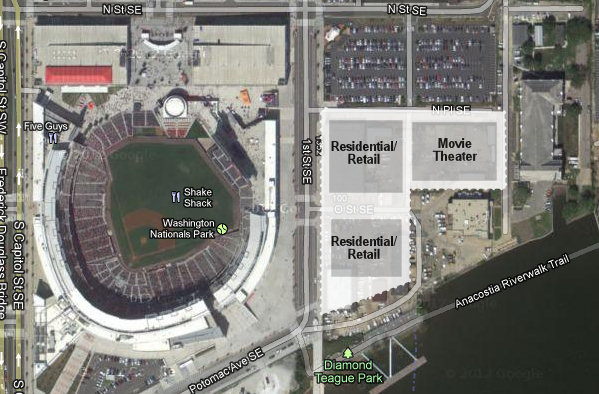 Word of Forest City's plans for a movie theater first leaked out
in the spring of 2013
, but it wasn't until
just a few months ago
that the deal to take control of
this portion of the DC Water site
was locked down. Though note that the press release also says that "the theatre construction start is dependent upon DC Water's timetable for vacating that portion of the property."
There are also plans for two residential buildings along 1st Street, though no timeline for those has been announced.
(PS: deep in the release, it mentions that the Due South restaurant at the Lumber Shed is expected to open "this summer." No date for Nicoletta, though. It also says that the PN Hoffman condo building and Forest City's apartment building immediately to its south on the current trapeze school lot are expected to break ground in early 2016.)