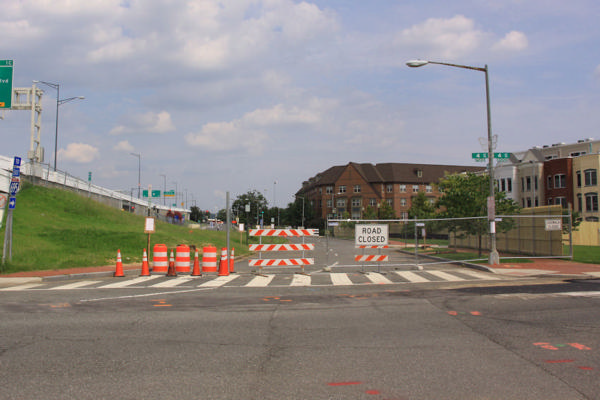 It's still relatively early in the process, but let's take a look at the changes that have already been put in place thanks to the start of construction on the
Virginia Avenue Tunnel
.
The closure of Virginia between 4th and 5th Streets, SE (seen here) has probably had the greatest impact so far, preventing vehicles from taking Virginia toward 8th Street (and its outbound ramp to I-695) unless one goes south on 4th to K, then north on 5th.
According to CSX, there will be increased prep work at this location this week, and it could see the start of drilling for steel and concrete pilings as early as the week of July 20.
Some moving of dirt has actually begun, as you see above in the shot of Virginia Avenue east of 2nd, alongside the stretch of road that was closed a few weeks ago.
One other closure worth photographing is the underpass just to the south of Garfield Park, where skateboarders can still congregate (yay?), but is now closed to any attempts to get completely south of the freeway.