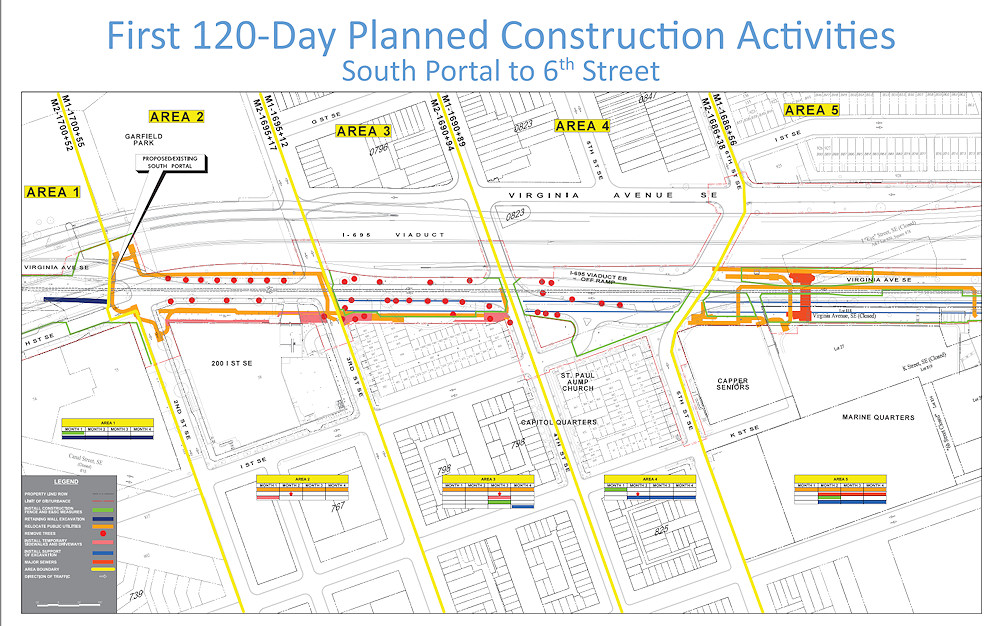 The meat of the
Virginia Avenue Tunnel
expansion project appears to be edging closer, as CSX
sent out an announcement
today with a preliminary heads up that the first full "for the duration" closures could happen by the end of June:
* Virginia Avenue between 2nd and 3rd Streets, SE, will close to traffic and parking "as soon as Monday, June 22."
* Virginia Avenue between 4th and 5th Streets, SE, will close to traffic and parking "as soon as Monday, June 29."
In both cases, fencing will be installed along the project site's perimeter, plus a temporary sidewalk will be installed between 2nd and 3rd.
Look for traffic to increase on the detour routes along I and/or K Streets in these blocks.
In addition, the recreation area under the Southeast Freeway/I-695 at 2nd Street will not be accessible from the south, which means no walking to and from Garfield Park in that spot until tunnel construction is cleared from that location. (The rec area will still be accessible, but only from the north/Garfield Park side.) There will also be fencing installed along the south side of Garfield Park by the rec area.
There will also be temporary closures of the left lane of Virginia Avenue between 5th and 7th Streets for a few weeks, starting perhaps as early as June 17.
This doesn't mean the start of actual digging or pile driving is nigh in these blocks--there are still apparently utility relocations and "other preparations" to complete before excavation work is to begin.
And when they say "as soon as," they really are doing a bit of ballparking. So if the blocks don't close on the above dates, don't assume that they've changed their minds.
UPDATE: I've said it so many times that I didn't think about mentioning it AGAIN, but I will mention AGAIN that the cross-streets in the zone of the project--3rd, 4th, 5th, 7th, and 8th--will all remain open, allowing for continued vehicle and pedestrian traffic across Virginia and under the freeway. At some point there will be closures of a number of days to install the wooden planking on the intersections above the tunnel digging, but those streets are not scheduled to close for months and months. And neither is the exit ramp from the freeway to 6th Street, though all cars will have to turn left/north and go under the freeway.