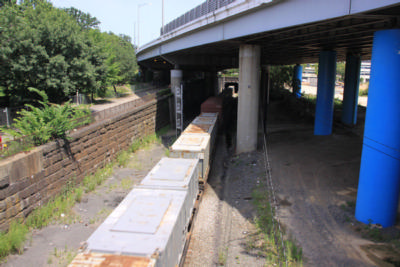 The
Post reported on Monday
that the Committee of 100 has filed an appeal of the
recent ruling denying its injunction motion
, with an emergency motion to reverse the previous ruling and to "suspend the effectiveness of the Environmental Impact Statement, thereby preventing construction of CSX's
Virginia Avenue Tunnel
until the Court can issue a decision on the merits of the case."
Sayeth the Post: "Last month, District Court Judge Christopher R. Cooper ruled that rebuilding the 111-year-old tunnel is in the best interest of the public, and said that the Committee failed to establish grounds for a preliminary injunction."
The actual lawsuit, which "questions the legality and transparency of the project's federal environmental review process and says there were violations of federal and DC law," is still pending.
In the meantime,
initial site work
has supposedly now gotten underway at 2nd and 4th streets, though I have not witnessed this with my own eyes when I last looked on Monday evening. The official
VirginiaAvenueTunnel.com
web site is posting
updates on items
related to the project, should you wish more information.
And by the way, Committee of 100, I'm pretty sure that's
a bad blow-up
of
one of my photos
you are
repeatedly
using on your site, without permission or attribution. Your teams of lawyers should know better. (
UPDATE, 5/7:
I've received an apology from them, and they've taken down the photo, for which I thank them on both counts.)