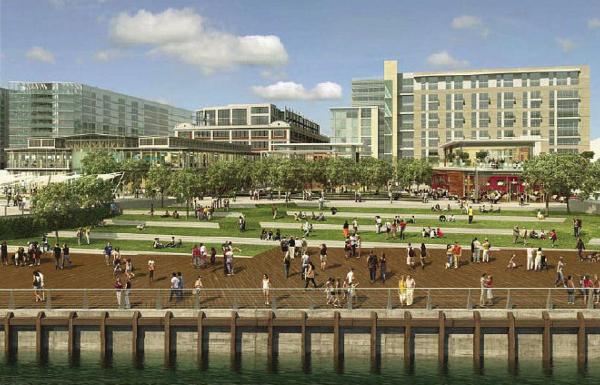 A Friday afternoon post over at City Paper's Young and Hungry site
broke the news
of a liquor license application for a "multipurpose facility" by the name of
District Winery
, saying that it would have "450 seats (with a total capacity for 750) plus dancing, a 100-seat summer garden, and a wine pub."
And that it would be at 385 Water St., SE.
Which is pretty cool news, except that right now there is no building with an address of 385 Water St., SE.
The Lumber Shed is 301 Water--if all of the retail spaces in that building weren't spoken for, the notion of just a fat-fingering of the address could have been assumed.
But, 385 Water... Hmmm....
And it could certainly be possible that the larger eastern one could have an address of 385 Water Street. And it looks sizeable enough for a venture looking for 450 seats with capacity for 750, plus dancing.
We Shall See on all of this, including what any potential timeline might be for the construction of one or both of these new pavilions, but at least it means there would appear to be some definite leasing interest for these spaces. Either that or I am terribly off base with all this pondering.