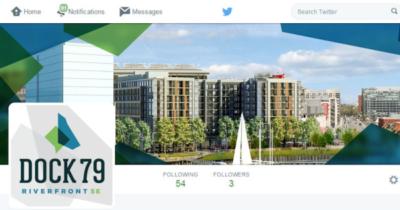 I imagine there's some sort of more official rollout to come, but I'll just jump the gun as I see evidence this evening that "Riverfront" isn't going to be the name for the apartment building currently under construction at the old
Florida Rock
site.
Instead, say hello to "
Dock 79
," now on Twitter at
@Dock79DC
.
It looks like there will be an official web site in the near future, but I don't think they are ready for company just yet.
Way (way!) back when, the project was christened "
Riverfront on the Anacostia
," so I admit to never quite being sure that the "
Riverfront groundbreaking
" was referring to the project or the building, but no one ever corrected any of posts here or in lots of other outlets using that name for this building.
But now we know.
And I now I must roam through my site to add the new name everywhere.