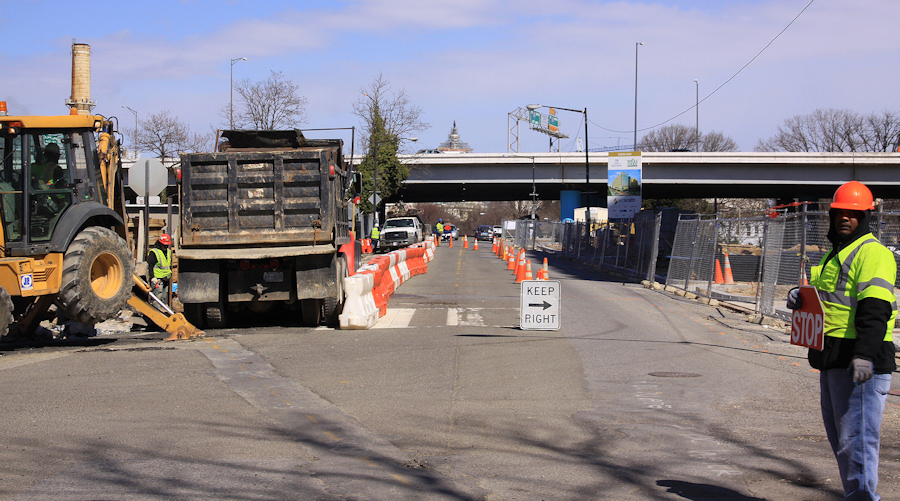 This morning broke clear and sunny, and with a full slate of photos on my agenda, I headed south down New Jersey Avenue from north of the freeway, snapping merrily along, until I came to the
82 I
construction site on the
northwest corner
of New Jersey and I.
With new sidewalks not yet in place in front of the
Park Chelsea
/
800 New Jersey
developments on the east side of the street, and with 82 I apparently not being covered under the regulations that resulted in the wide wide sidewalks you see all along the rest of the avenue, excavation and site work has been taking place right up to the (former) curb line on the only side of the street where pedestrians can walk. This has been going on for a few weeks, and while the temporary in-the-road-but-separated-by-plastic-barriers pedestrian path isn't optimal, it's also not unusual in these situations.
But this morning a large truck was parked in the former pedestrian path, with flagmen directing traffic in what had become just two very narrow north-south traffic lanes--and now there was absolutely nowhere for pedestrians to walk, in a location where it's very hard to take an alternate route on foot, unless you want to walk allllllll the way over to South Capitol and alllllll the way back to New Jersey once you get north of the freeway and train tracks, or backtrack southward to K so you can then walk north on 2nd or 3rd.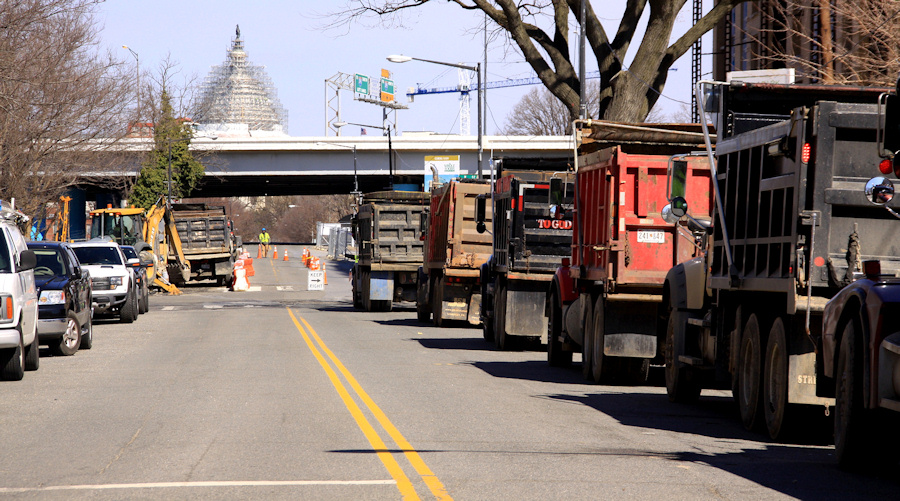 I've sidestepped a lot (A LOT) of construction during my 12 years of JDLand-ing, and I am generally pretty laid back about it--I'm not walking a dog, or pushing a stroller, so I just kind of grumble and pick my way through.
But the situation this morning--when two flagmen on either end were each telling me a different lane in the street in which to walk, and later exacerbated by seeing the line of seven or more dump trucks that were idling back to and around onto K Street while waiting to haul off excavated dirt--well, it escalated past even my high bar of tolerance, especially since I know how many people now walk along New Jersey to go to Capitol South, or the Capitol complex, or wherever.
And with the Nats returning to the neighborhood one week from today, and with thoughts of the number of stadium-goers who also do that New Jersey Avenue walk before and after games, I did the normal thing in 2015--I
mentioned
the situation
on Twitter
.
Which led to
a lot
of
other
people
speaking
up
on
Twitter
, many of whom have been complaining about the issues surrounding this construction since it began back in February. Before long, Ward 6 council member
Charles Allen tweeted
that he had contacted the director of DDOT, and that "he's looking into it."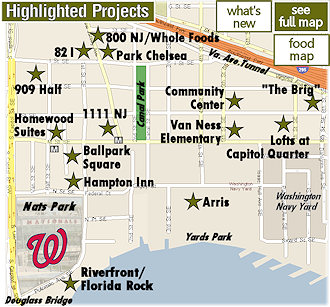 And while it shouldn't be the case that residents' complaints are ignored until either a) a loudmouth blogger fires off a tweet or b) baseball arrives, the truth is that the Nats' 2015 season is going to present a lot of challenges for anyone arriving in any way other than coming out of the Metro at Half and M.
There will be less parking available this year (which I'll detail in an upcoming post), and with 13 active construction sites east of South Capitol between the freeway and Nats Park, cars and pedestrians and bikes and fans and residents and commuters will be fighting a lot of battles, even though for the most part there won't be at gametime the sort of active work that snarled New Jersey and I this morning.
In addition to this New Jersey Avenue construction possibly bedeviling fans using Capitol South, the blocking of the sidewalk on the west side of 1st Street south of M for
Ballpark Square
construction in the block just north of the stadium--and the apparent temporary loss of the bike lane there as well--will end up making lots of fans just walk in the street instead of crossing back to the east side of the street, away from the ballpark.
And there are other spots where sidewalks are now blocked off or narrowed, or where street parking is temporarily banned, which are the sorts of issues that lead to grumpy drivers and grumpy pedestrians, which can lead to bad things.
One hopes that there will be attention paid to ways to ensure a safer passage to the ballpark, but one also hopes that any real effort to mitigate these construction/sidewalk/traffic/pedestrian issues doesn't happen only during the hours that red-and-white-bedecked masses are around.
In the meantime, be careful out there, and not just right where you see construction. (I watched a dump truck blow through a red light at 1st and Potomac, taking me back to the last era of crazy amounts of construction, but that was in 2007 when the resident population was about 1/10th of what it is now.)
UPDATE: One thing I should have emphasized more clearly is that this was obviously a Saturday-type operation, where the assumption is that such a setup will be less disruptive than on a weekday, and so the contractor can then get more done (in this case, hauling of dirt) in a shorter timespan. This intersection is just a tough one, since, as I said above, it doesn't easily allow for alternate north/south passage if something is going on.

UPDATE II:
I went back on Sunday, where, as I expected, things were much quieter. And I also saw that part of the reason for the closure of the pedestrian walkway on Saturday was to build a new curb, and also pour some new concrete. I had noticed actually on Thursday that the old asphalt had a big crack in it and seemed to be dropping off toward the new excavation hole, so obviously this was a fix for that, and probably a pretty critical one.
Note also at the bottom of the photo evidence of old cobblestone.