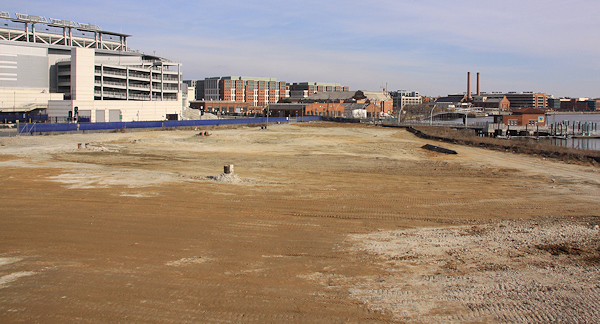 I
wrote a few weeks ago
about the latest plans to use two acres on the western part of the
Florida Rock
site along the Anacostia River as a "brew garden" and neighborhood park while waiting for the project's later phases to get underway--and I also wrote about the
muted reception the idea got from ANC 6D
after a somewhat nebulous presentation by developer MRP Realty and representatives of
Bardo
.
Now the Bardo folks, who already operate a similar brew garden in Northeast, are
trying to raise $200,000
to "do this thing deluxe," to create what it calls
Bardo Riverfront
, described as "100,000 square feet of BeerDisneyLand." This would include flush toilets instead of porta-potties, a bike shop, a kiddie playground, and "the largest dog park in DC," as well as parking for 500 bicycles, cornhole, food trucks, outdoor movies "projected onto a floating screen in the river," and other ideas.
Donations
of $20 now will get you four pints of beer when it opens, or four pitchers for a $50 donation, or numerous other options up to a $5,000 donation allowing you to take over the entire place on any Monday-Thursday when the Nats aren't playing. If you don't have money to contribute, you could donate wood trips, or "big tree logs to make into totem poles."
More details as they become available....