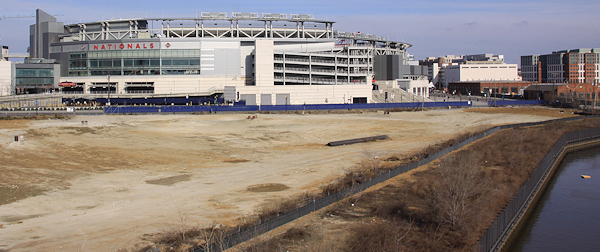 With the western portion of the 5.5-acre
Florida Rock
site along the Anacostia River just south of Nats Park not likely to be built on for a number of years (thanks to that pesky little detail of needing to demolish the existing
Douglass Bridge
first), there are again plans being discussed to "activate" the area with an interim use, even while construction continues to the east on the
project's first-phase apartment building
.
Developer MRP Realty will be going to ANC 6D in the coming days/weeks to look for feedback on what the space could offer, but the basics they are envisioning at this point are to use the space as an outdoor "brew garden" while also providing a large neighborhood-oriented park.
MRP would partner with the brewing team from Bardo, who would be in charge of the on-site vats and the craft beer-filled taps, while the rest of the site could see a number of sub-vendors offering various activities, like a putt-putt course or
maybe even batting cages
. There would also be picnic tables along the river, food (on-site offerings and food trucks are both possibilities), and family-friendly programming as yet undetermined.
What the site will not offer is large concerts or private events, though smaller-scale music could be a possibility. I'm told the site would have a maximum capacity of around 1,000 guests.
This is
not
the
first
rodeo for the idea of using this large open space, although previous notions were on a larger scale and perhaps might be described as more Fairgrounds-like, a comparison that this new proposal is apparently trying very hard to avoid.
Since it's all still in the brainstorming phase, and still has to go through the ANC, the alcohol/beverage folks, and various city agencies for permits, it remains a bit nebulous. (Feel free to use the comments to pass along any ideas for activities and offerings.)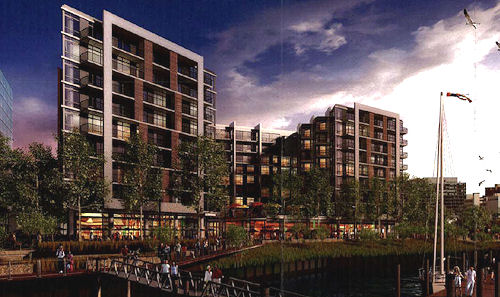 In the meantime, work continues on the
Riverfront
, the 300-unit apartment building on the east end of the site, by Diamond Teague Park. This
first phase construction
will also see an expanded plaza between the building and Teague Park, a westward extension of the Anacostia Riverwalk Trail into the Florida Rock site, and an already planned temporary use space separating the brew garden/park from the new building, with some surface parking, a small green space, and "The Beach," a sand-covered spot with volleyball courts. The building is expected to be completed in 2016.
More details as they become available....