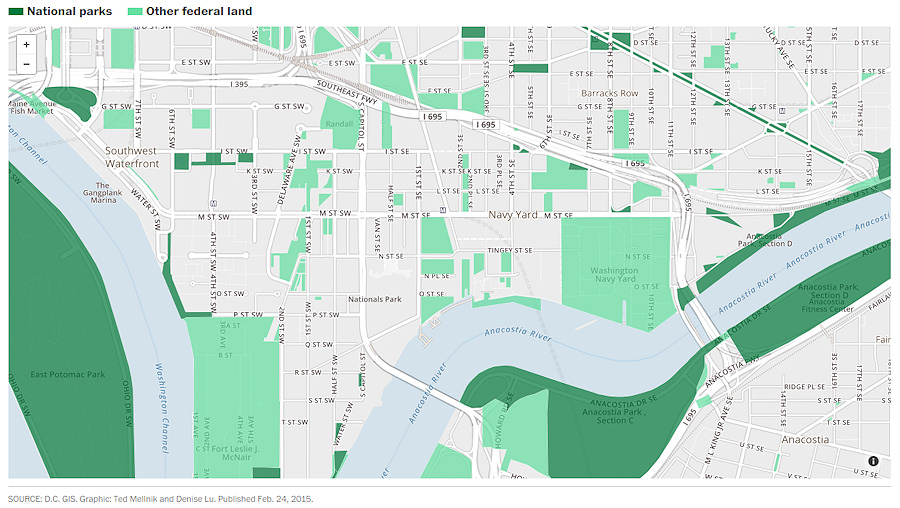 With possession and cultivation of small amounts of marijuana
becoming legal in DC on Thursday
, the Washington Post
helpfully mapped out
all of the federally owned tracts of land in the city, since pot possession will still most decidedly not be legal on federal land.
So, in the interest of providing pertinent information to my readers, I zoomed the map in to
show these locations in and around Near Southeast
, of which there are many. The Navy Yard is one such spot, obviously (see how that "The" comes in handy?), but so is
Canal Park
,
Virginia Avenue Park
, the
Marine Bachelor Enlisted Quarters
,
DC Water's land
, various lots around
the Yards
including parts of the
Yards Park
, and the
government warehouse
at Half and L. Not to mention all of the shoreline east of 11th Street, plus Garfield Park, Randall Recreation Center, and a whole host of other public spaces nearby.
While the map shows you where possession will be illegal, it's not like the new law is allowing public consumption, federal land or not: "D.C. police will be instructed to continue ticketing for public smoking of marijuana, a ticket akin to drinking in public, punishable by up to 60 days in jail and a $500 fine."
As of Thursday, any individual 21 or over can:
* Possess two ounces or less of marijuana;
* Use marijuana on private property;
* Transfer one ounce or less of marijuana to another person, as long as: (1) no money, goods or services are exchanged; and (2) the recipient is 21 years of age or older;
* Cultivate within his or her primary residence up to six marijuana plants, no more than three of which are mature.
However, it will still be illegal to:
* Possess more than two ounces of marijuana;
* Smoke or otherwise consume marijuana on public space or anywhere to which the public is invited; including restaurants, bars, and coffee shops;
* Sell any amount of marijuana to another person; or
* Operate a vehicle or boat under the influence of marijuana.
UPDATE: The mayor's FAQ notes that it will remain illegal to smoke in public housing residences.