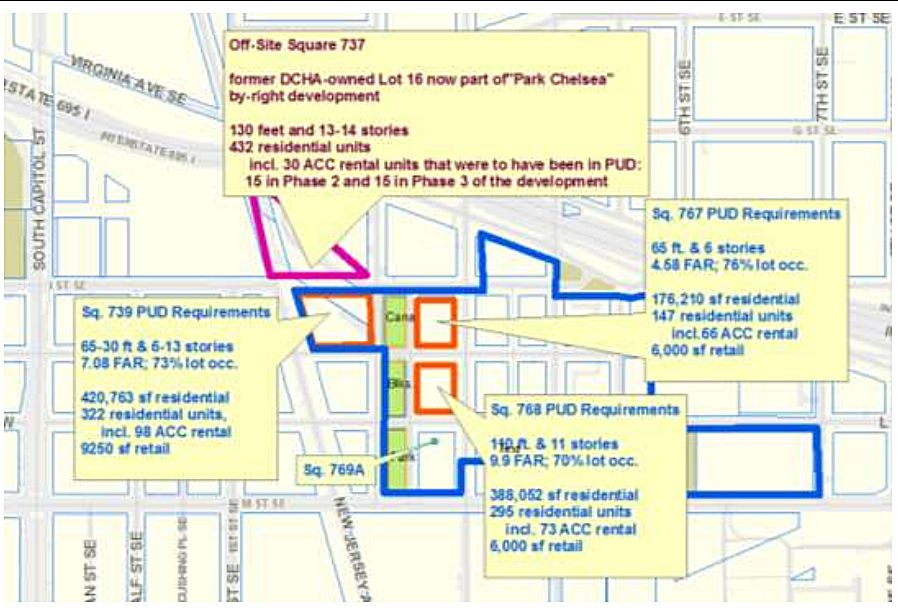 With unanimous agreement that the need to get former public housing residents back to the neighborhood is paramount, the Zoning Commission on Monday gave first approvals to the DC Housing Authority's
request for flexibility
in how it allocates 206 affordable units still to be built within the
Capper/Carrollsburg
PUD boundaries, while still being required to have no fewer than 15 percent and no more than 50 percent of the units on any square be affordable.
But Zoning Commission vice-chair Marcie Cohen disagreed, saying that the success of Capper's revitalization is that "the area is mixed income, the neighborhood is mixed income," and that she doesn't have a problem "when public housing is a single project within a mixed-income neighborhood." Noting that some of Capper's previous residents were relocated from the site now more than 10 years ago, Cohen said that "the people who have been displaced have a right to come back"--and given that "financing vehicles are now driving housing policy," meaning that getting affordable housing units financed has become so difficult--the Housing Authority has in her view come up with a plan that is "satisfactory," and should be able to go ahead and "secure the proper financing, build the project, and get some of the people back if they choose."
Her fellow commissioners concurred, with both Robert Miller and Michael Turnbull also noting that all projects on the three remaining residential squares at Capper will need to come to the Zoning Commission for review before moving forward.
And in
its response to the ANC 6D letter
, the Housing Authority emphasized this point, saying that the concerns raised by 6D will be addressed at that time, and that the reviews "will also demonstrate that the design of the buildings and distribution of the units in those applications are consistent with the PUD's overall goal of providing a vibrant, mixed-use and mixed-income community."
This case also will allow 30 of the Capper affordable units to be relocated to Square 737, to be included in both the 800 New Jersey/Whole Foods building and the eventual third-phase residential building on the eastern portion of that block.