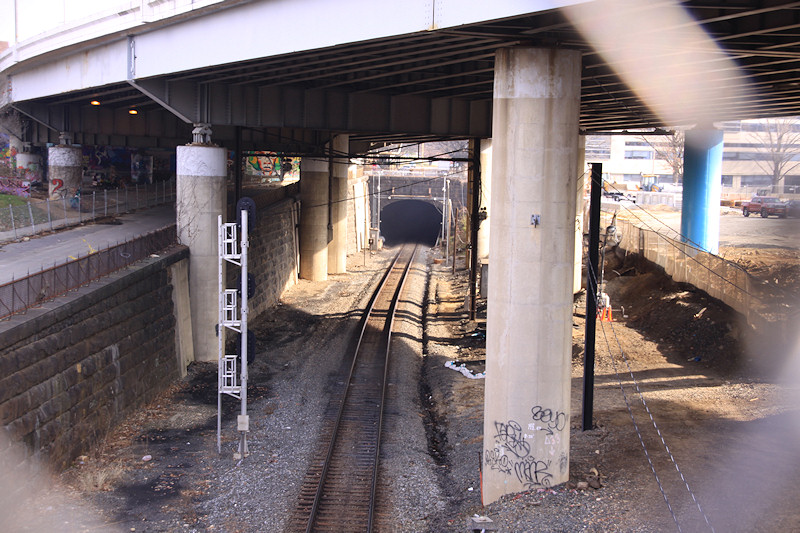 This morning's Approved Building Permits feed included an entry that you might imagine immediately caught my eye:
861 NEW JERSEY AVE SE
BCIV1400064 / CONSTRUCTION
THE VIRGINIA AVENUE TUNNEL RECONSTRUCTION PROJECT WILL MODIFY THE EXISTING CSX OWNED-AND-OPERATED TUNNEL AND TRACKS IN SE WASHINGTON DC APPROXIMATELY FROM SOUTH CAPITOL STREET TO WATER ST SE AND UNDERNEATH THE EASTBOUND LANES OF VIRGINIA AVE SE.
I wondered, Is this the biggie? The one that would allow start of construction on the expanded
Virginia Avenue Tunnel
, if
lawsuits
and judges don't bring a halt (temporarily or permanently) to the proceedings?
I contacted CSX, and was told that no, this permit is just to allow the start of site-preparation work on CSX property at both ends of the tunnel, and does not cover any work that might occur on public space.

Construction trailers are expected to appear within the next few weeks at the New Jersey Avenue site, and there will also be "some minor work on CSX property at the north end of the tunnel."
As for the project itself, to expand the single-track tunnel into two one-track tunnels, those permits are not yet issued.
If you have questions about this permit or about any other part of the project (!!!), CSX is holding an open house on Thursday, Feb. 5, from 4:30 to 7:30 pm at the Courtyard by Marriott at 140 L St., SE., in the Admiral Ballroom.
In the announcement of the open house, CSX says that it will be providing information "about upcoming construction activities near the Virginia Avenue Tunnel, including the general locations where activity will occur, the type of activities and a preliminary schedule."
There will be "information displays detailing constructions activities, locations and timelines," and "representatives of CSX and Clark/Parsons, CSX's design-build contractor, will be on hand throughout the event to answer questions."
But of greater interest may be the ability to register for the "CSX-funded pre-construction inspection program," which will allow construction-area residents and property owners to "document the current interior and exterior condition of properties and will help expedite processing of any construction-related claims that may be made in the future."
The company is offering a free shuttle to the hotel from the Capper Seniors building at 900 5th St., SE.