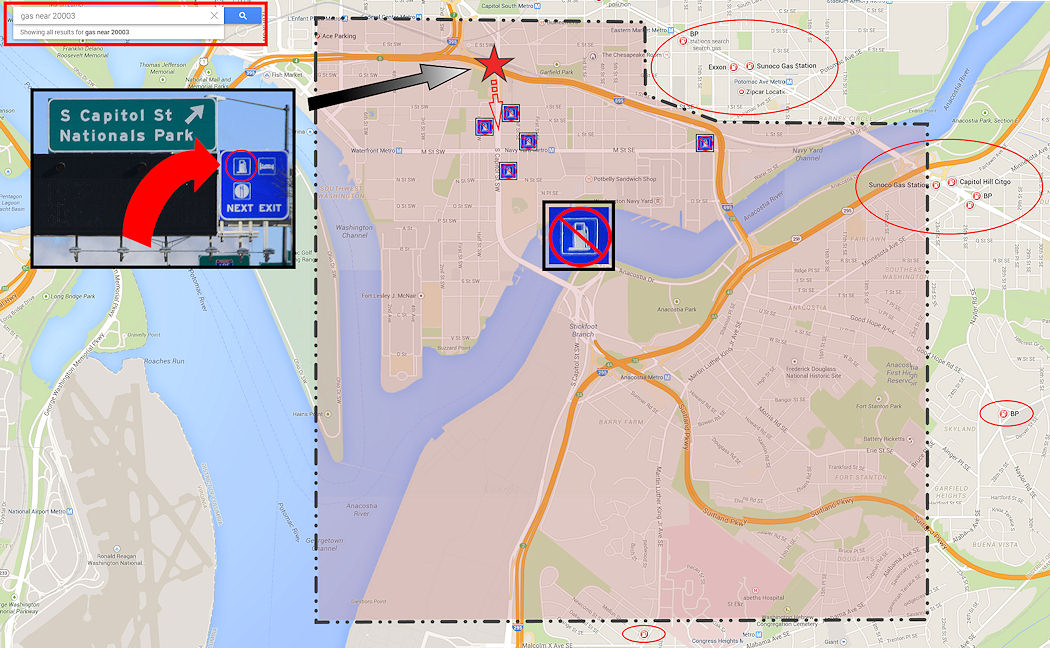 As you approach the South Capitol Street exit on the Southwest Freeway, there's a small blue sign overhead, dwarfed by its siblings and probably all but invisible to everyday users of the highway.
It's a Gas - Food - Lodging sign, ubiquitous across this great land of ours and often a very (VERY) welcome sight, when the gas gauge has fallen below the Empty line and panic has begun setting in.
And while regulations generally say that an establishment can be located within three miles of the exit in order to allow for such a sign to be posted, in urban settings stressed low-fuel drivers have some level of expectation that when they get to the end of the ramp they will be greeted with at least one gas station within view, or a sign pointing where to go to find it and how far it will be.
Residents figure these things out, so there's not the same scenario of needing gas, seeing a sign, and expecting a relatively simple path to a fill-up. And it's not exactly a news flash that gas stations are becoming increasingly scarce in the downtown core.
Ditto on all of this for the similar blue signs pointing drivers coming south out of the 3rd Street Tunnel to the South Capitol Street exit.
(And to think that this was originally just going to be nothing more than a snarky tweet of the photo of the blue sign!)