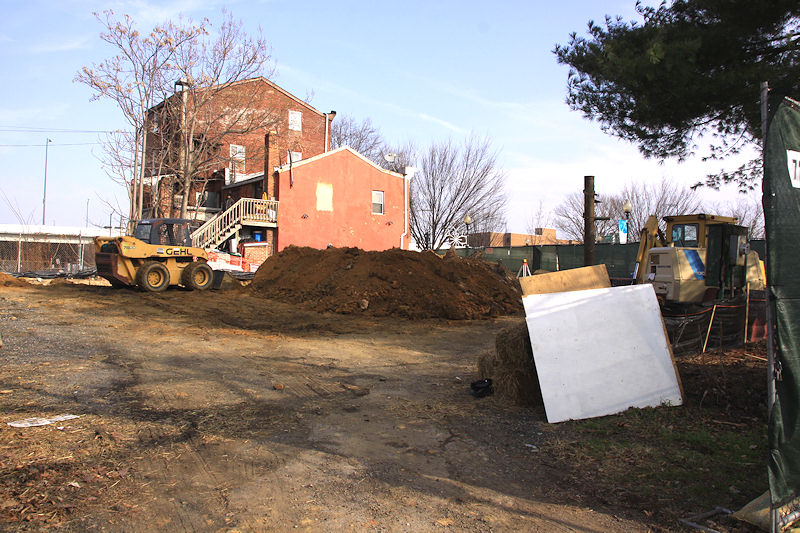 I could blather on in some kind of forced introduction about how the weatherman sold my camera and me a bill of goods this weekend ("mostly sunny," eh?), and how the low sun and weak light and wispy clouds made for less-than-stellar images, but instead let's just jump in.
We'll start with the photo at right, which shockingly reveals that dirt is actually being moved on the northwest corner of 8th and L, where the
beer garden now known as The Brig
has been planned for such a long time. Clearly work is in the very early stages, but that's a nice change from no progress at all. It's supposed to open in the spring.
Continuing the tour....
Digging continues at the
1111 New Jersey
apartment project (above left), with the shoring at far left helping to give a sense of how far down they've gotten so far. (Spoiler: they have a long ways left to go.) And at the Capper
Community Center Building House
(above right), the foundation on the south end of the site along L Street is now a pretty sizeable structure.
It's hard to get a decent shot of the
Lofts at Capitol Quarter
construction, because the building is so long, though the wide open space of Nats Lot W helps. Vertical construction continues at the far east end, at 7th Street, while the western end waits its turn. Here's a big version of the latest image, to make it easier to see. (But remember, you can click on all photos to pop up larger versions.)

From there I wandered to the Yards (after rejoicing that the Hull Street Gate to the Navy Yard was closed, so I was able to take photos of the Lofts construction without hassle). The
Arris
apartment building is now getting its second floor, from south to north, as seen in the below left shot from the
corner of 4th and Water
. And a
different sort of progress
is visible a few feet away, in the windows of the northwest corner of the
Lumber Shed
.
There's one other batch of progress photos I took on Saturday, but you're just going to have to wait a bit longer for those.