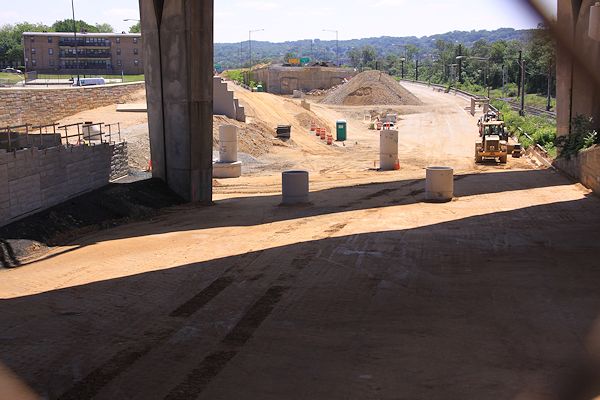 A community meeting is on tap for Thursday (tomorrow), Dec. 11, to discuss the future
Southeast Blvd
., specifically the ideas emerging from the neighborhood study currently being spearheaded by ANC 6B, the Office of Planning, and DDOT.
The meeting is from 7 to 9 pm at Friendship Chamberlain Elementary School, 1345 Potomac Ave., SE, across from the Jenkins Row Harris Teeter.
Councilmember Tommy Wells will be there, and will be part of the discussion on how to best integrate into the neighborhood this road that will run from Barney Circle to the new intersection at 11th Street, SE, along the path of the old sunken portion of the Southeast Freeway.
A "
temporary
" version of the road
is opening in early 2015
, and residents have been concerned both about this becoming the de facto new version of the road, a feeling that came on the heels of the original new designs put forth by DDOT, that were basically replacing an old freeway with a new freeway, albeit it one that has a stoplight at 11th Street rather than just a free-and-clear approach to the Southeast Freeway. After those designs were released, with a push from Wells, the Office of Planning stepped in to help shepherd a neighborhood study--initial design concepts
were unveiled back in August
, and this week's meeting is to continue the process of refining the possibilities.
(And I am well aware that I have completely failed at keeping up with photographs of that area of 11th and of the work underway on the temporary road. All of the construction there, and the futzing with the traffic flow configuration of 11th Street while work continues around it, have made me very cranky about going over there to take pictures. Maybe this will finally spur me.)