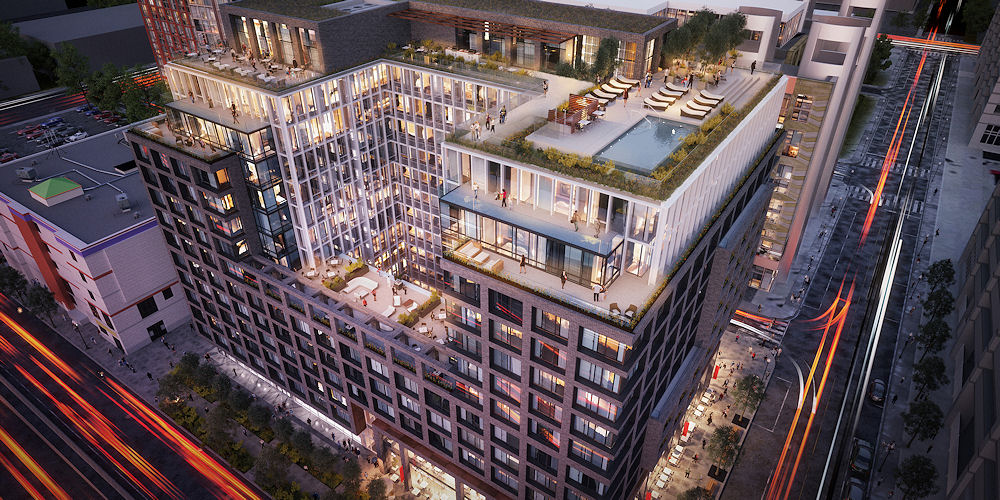 JBG's planned 290-unit residential building at
1244 South Capitol
had its Capitol Gateway Overlay zoning review hearing this evening, with the project receiving mostly favorable comments, though of course there were some very zoning-y issues brought up.
But this didn't mean that there weren't still concerns the commissioners want to see addressed. Marcie Cohen expressed her concerns about the project's LEED certification, wanting it to at least meet Silver, preferably Gold. Chairman Anthony Hood wanted to see clearer indications of where the signage for the project's 25,000 square feet of retail will go. A slight concern was raised about the positioning of the residential lobby entrance on Van Street between the entrance to the two-level parking garage and the loading bays. And there was a worry or two about the rooftop pool's decking perhaps needing a handrail.
The issue that was a showstopper for him (and for Michael Turnbull) was the design of the penthouse and the proximity of the cooling-tower wall, which he called "really really problematic." May emphasized that while he understands the desire to maximize rooftop amenity space, "setbacks for mechanical uses have to come first." (Don't ask me to go into more detail beyond parroting that commissioners want to see how JBG can "push the penthouse back from the north wall of the courtyard"--my inch-deep understanding of DC zoning regulations got left in the dust during this discussion, and I'm guessing any of my readers versed in zoning already have a better understanding of the issue than I ever would.) May was however pleased with the general design of the penthouse, saying it was exactly what they "had in mind with the change to the Height Act."
JBG will return to the drawing board on the penthouse issue, and it's expected that the design will come up for a vote at the commission's Jan. 12 meeting.