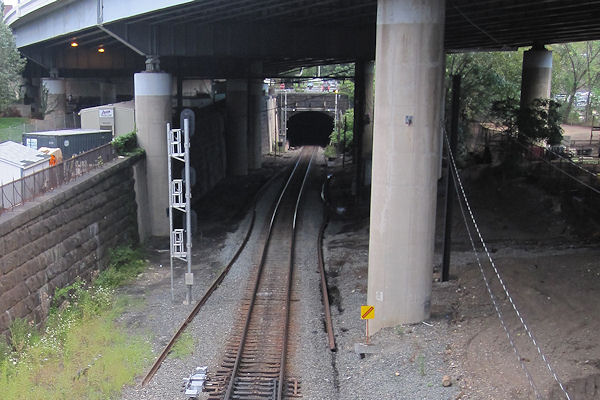 In a move that will surprise absolutely no one, the
Committee of 100 on the Federal City
is announcing today that a lawsuit is being filed to challenge last week's
Record of Decision
on the
Virginia Avenue Tunnel
.
In a press release
, the committee's vice president, Monte Edwards, is quoted thusly: "The official Record of Decision fails to address the severe safety and security impacts the proposed project will have on the immediate community and on Capitol Hill, the constraint on the expansion of passenger and commuter rail service in the District, and the pre-approval by DDOT of the project before any environmental review had been conducted."
OJ Simpson-era readers will recognize this phrasing: "Edwards also emphasized that there is no need to rush-to-judgment on the CSX proposal. The EIS expressly states that the current CSX tunnel has 'decades' left of useful service."
Also an Edwards quote: "Issuance of the Record of Decision ends the administrative process, and litigation is the only option to obtain a new EIS that addresses our concerns. Until we have a new EIS, no permits should be granted by the District or federal officials."
The group also plans to file a motion for a preliminary injunction to stop any further action until the court issues a ruling.
There will be a press conference on the front steps of the US District Courthouse this morning at 11 am.
UPDATE: Here's the statement from CSX in response:
"The reconstruction of the Virginia Avenue Tunnel has been approved by the Federal and District of Columbia governments following a lengthy public oversight, review and comment process that shaped the final design of this project. CSX is committed to doing this project the right way, safely, respecting our neighbors and working closely with residents and businesses to minimize impacts and to ensure that they are informed about construction plans. Modernizing this tunnel will help alleviate freight and passenger rail delays and stimulate economic growth by removing a significant transportation bottleneck. CSX believes the project should move forward promptly."