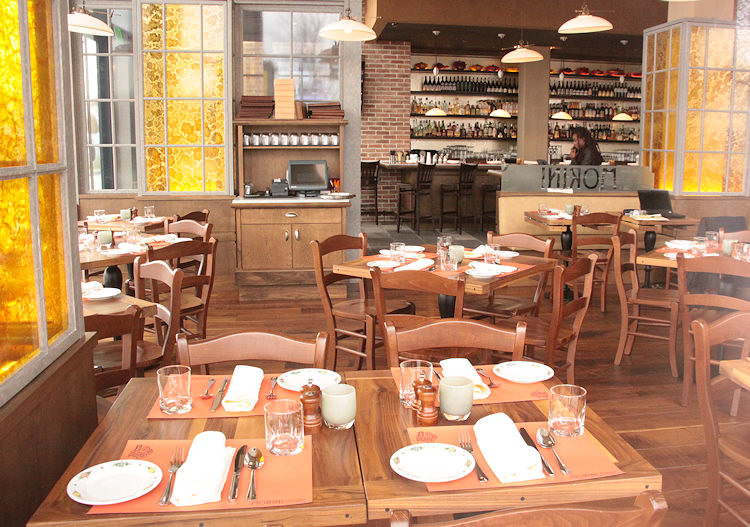 In honor of Osteria Morini's one-year anniversary,
Eater DC has posted an interview
with the restaurant's top dogs, chef/owner Michael White and executive chef Matt Adler.
There's some discussions on coming to a new neighborhood and the restaurant's operations that may be of interest whether you are a Morini frequenter or not:
* "In NY we had never really experienced the idea of opening in a whole new neighborhood. [...] In the first few months ,people were mad at us because they couldn't find us." But apparently cabbies now know where 301 Water St. SE is.
* Another challenge: Patrons "not understanding what Southeast [DC] is like now. People who have lived in DC for more than 20 years will come here and say they can't believe how beautiful it is here."
* The most memorable day of service: "Opening Day of baseball, without a doubt. At 3:45, the restaurant was empty. At 4 it was full. I've never experienced anything like that before."
* The customer base: "You might have a Congressman in the dining room, a lobbyist eating at the bar, someone in a Nats Jersey sitting down. [...] I remember one day when we had the head of the Federal Reserve at table 21, Nats fans at the bar, people from the neighborhood having pasta. "
The chefs were also asked about
Nicoletta, the pizza/pasta carryout operation
planned for one of the retail spaces under the overlook on the boardwalk, which was originally supposed to open a few months after Morini. White and Adler confirm that it's still coming, but that they are "in the process of getting the design right and working out the kinks." What about an opening date? "If I gave you a date, it probably would end up getting pushed back."